D'Accord Music Software's Americo Amorim on playing the music game, being a startup, and the importance of being lucky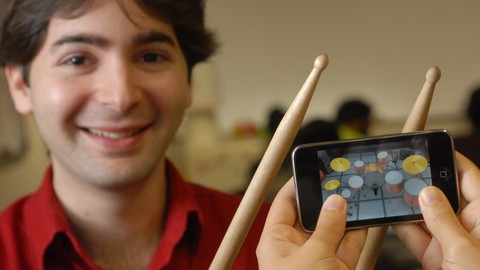 Great games can come from the most unexpected corners of the globe, sometimes years in the making before finding their rhythm. Brazil's D'Accord Music Software started ten years ago. "We were doing music education software," recalls chief executive Americo Amorim. The company made mostly PC-based downloadable products, which were very successful in schools.
By 2007, he says, "We got bored with only doing educational stuff." So, the company created a division called MusiGames. It started with ten people, hired more along the way, and has reached thirty people so far. Amorim reports, with a touch of pride, that almost all of his company's current development efforts are in games.
Legacy of games
"In Brazil, we had a lot of experience with SEGA consoles," says Amorim. "But our team's background is PC development and mobile development studios, like traditional J2ME development."
Before making a game together, they started with research, attending developer conferences, and meeting publishers. "We weren't sure what platform we were going to work on," says Amorim. "Of course, the team wanted to do Wii games, Xbox games, PlayStation games. But it didn't really make sense for a start-up company at that time to do those kind of things," he says.
They found the smartphone market to be open in 2008, and there were even fewer music games on the market.
Proof of concept
D'Accord's first game was Drums Challenge for the iPhone. When they released it in June of 2009, it managed to sell 500 copies in the first three weeks. "With the public we drove to the game," explains Amorim. "And what really happened was that Apple started promoting it. So when Apple started promoting it, the sales skyrocketed."
"What our experience says, what really matters, is Apple promoting your iPhone game."
The initial price was $2.99, and is $0.99 today. "What our experience says, what really matters, is Apple promoting your iPhone game," Amorim reveals. "If they promote," he laughs, "you're successful."
"And, of course, they don't promote crappy stuff." Amorim says that Apple doesn't have room to promote everything that is great.
"On our side, we're focusing more and more on the quality." Last year, the company produced five games to create a portfolio. "For this year, specifically, we're focused more on quality. So we're doing only two games, and we've been developing them for six months."
"Right now, we are focusing on smartphones: iPhone, iPad, Android, Symbian, and Facebook." says Amorim. When asked about budget, he replies: "It's usually $50,000 to do a nice music game."
For MusiGames, both iPhone and Android development are done with the same budget. "That's where we are improving," Amorim points out. "It's not a very high budget, but it's a complicated budget for a small developer."
Key learnings
Some games, Amorim's team promotes on their own. On others, they've tested distributors like Chillingo and I-play. "Some of those guys have more access to Apple, and that makes it easier for us. But, of course, they get a share of the game. So it's really a decision that depends on the game we are talking about."
The company decided to aim for a global audience, because the game market in Brazil is still growing. Amorim reports that the marketing is "starting to happen right now. Two years ago, it didn't make sense to do smartphone games in Brazil."
Today, they're developing a title for Google-owned social-network Orkut. "Orkut is the Facebook of Brazil," Amorim explains, adding, "Our first experience in Brazil will be this Orkut game. I really have high hopes for it."
Playing social
While social games have been a strong trend in recent years, Amorim says: "We are really trying to focus on music games — because our expertise is in this. This social game is really musical," he adds, about their upcoming product.
It could mark the first cross between the music genre, and a game for the social network platform.
When asked what a music game on a social platform would look like, Amorim smiles. "You'll see in a couple months." And that raises the question of whether it's even possible. "Yeah, it is. The challenge is to get the friend's interactions. You have to interact with the music, and you have to interact with friends."
Amorim considers the question of whether music is universal on a global scale. "It really depends on the songs that you have in the game. So as we try to do games that you can play with any song: that makes them universal. So if you have ten-thousand songs in your library, you can play with them: that's great."
Market growth
Something they're investing in more and more is letting the user play with their own songs. It saves the hassles of licensing, and the company had developed chord-recognition tech from their education software days. "We have a very good technology and we started applying this to games," says Amorim.
This year, the company managed to get some VC funding. It allowed them to grow their development capabilities, and as Amorim adds: "We grew our marketing team, which we didn't have before the VC guys came in."
"We want to be known as the music games studio, and the Brazilian leader."
Amorim says the strategy for MusiGames is to position themselves as "the big independent music game studio." Beyond that, they want to have a strong position in Brazil. Amorim reveals: "We're seeing the market grow a lot there."
Which is why they're investing in that growth. "We want to be known as the music games studio, and the Brazilian leader."
Sound advice
And when it comes to what other developers can do to achieve success, Amorim has a few pieces of advice: follow game-business news, follow the market, and try something different with your game.
MusiGames' best successes weren't radically different, he says, but all "had something really unique." And having a specialization is a great way to keep from losing good ideas along the way.
"What's our guideline? If it's a music game, we're interested," Amorim says. "And if it's a platform we already know how to develop for, we can even study the idea. If the idea's really good, we may do it. But, on the other side, we try to keep the focus."
MusiGames is currently working on a music game for the Orkut social-network.
Comments