Anton Gauffin: Making Casino Gaming Social and Exciting | Casual Connect Video
'There's always an opportunity to succeed. Want it badly enough and you'll get there.' - Anton Gauffin
Click To Tweet
At a panel during Casual Connect Europe, panelists from Wooga, AppLovin, Futureplay and Huuuge explored the paradox all developers face: wanting to see the joy your game brings to players and needing to pay the bills. There are lots of smart and creative ways to monetize your game without marring the player experience or hindering growth. This panel went through the game mechanics and advertising strategies that will turn your game into a money-maker. Anton Gauffin, of Huuuge, emphasized, "Social casino has a niche. Distribution is incredibly challenging because you don't typically get the featuring support from Apple or Google Play like with other genres, and distribution can be more expensive than other categories as a result." To hear more insights and tips, tune in below.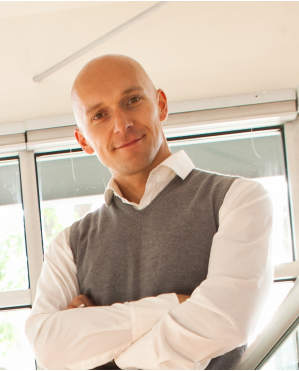 Anton Gauffin is CEO of Huuuge,
a company with a mission of making real-time casino gaming truly social and exciting. Anton made a start in mobile gaming in 2002 when he founded Gamelion, and sold the company in 2007. In 2014, Anton had the opportunity to buy it back, calling this the biggest decision he has ever made as an entrepreneur. Anton had actually dreamed about doing this for years, saying "Boys and girls, this time it's going to be Huuuge." And now, Anton is enjoying every minute of it.
As a child, Anton dreamed of two things: being a business man and having his own gaming company. Quite simply, Anton always wanted to be a successful entrepreneur and considers himself fortunate to have had the opportunity to make these dreams a reality.
The most important thing from Anton's career that has helped drive his business is understanding what constitutes a great mobile experience. Anton has learned how to develop games, how to use the free-to-play business model and how to raise funding. It is all part of a larger journey, with much more to come.
Room for Innovation in the Social Casino Sector
When Anton bought back Gamelion and recreated it as Huuuge, he was fascinated by the fact that social casino games were so well represented on the top grossing charts, yet none of the games were really social or exciting. This inspired the idea that there is plenty of room for innovation in this sector, and this is still the area of focus.
The opportunity to compete with all the energy they have is the aspect of the job Anton enjoys the most. "Our market is brutally competitive. We are talking about probably the most competitive market that has ever existed, pointing here to the larger mobile gaming market and to the fact that there are so many apps out there."
Anton also enjoys the creative facets of the business, finding it very rewarding to go into the details of their product experience and to do product design with the team.
Building the Company Culture
Lately, since Huuuge's Series A round has closed, Anton has been focusing more attention on building a great company culture. This is a difficult challenge when the company has multiple locations, growth is very rapid and new team members are constantly joining Huuuge. Anton says, "It takes time, love and smart decisions to succeed here."
Anton believes giving company-wide stock options for all employees makes a massive difference in how people will adopt the company culture since they then have a sense of ownership. It is also a good way of attracting the best employees to the team.
Getting the old team back was the moment that brought Anton the greatest pride and happiness in their career. Anton reveals, "I was happy because I was given a chance to do it all again and this time climb all the way to the highest mountain. We are not there yet but I'm convinced that we'll get there."
"I was happy because I was given a chance to do it all again and this time climb all the way to the highest mountain."
To make this happen, Anton had to invest all his savings and take on a large tax liability. Anton also had to relocate his family from Silicon Valley to Europe in order to be closer to shareholder cabinet discussions and to the team. And, Anton emphasizes, it still required a lot of luck.
Building the Team
For the members of the team, Anton searches out people who have high potential, are team players and who learn quickly. The most difficult people to find are those who can offer considerable experience in doing real time, multiplayer, online experiences. Experienced cloud and server-side developers are rare.
Anton emphasizes that they must work as a team, so Huuuge does their best to empower their people to make decisions and the right judgement calls with a culture that encourages this. There is an attitude of respect for Anton from the team and for the team from Anton. The team knows what Anton has gone through to get where they are today (and they also know Anton's crazy stunts).
Making and Promoting their Product
The business model Huuuge uses is free-to-play, since it works well for their category, and Anton believes it is the only model with true scale. As they say, "Making premium casino games is a super small niche of a niche market."
"Making premium casino games is a super small niche of a niche market."
For their marketing, Huuuge has found re-targeting very successful. And Anton has seen video ad creatives constantly improving.
The free-to-play industry is very data-driven; Anton expects it will become even more so. Because of this, Huuuge is now beginning to customize and adapt UX based on player behavior. In the future they expect free-to-play to be doing this with scale.
Anton likes to test as early as possible during game development and has found this to be the best practice for them. Anton enjoys working with UX details and being looped through the game development process; it is important to have easy access to download and test the latest builds.
The Biggest Growth Opportunities
Apple Watch and Oculus could easily become platforms for social casino in the future. Anton expects to see interesting opportunities with both VR and wearables. However, the biggest growth opportunities are still with core mobile devices such as smartphones. And adding skill-based elements to casino games is also an area with interesting growth potential.
There are still opportunities for social casino in emerging markets. So far the market has focused on the US and other tier-1 English speaking markets, but with some specialized interest in the Latin America market. Anton points out that India and South East Asia present great opportunities for nimble and innovative social casino publishers.
Anton points out that India and South East Asia present great opportunities for nimble and innovative social casino publishers.
Anton would love to see the games categories in App Store, Google Play and Amazon evolve into something smarter and more personalized, particularly the casino category on App Stores, claiming, "It is practically dead. Nothing happens there. Why would consumers go there when nothing goes on there?"
The change  Huuuge brings to the industry involves making "social" casino more than just a marketing word. Their focus on product innovation in the social layer could make this difference as they work to make games truly social and engaging.
The Way to Success
Anton advises those who would like to follow this career path in the business, "Be prepared to do more than you currently think it will take to succeed. Throughout my career there have been people who say that market window is/was closed already. So far it has never been true. There's always an opportunity to succeed. Want it badly enough and you'll get there." And it wouldn't hurt to follow Anton's personal motto, "Train hard, work smart."
"Be prepared to do more than you currently think it will take to succeed."
For useful information on social casino, Anton suggests checking out the Casual Connect archives, saying, "Nothing beats it." Examples of successful social casino apps to consider of course include those from Huuuge. Beyond those, Anton highly respects Slotmania as having the best creatives in the industry, as well as effective monetization.
Anton's competitive spirit flows beyond work into free time. Anton loves sports and is constantly competing against their own records. Golf is a special favorite and Anton plays as often as possible. Also, the daily routine includes at least thirty minutes of hard training at the gym or fast-paced running.
At Casual Connect Europe, Anton announced that Huuuge is hiring. Those interested are invited to visit their website to see the open positions.
Comments
Catherine Quinton
Catherine Quinton is a staff writer for www.gamesauce.org. Catherine loves her hobby farm, long walks in the country and reading great novels.