Competing German Indie Devs at Casual Connect Europe 2017
Thirteen German based studios will showcase their games at the international Indie Prize Showcase during Casual Connect Europe 2017 in Berlin this February. One hundred-thirty of the best indie games were selected from 470 game submissions by honorable judges and provided with Indie Prize scholarship to attend the conference. This includes free all-access passes, a spot to showcase the game along with the world's best indie developers and free accommodation in the indie hostel during three days of conference in Berlin.
GAME: SwapQuest
DEVELOPER: Rebusmind
PLATFORM: Desktop Win
COUNTRY: Germany
SwapQuest is a captivating mix of easy-to-learn puzzle mechanics and old-school RPG elements. You have to swap tiles to build a road for the prince/princess. Collect gems, fight monsters, buy equipment, avoid traps, but above all don't get caught by the Horde at the bottom of the screen.
SwapQuest was initially released on iOS and Android on March 19, 2015. It won the Indie Showcase at the Develop Conference 2014 in Brighton and was nominated for the IMGA in early 2015. It was also part of the Indie Prize Showcase in Amsterdam in January of 2015. In February 2016 the PlayStation Vita version was released. Next year SwapQuest will be released on PS4, XboxOne and Steam.
GAME: Code 7
DEVELOPER: Goodwolf Studio
PLATFORM: Desktop Win, Desktop Mac
COUNTRY: Germany
What would you do if you found yourself trapped on an eerie space station with nothing but a computer? You play the hacker Alex and help your partner Sam uncover the horrible truth of the facility. Code 7 is a next-gen text adventure combining a fully-voiced narrative with immersive hacking-gameplay. Code 7 ran a successful Greenlight and Kickstarter campaigns.
Awards: Best Student Project Award at Indie Games Play 7; Nominated for gamescom Indie Award 2016, A Maze Award 2015, Ludicious Outstanding Talent Award 2016, Unity Award 2016 (Unite '16 LA).
GAME: Shadow Tactics: Blades of the Shogun
DEVELOPER: Mimimi Productions
PLATFORM: Console, Desktop Win, Desktop Mac
COUNTRY: Germany
Shadow Tactics is a hardcore tactical stealth game set in Japan around the Edo period. A new Shogun seizes power over Japan and enforces nationwide peace. In his battle against conspiracy and rebellion, he recruits five specialists with extraordinary skills for assassination, sabotage and espionage.
GAME: Ellipsis
DEVELOPER: Salmi Games – Yacine Salmi, Stefan Hell, Filippo Beck Peccoz
PLATFORM: iOS, Android, Desktop Win, Desktop Mac, VR mobile
COUNTRY: Germany
Ellipsis is an action-packed puzzle game with minimalist, yet powerful retro styled visuals. Your cursor guides a ship through a beautiful & mysterious universe unfolding before you. Be smart and be fast to overcome the challenges of your journey, while facing countless enemies crossing your paths.
Awards: Game of the Year & Best Action Game at Intel Level Up 2016; Best Indie Game at MomoCon 2016.
GAME: She Remembered Caterpillars
DEVELOPER: jumpsuit entertainment UG (haftungsbeschränkt)
PLATFORM: Desktop Win, Desktop Mac
COUNTRY: Germany
Injecting cute into invasive brain surgery—a fungipunk fantasy about love, loss, and holding on. Players confront a weird, lush dream-world controlling neurological caterpillar medicine in order to help a scientist save her father. A color-based puzzle game playable for anyone with a color-deficiency.
Awards: Intel Level Up 2016 Winner Category Best Puzzle Game; The Guardian Top 13 of EGX 2016.
GAME: Heart of Scrap
DEVELOPER: Chasing Carrots
PLATFORM: Desktop Win
COUNTRY: Germany
Heart of Scrap is a tactical turn-based strategy game with a unique twist and lots of physics. In HoS you build your own ships from scratch, fitted to your needs and suited for various battle arenas. The timeline-based control system gives you full control over all ship elements, so you can tweak your maneuvers to the max.
GAME: Slayaway Camp
DEVELOPER: bluewizard
PLATFORM: iOS, Desktop Win, Desktop Mac
COUNTRY: Germany
Slayaway Camp is a killer puzzle game in which the player controls Skullface, a psychotic slasher bent on revenge. The adorable murderer slides around colourful isometric puzzle designs decapitating, squashing, and perforating blocky teenaged victims. Slayaway Camp has 98% positive reviews on steam.
GAME: The Curious Expedition
DEVELOPER: Maschinen-Mensch
PLATFORM: Desktop Win, Desktop Mac, Web
COUNTRY: Germany
The Curious Expedition is a roguelike expedition simulation set in the late 19th century. Together with famous historical personalities, players will venture on unprecedented expeditions to regions never explored before for fame, science and treasures.
The Curious Expedition is the Winner of Best German Indie Game at German Developer Awards, Over 15 mentions on Rock Paper Shotgun and 92% rating on Steam.
GAME: Typoman: Revised
DEVELOPER: Brainseed Factory
PLATFORM: Desktop Win, Desktop Mac
COUNTRY: Germany
Typoman: Revised is a unique puzzle platformer where you slip into the role of a character made of letters, struggling to make your way through a dark and hostile world. Despite your small stature you have a powerful gift: You can craft words which will have an effect on the environment.
Initial Typoman launch was November 19th 2015 on the Nintendo Wii U.
On August 15th 2016 we have released Typoman: Revised, which offers lots of new content, mechanics and storytelling elements.
Awards & Recognition: Featured at Indie Game Revolution, EMP Museum, Seattle; Best Production, German Video Game Awards 2016, Munich; Best Casual Game, Game Connection Development Awards 2015, San Francisco; Nominee Best Game, Best Indie Game, Best Sound, Best Game Design, Best Console Game" German Dev Awards 2015, Cologne; Winner Best Art Style, Gaming Trend's Best of E3 2015 Awards, Los Angeles; Winner Best of Quo Vadis 2015, Berlin; Nominee Best Indie Game, gamescom award 2015, Cologne.
GAME: Imagine Earth
DEVELOPER: Serious Brothers
PLATFORM: Desktop Win
COUNTRY: Germany
Imagine Earth is a real-time world simulation. Your job as a colony manager is to explore and populate distant planets. Build up thriving and profitable colonies on a global scale without destroying your homeworld. Deal with threats like meteorite strikes, twisters and wild fires. Coexist and trade with natives, alien investors and hostile colonies, dig for Ideon crystals, pacify riots and master the perfect balance of production and consumption for many available constructs and technologies.
Imagine Earth has a 83% rating in the steam store. The prototype of the game has won the Intel Levelup Award 2012 and Goldener Spatz 2015. The game was nominated for "Deutscher Computerspiel Preis – Best Student Concept 2010" and for "Best Game Design 2015".
GAME: Blown Away: Secret of the Wind
DEVELOPER: Black Pants
PLATFORM: iOS, Android
COUNTRY: Germany
Hendrik is a schlimazel! All he has left is one last hair on his head, and a pair of teleporting shoes. Everything else was blown away by the wind. Let yourself get carried away and find the scattered remains of Hendrik's house. Charge your batteries and teleport Hendrik through ever-moving levels.
"Blown Away: Secret of the Wind is a gorgeous runner/fast-paced puzzler" — Pocket Gamer
"A stylish auto-run puzzle platformer, Blown Away: Secret of the Wind offers a neat new take on the genre thanks to its unique teleporting movement mechanic." — AppAddict
"Highly-Addicting Platformer" — AndroidHeadlines
"…a platformer which will, quite frankly, blow you away!" — PhoneArena

GAME: Peppy Pairs Paradise
DEVELOPER: 231 Play
PLATFORM: iOS, Android
COUNTRY: Germany
Think you've got the best memory around? Peppy Pairs Paradise will put you to the test!
With over 100 different characters to match, devilish obstacles like landmines and moving tiles to mix up the board, and dozens of levels to complete, Peppy Pairs is an innovative reimagining of the classic games of memory. With challenging single-player gameplay and socially integrated leaderboards to share high scores with your friends, Peppy Pairs will keep you guessing – and matching – for hours!
GAME: Knights & Snails
DEVELOPER: Knights Digital
PLATFORM: iOS, Android
COUNTRY: Germany
Triumph in tournaments and hone your skills to challenge for the Crown Trophy. Collect and manage Champions, leverage their abilities and assemble the ultimate jousting team.
Over 5,000 players participated in the beta. Hilarious voiceovers from Kevin Luzzini. "Potential to be a genre defining classic" — Techstage
You can find the full list of Indie Prize Berlin 2016 finalists at indieprize.org and meet the developers at Casual Connect Europe 2016 on February 7 – 9, 2017, at Station Berlin, Germany.
Join our Indie Prize Facebook community to stay updated about Indie Prize https://www.facebook.com/groups/870174783048528/
A special thanks for the Indie Prize platinum sponsor Unity!
Comments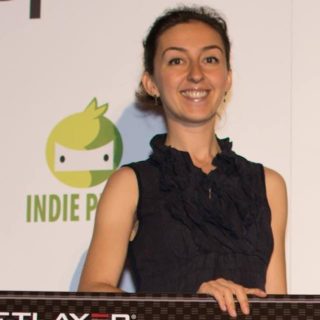 Yuliya Moshkaryova
Yuliya Moshkaryova is the Indie Prize Director and Senior Project Manager and Team Leader at Ukrainian indie studio Wildec LLC. Yuliya travels around the world to meet indie developers from every corner of the globe and to invite the best games to join the Indie Prize scholarship. Follow @MoshkaryovaYuli to stay updated about Indie Prize news and gamedev events.