Alexander Nasonov: Why Free-to-Play is the Future of Children's Apps | Casual Connect Video
Art is unpractical, but still is the most valuable thing in our life. - Alexander Nasonov
Click To Tweet
Premium kids apps sales have decreased drastically: even using Dinotrux or Shrek didn't help Fox and Sheep to achieve planned sales volumes. Bobaka's Green Riding Hood as well didn't sell well even through it was named iPad App of the Year by Apple in 2015. Why out? Transform your creation into a free-to-play children's educational service with episodic content and parents-friendly microtransactions, suggests Alexander Nasonov, co-founder and executive producer at Bobaka in his Casual Connect Tel Aviv session, explaining it on the case of Green Riding Hood. 
Alexander Nasonov is the co-founder and an executive producer at Bobaka. He leads the company's game development and mobile projects for both contract work and self-published projects. To date Bobaka has attained more than 5 million installs and been wildly successful. Bobaka was founded a few years ago in early 2014 but Alexander's career in game developing started in 2006.
"I have been in the game industry since 2006 when I started working as a translator and was lucky to take part in Russian releases of such acclaimed games as Elder Scrolls IV: Oblivion, EverQuest 2, Test Drive: Unlimited and other projects of that scale," said Alexander. "You can find my translations of games' lore's poetry in many big RPG releases that took place in Russia in 2007. Later on I became a game designer and then — a producer, taking part in a number of Russian MMO projects of different kind."
"In 2008 I got my Ph.D. in Economics on 'Modern Trends in Consumer Behavior (on the Massively Multiplayer Computer Games)' and in a few years, in the end of 2010, I started my own business — an independent mobile gamedev studio called Ideal Bureaucracy," he continued. "Our major success was Captain Antarctica, a humorous endless runner game, that was published by German FDG Entertainment and hit 18 top places in different App Store charts worldwide."
With Life, There is Risk
Soon after university graduation he began work at an administrative white collar job. Deciding to take a risk Alexander entered the gaming industry, a move not supported by his family. Because of this he took to reading the books of Osho, Neale Donald Walsch and Aurobindo. In addition to reading he also began training courses in Moscow, using John Hanley's Lifespring for motivation.
The journey hasn't been all that easy, with Alexander having to overcome two bankruptcies during his business career. "I consider that the the biggest challenge in any business is stability," he said. "Ability to keep efficient and excellent work for a long period of time even when you don't get success as quickly as you planned. You have to overcome that challenge every day."
The biggest challenge in any business: ability to keep efficient and excellent work for a long period of time even when you don't get success as quickly as you planned.
Ultimately Alexander is happy with where they've ended up, especially since their recent app Green Riding Hood named iPad App of the Year 2015 by Apple and topped the Kids Paid App Store in several countries. "The favorite thing is to see that the production and marketing processes are tuned well, and all the team members are in their places," said Alexander. "So that everything happens without my direct participation and control."
Going Free-to-Play
Alexander's intentions with Bobaka is to take interactive book apps like Green Riding Hood and transform them into a service for interactive yoga, fitness classes and educational mini-games. He sees this as part of a major shift from premium apps to free-to-play.
"As for the reasons of such a transition, I have to refer to Oleg Stavitsky (CEO of BUBL and Executive at Fox and Sheep, both of mentioned companies are worldwide top kids App Store developers) who in his talk with other kids apps developers from Russia states that premium kids apps sales have recently decreased drastically," said Alexander. "Even the usage of 'high-end' Dreamworks kids brands like Dinotrux or even Shrek didn't help Fox and Sheep to achieve planned sales volumes of their recent releases despite strong promo support from both Apple and IP holders. Our own Green Riding Hood as well didn't sell well enough even through it was named iPad App of the Year by Apple in 2015 and thus also received a lot of attention on the App Store."
"In these circumstances we have to seek the new ways of selling expensive artistic and narrative content to children and their parents. That's why we move from premium books/apps to freemium services," he continued. "We don't see strategic possibilities for us in premium model unless somehow we start making next gen $20 million console AAA game".
The Android Piracy Problem
Much of the reason why he is going from singular releases to services has to do with piracy. Almost any Android app is easily cracked, so having a standalone release that can be illegally downloaded is much less appealing.
"Once you decide to port your kids app to that platform, you encounter impossibility to gross enough on Android without making a free-to-play application with a secured server-based in-apps and diverse traffic sources not limited by App Store's promo slots," Alexander detailed. "And the only way to do it is to transform an interactive book or a premium game into a service with episodes and additional pieces of diverse content to be distributed via microtransactions."
"At the same time the usage of initially free to download content lets a developer communicate with a much wider audience," he continued. "And that is very important if we don't use already established brands, like those mentioned before, but instead are trying to grow our own new IP. This is our case with the Green Riding Hood and I think that is the case as well for many independent developers."
Entering the free-to-play realm will add the challenge of appealing to the different markets and their nuances for traffic acquisition. Alexander also knows that getting the art direction right will be important to achieving true worldwide success.
"There are examples of hardcore games becoming worldwide phenomena even if they're very poorly drawn, but there are no kids games or brands I can recall that are popular despite being ugly," said Alexander. "So the art direction is the key to success."
"There are no kids games or brands I can recall that are popular despite being ugly".
Creating Flawless Products
Testing is important and it's something Bobaka does at every stage of development, from prototypes to release candidates. Currently the company's focus is to get the best possible results within the budget allotted.
"We test with different testers and different testing goals depending on the stage of development," detailed Alexander. "In order to be efficient, the early stages and prototype tests should be performed by executives, the tests through the development process are done by in-house team members, and on the pre-release phase the dedicated outsource testers teams should be invited into the process."
"My primary goal is to increase the publishing strength of Bobaka and the marketing reach of its brands," Alexander added. "We just want to make excellent and flawless products. We don't have any ambitions to change the industry."
Fighting Through Hardships and Pain
Alexander takes a very philosophical, even mystical look at life and work, practicing Kriya Yoga. He was initiated into Kriya by a descendant of the spiritual master Lahiri Mahasaya, mentioned in the Autobiography of Yoga which is said to be a favorite of Steve Jobs.
"From a certain point of view, the whole life is a constant painful experience. For example, Buddhists' ideology has this observation in its core," said Alexander. "Other religions do have a similar concept but described in different words. It seems that in order to get through it, the right attitude is to accept life as a constant suffering that can not be ceased by any achievement or rational intention."
"So the religious answer to any hardship is always a meditative practice or a prayer to God, out of which the energy and means can be found to accept and overcome the current hardship and move to the next one," he continued. "And being able to be centered while surrounded by constant hardships and challenges is the way to letting go the painful experiences and being ready for the life as it is."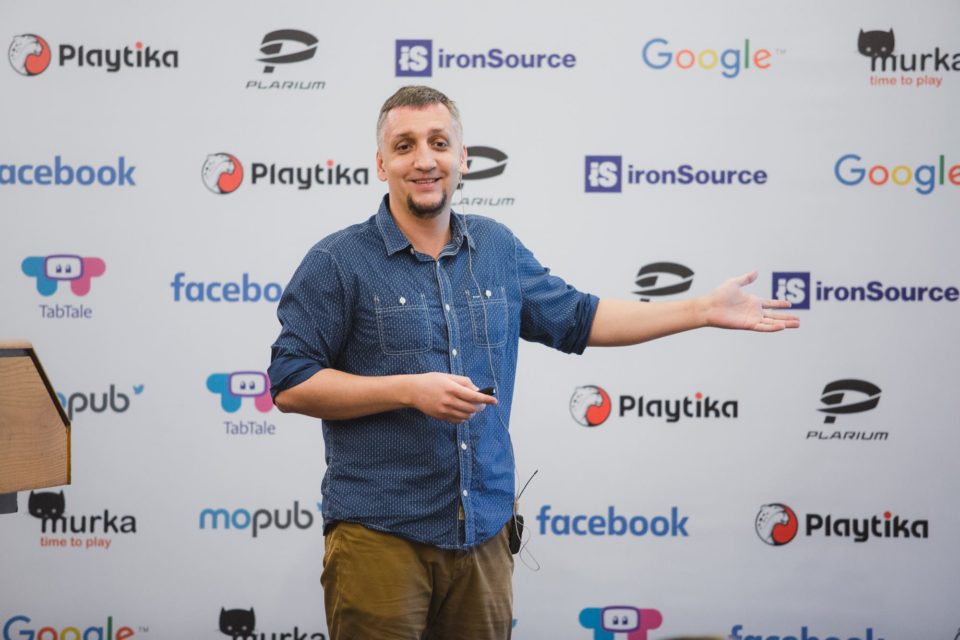 Seeking Bliss
Even though there's an increasing trend of letting kids give feedback during developing a game, Alexander takes the opinion that kids should be free and playful when young and not be exposed to the rigors of game development. At the same time though Alexander has mixed feelings about the medium of video games, both seeing the good and the bad for young people playing them.
"I would be called a video games addict if we looked into the past, the time of my youth. Much of my childhood I spent with friends playing on consoles or PC," detailed Alexander. "So from a practical approach, video games have no value like any other form of entertainment. So the only skills that video games can teach children are the skills to play games."
"At the same time, the phenomenon of playfulness is a significant part of art. And art is unpractical, but still is the most valuable thing in our life. The most and only inspiration for life. Creativity and playfulness are the sources of blissful experiences that help to go through the turmoil of hardships we've talked about earlier," he detailed. "So if we look at the game as a piece of art, then we will find that it possesses all the qualities the classical art forms do. And that means that a game can inspire a human in the same manner as all other forms of art. Inspire a human to seek perfection, blissfulness, God."
At the end of the day Alexander looks to make pleasant experiences for people to enjoy. "We strive to bring joy to children and their parents. This is why we do our best to release nothing but interesting and original apps, games and websites of the finest quality," he concluded.
Comments
David Radd
David Radd is a staff writer for GameSauce.biz. David loves playing video games about as much as he enjoys writing about them, martial arts and composing his own novels.