Mushroom Wars 2: Concept to Release
We are proud to introduce our best mobile game finalist Mushroom Wars 2 made by Zillion Whales! As a winner at the GTP Indie Cup event, Zillion Whales has been given the opportunity to compete at Indie Prize Singapore at Casual Connect Asia 2017. The winter season 2017 of GTP Indie Cup has received more submissions than ever. Our jury board was excited about growing professional level of games from CIS indie developers and Mushroom Wars just proved this growth.
This year at GTP, we continue gathering best talents at our event and the summer season will be more helpful for developers not only by a variety of nominations and prizes but also with new Critic's Choice award from CIS game press critics and journalists. We hope this story about our finalist will encourage you to take a part in the next Cup.
---
By Ksenia Shneyveys,  Marketing Communications Manager at Zillion Whales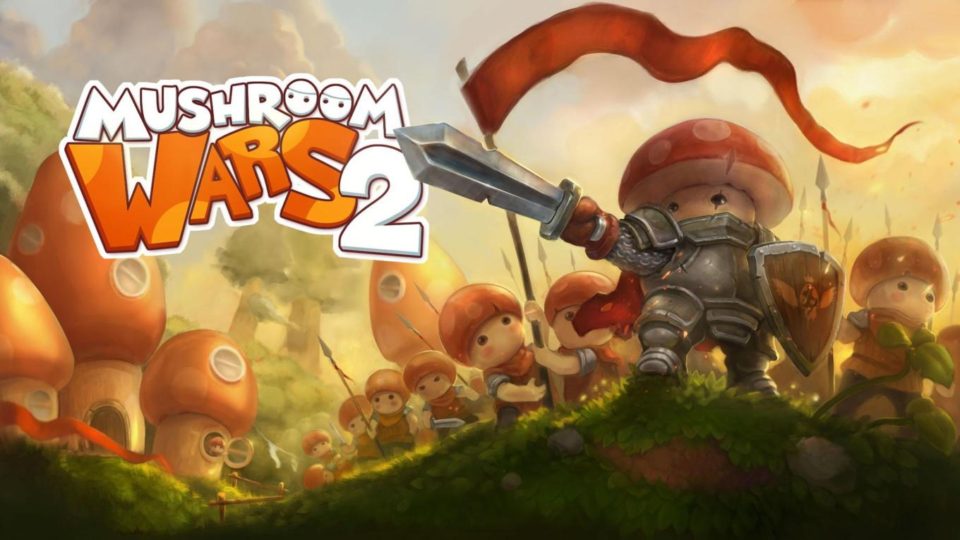 Mushroom Wars 2 is the newest game of a popular RTS series with a rich history.
Back in 2009, inspired by good old Galcon, the original Mushroom Wars was released. We polished this gameplay mechanics to a luster, added signature fungal setting, introduced morale notion and different types of buildings for greater depth.
Mushroom Wars 2 preserved the features that made Mushroom Wars so enjoyable and supplemented them with MOBA elements such as hero characters with unique sets of skills and co-op 2 vs 2 mode. The game is out on iOS and Apple TV. It is coming to Android, Steam, PlayStation 4 and Xbox One next year.
Chronicles of the Mushroom Wars Series
Many great inventions and discoveries are believed to be made during sleep: Einstein's main pillars of the theory of relativity, Mendeleev's periodic table of elements, Alexey Rekhlov's (Create Studio's Game Designer's) unique gameplay mechanics of Mushroom Wars.
In 2009 the game was launched on PlayStation 3, becoming a pioneer of the genre for the console, IGN even called it one of the Top 25 PSN games of all time.
We at Zillion Whales studio have been developing the series since 2012. We ported Mushroom Wars to iOS and Android, launched the game on Steam. We also have a mobile free-to-play version — Mushroom Wars: Space! for iOS and Android.
Path of Mushroom Wars 2
We first started thinking about Mushroom Wars 2 at the end of 2014. Developers of the original Mushroom Wars games joined forces with those, who have been fans of the game for a while, both parties accumulated a lot of ideas to implement.
As soon as the first playable prototype appeared, we began showcasing and playtesting the game at various conferences from Comic Con in St. Petersburg to GDC in San Francisco. Mushroom Wars 2 was called Best Strategy Game, received various Choice awards and nominations even prior to its release.
We started to consider signing up with a publisher vs releasing the new game ourselves. After negotiations with several companies, we chose to self-publish.
Initially we planned to release Mushroom Wars 2 on Steam, then on consoles and only after this on mobile. We talked to all the platforms. We even held a closed beta-test on Steam, involving streamers and PR support and were about to launch. However, working partnership with Apple made us change our plans and launch exclusively on iOS and tvOS first.
It turned out that the game is known and played in the Cupertino office. We had a momentous meeting at GDC 2016, when a person from Apple came up to our booth, showing the only mobile game installed on his iPhone was Mushroom Wars. He's played over 10K matches.
After this, we had a large meeting prior to Gamescom in Cologne. Several managers from Cupertino made a thorough UX review of the game. They gave us valuable advice on the interface elements positions as precise as a single pixel.
So we faced a challenging task to release the game on the new platform in 2 months. We threw all our resources to fulfill it. We didn't switch from the premium Steam mechanics to F2P. Also, we took advantage of the iOS 10 features – subscriptions.
Our efforts and sleepless nights were generously rewarded – Apple featured Mushroom Wars 2 globally and then locally in various countries, too. We still are in some collections and were among top 10 best games of 2016 according to App Store's editors.
After release we faced an ambiguous situation when we had low customer ratings and angry reviews on the one hand, and consequently three-star rating on the App Store, but on the other hand, we had quite a solid income. Negative reviews mostly stated that the game was cool, but the developers were a bunch of greedy douchebags, who enjoy driving players mad.
We saw that it's a common thing for many featured games receiving random organic traffic.
Ever since, we have drastically improved game's performance and our ratings improved. We now continue our work to release Mushroom Wars 2 on Steam and consoles this year.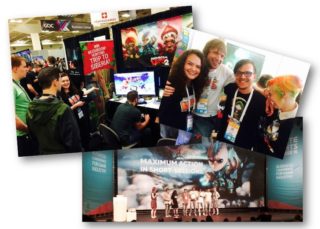 Team
We have 12 people on the team, we outsource video, audio and localization. We have people who worked on the original Mushroom Wars games, we call them guardians of traditions. Also, we have people who ceased work in their own game development studio, but they were fans of Mushroom Wars and wanted to contribute to the sequel. One of the artists we found was a perfect match – his portfolio is full of his favorite fungal theme. He relocated from the Far East to work with us.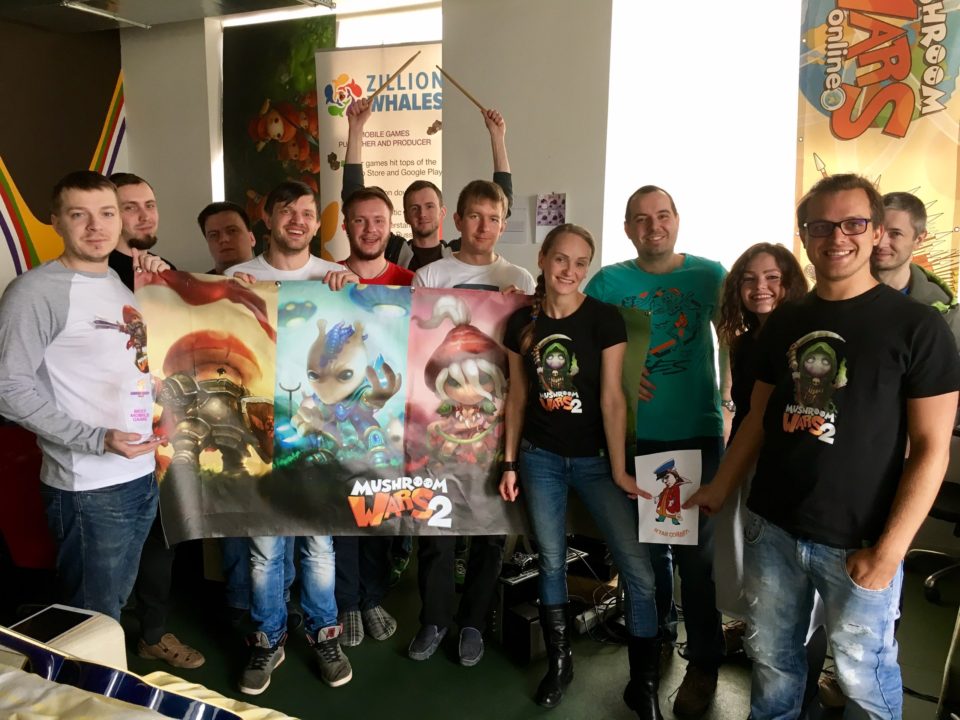 Visual Style
We often receive compliments and positive feedback about the unusual Mushroom Wars 2 graphics. Frankly speaking, the choice of visual style was really tough and took us several months to decide.
As we wanted to preserve the succession between the original and the sequel, we talked to artists of the original game and together thought on how to keep the distinctive "Kawaii style", while at the same time we strived to attain a fresh and more atmospheric look and feel.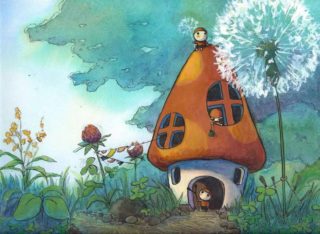 A long while ago, Hayao Miyazaki's Princess Mononoke fantasy anime film served an inspiration for Mushroom Wars games.
As we had a successful experience with launching a game entirely hand-made out of clay, Plastiland puzzle-platformer, we decided to try out this with Mushroom Wars stylistics.
After that, we decided that complex gameplay screenshots might ward off potential players. We created casual sketches imitating familiar Disney's cartoonish style.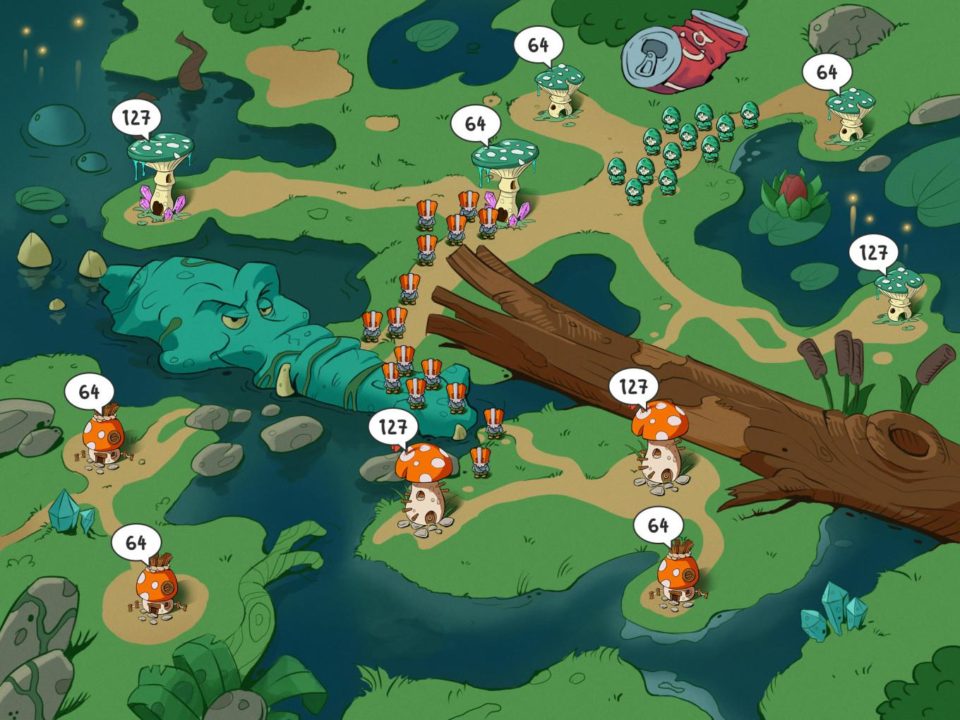 Flat or 3D? That was a hard choice.
We decided to stick with the following style – art that resembles oil-canvas painting with rich bright colors and mysterious hero characters from the Mushroom tribes. This visual style became the new game's identity.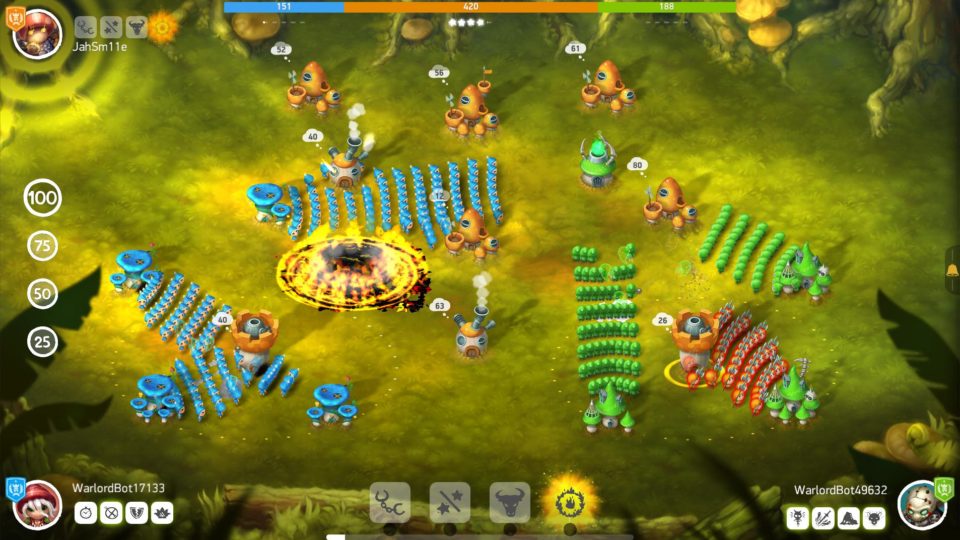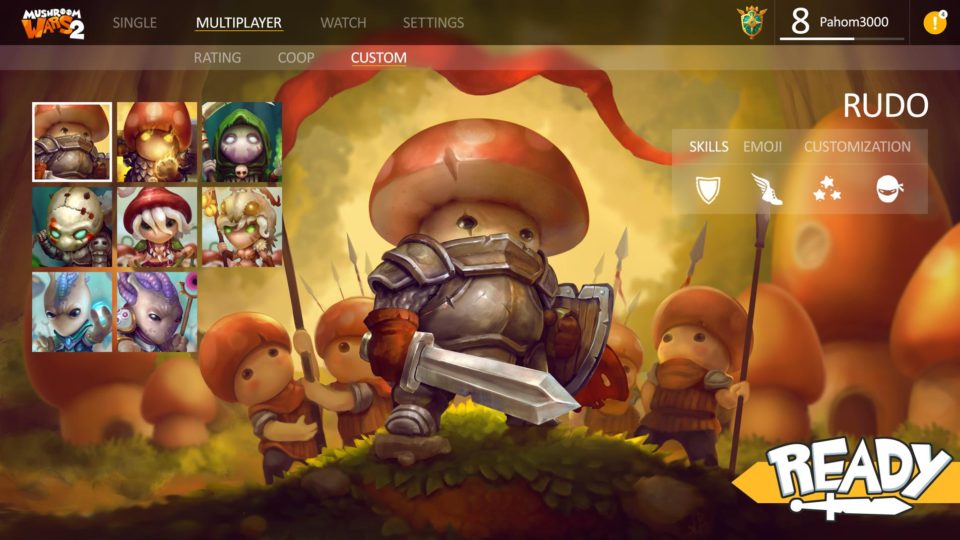 Mushroom Wars 2 is out on iOS and Apple TV for free download. We'd be happy to hear your feedback as we keep on working on the game to make it even better.
We hope this long read was interesting for you and we are be happy to answer your questions in the comments!
Mushroom Wars 2 Team
Comments
Industry Contributions