Let's Play: What it Means for the Gaming Industry
By Sara Parker, Writer and Editor
Gaming has become much more social and communal in recent years. Instead of being limited by your physical location and the number of controllers you have for a gaming console, you can connect and play with other gamers around the world. With this type of connection, new gaming platforms and types of interactions have emerged, such as Let's Play. But what does this mean for the gaming industry?
What is Let's Play?
Let's Play is a style of videos that gamers make of themselves playing video, computer and mobile games. You can watch these videos on platforms like YouTube and Twitch. There also are different styles of Let's Play. For example, Rooster Teeth has a whole series devoted to them playing video games badly. Twitch, on the other hand, usually shows off some of the most skilled players you can learn from and admire. Let's Play videos are easy to watch from your computer at home or while you're on the go with streaming options for smartphones like the Samsung Galaxy S8 plus. If you pre-ordered the device from T-Mobile, you can get the Gear VR, controller and Oculus bonus content for free. Plus, with VR becoming more popular for smartphones, you may also be able to watch Let's Play videos on VR headsets in the near future.
It's Entertaining
Gamers love watching Let's Play videos because they are a good source of entertainment. There are brands, podcasters and YouTube stars, such as PewDiePie, that put out these videos as part of their media and entertainment series. Many of these people became popular because they are funny, witty or sarcastic.
You also may be interested in these videos because many of the players are truly amazing. This is how Twitch exploded onto the scene. You can learn tips and tricks from these players, or you can just see how professionals play some of your favorite games.
It Encourages New Game Play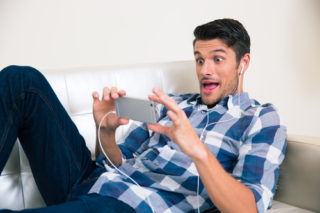 One of the main benefits for Let's Play videos is that it gives you a way to find new games you want to play. Many Let's Play streamers try to hit a wide variety of games that fall under different genres and styles of game play. For example, they may upload videos for several horror games one week and then focus on fantasy games the next week.
If you're looking for something new to play, this is a great way to preview games. If you like the look of the video game world or the game-play style, then you're more likely to feel confident about spending money on the game.
It Could Affect Sales
Many people within the gaming industry are against Let's Play videos, though. Their argument is that you may get your fill of the game by watching someone else play it, or you may see how the story line plays out and not want to play it yourself. This would then mean that you wouldn't spend money to buy the game, which affects game developers' bottom lines. The result in the industry could be that developers produce fewer games.
Let's Play videos have been around in various forms for some time and don't look like they'll be going away any time soon. The gaming industry needs to keep this trend in mind when they're developing games and find ways to use them to their advantage. In the meantime, enjoy watching your favorite personalities show off their skills (or lack thereof)!
---
Sara started her writing and editing career in the world of technology and gaming. She has written numerous articles about the tech world and knows more about the cloud than she ever thought she would. She's an Android enthusiast and is always looking to learn about the next big thing in tech. She is an experienced writer and editor who's always up for a good Oxford comma debate.
Comments
Industry Contributions