Vova Boddiul: Boldly Game Jamming with Colonizer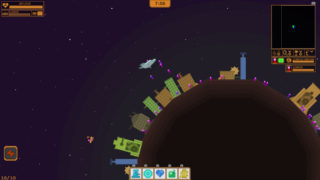 Boddiul is the developer of Colonizer, which was made at Game Factory Jam 2016. The game was the top rated title at Game Factory Jam 2016 and Vova was not surprised by this showing.
"Frankly, I was expecting my game to be top rated game among other participants from Moldova," asserted Vova. The reason is that I am most experienced in Game Jams, like Ludum Dare, but this happened last time, because we managed to involve more and more local developers to participate in large-scale game jams. Experience of my competitors increases, in future it will be tougher to compete even locally."
The showing at Game Factory Jam 2016 guaranteed Colonizer a slot at Indie Prize Berlin at Casual Connect Europe. "Indie Prize may help me find investors interested in my future projects, but will unlikely help me enhance my current project in this stage of development," noted Vova. "I will release Colonizer by myself."

Learning to Pace Yourself
Colonizer was developed because it fit the theme of the Game Factory Jam, as determined by a fan poll. While the game resembles something like a reverse of the classic Midway arcade game Defender, Vova claims that's purely a coincidence.
In the beginning of development I was only inspired by my own gaming experience," said Vova. "Similarities with other games like Spore, Space Pirates and Zombies, Starbound and Stellaris were discovered by my friends while they were playing Colonizer. I don't deny that I could have been inspired by these games, without even realizing it. Right now I focus on creating a game in similar genre to Risk of Rain."
Game jams are generally crucibles for game developers, demanding a lot over a short period of time, and Vova has learned much about game development and dealing with the fraught nature of the game jams themselves, considering issue with mental exhaustion and limited time. "A couple of times I was defeated by game jams, but now I always avoid these problems by treating myself well: sufficiently sleeping and eating during a game jam," said Vova. "To cope with time I follow a K.I.S.S. rule (Keep It Simple, Stupid) and plan my development process right (First make it work, then make it pretty)."
Game jams are opportunities to challenge yourself with limited times and unorthodox topics," added Vova. "Game Factory Jam provided me only with a theme for Colonizer. Also Game Factory Jam lasted two weeks, which gave me more pleasing experience and more time for planning game design, in contrast to Ludum Dare which provides only two days."
A New Game Canon
Vova says he focuses on creating arcade games with dynamic gameplay that's as fun as possible. There's also a focus on making sure the titles have the right "game feel", an expression for the building blocks of game design.
"All of my games are specific to PC as this platform provides fast paced gameplay with dynamic and fun levels," says Vova. "I try to make my games as fun as possible to play, try to make them have a Game Feel. I don't focus on certain platform, because I can make a game for any platform. Game Maker: Studio provides me with this possibility."
If Vova had more resources, his games would have more diverse gameplay and a plot, generally expanding into what Vova would dream of having for his legacy to the industry. "Maybe I could create a new game canon some day," mused Vova. "To achieve this, I always attempt to develop some new innovative game mechanics. It's actually not so easy, because I try to avoid replicating something that already exist. It's well known, that such actions are very risky, because well-known game mechanics are certified to be well played. I'm not afraid to take risks, because at my age I have a lot of time and energy."
While most of Vova's games have been created at game jams, there was one time Vova created a game for a friend at the age of 14 years-old. "It was a 3D shooter with a pixel art style and huge plot, telling a story about his fantastic adventures, including some of our mutual friends," detailed Vova. "I got a big experience from making this game. Only a few people know about this game and have played it."
Burning Up in the Sun
When Vova develops a game, there is usually testing at each stage of development, though generally it's done by Vova alone and no one else. During a game jam, however, it can be hard to do even a small amount of testing.
"During this Game Factory Jam I was unable to properly test my game," Vova noted. "Only main gameplay mechanics were tested thoroughly and then back to coding. My first play session of this game happened only after the game jam deadline."
Vova's solo style of testing matches the development, where he is the single developer on all of his titles. "I have never had the experience of working in a team and I don't want to," said Vova. "At this moment, I prefer to work alone and to control every aspect of a game by myself: design, code, graphics and sounds."
Complimentary to the game jams themselves is the graphical style that Vova uses for his games. "Pixel art is my go-to style during game jams as it emphasizes quickness, simplicity, efficiency and takes a niche which many AAA games can't quite touch," details Vova.
This pixel art style allows for some elements of dark humor comedy in Colonizer. "The funniest moment is the ability to throw out people into the sun and burn them up," says Vova. "No matter how cruel it may sound, it actually may be a nice detail for a curious player. I like adding little details to my games, and a full version of Colonizer will have a lot of hidden details and Easter eggs."
Capitalize on an Innovative Idea
Currently, Vova doesn't sell any of his games, making them instead free to download. "I think, that my games don't deserve being sold (though my friends tell me otherwise)," Vova says. "In February, I posted my game on Greenlight, and after the week my game passed it! Right now, I am preparing my game for a full release in Steam.
Given this, Vova is reluctant to give any advice on reaching success, saying at this point that pure luck plays a huge part. "A lot of able game creators compete and only a handful are noticed," Vova noted. "To maximize chances of getting noticed you need to come up with an innovative idea that will appeal to players."
Perhaps reflective of the hard hours it requires to make any sort of go as an indie developer, Vova responded to the concluding question over what an indie dev should never do with, "Be an indie dev."
Comments
David Radd
David Radd is a staff writer for GameSauce.biz. David loves playing video games about as much as he enjoys writing about them, martial arts and composing his own novels.