Meet the Developers and Their Games from North America at Indie Showcase USA 2017
A great number and variety of games from North America are competing for the Indie Prize at Casual Connect in Seattle 2017, developed by studios from California to Quebec City. Twelve games are from the US and four from Canada.

Game Title: Phantom Brigade
Developer: Tetragon Works
Platform: Desktop Win
Website: www.tetragonworks.com
Country: United States
You are someone who likes to take command and make high level tactical decisions. You enjoy the challenge of balancing risks against possible rewards and the ability to catch your enemy off guard. If this describes you, then you will enjoy Tetragon Works new game, Phantom Brigade. The game is set in an alternate reality and tells the story of a resistance force fighting against the occupants of their homeland. As the leader of this force, you can customize your squad both in performance and appearance and lead them through a variety of missions that may include sabotaging enemy equipment or infiltrating their facilities, ambushing convoys and destroying enemy cover.
Tetragon Works, a small indie game development studio, is located in Seattle, Washington, USA.
---

Game Title: Treadnauts
Developer: Topstitch Games
Platform: Console
Website: www.topstit.ch
Country: United States
Topstitch Games latest title, Treadnauts, is an exciting version of group combat using colorful tanks against bright, tactical playgrounds. Players can skillfully maneuver their tanks in acrobatics that take them soaring through the air to rain down mortar shells on the enemy. This game won the Audience Choice Award at iFest 2017.
Topstictch Games is based in Seattle, Washington, USA.
---

Game Title: Clash of Magic
Developer: Narvalous
Platform: VR desktop/console
Website: www.narvalous.com
Country: United States
Clash of Magic is a real time strategy VR eSports game. Players use heroes and monsters they have collected and built to play in PVE campaigns or in real time PvP mode. Players often describe it as Clash Royale in VR. It is one of only a few VR eSports games with complete game play and an outstanding real time strategy battling system.
Clash of Magic is the newest title from Narvalous, a company based in Palo Alto, California, USA.
---

Game Title: Little Lords of Twilight
Developer: BKOM Studios
Platform: Desktop Win
Website: bkom.com
Country: Canada
Little Lords of Twilight will lead you into Zikverland, where the sun hides and emerges from behind the moons. Each time the sun emerges you will transform and gain formidable powers. This title from BKOM Studios in Quebec City, Canada, is a player vs player, turn-based strategy game where you, as hero, can lead your minions to victory.
Little Lords of Twilight was the Best in Play winner at GDC 2017 and was nominated for Best Mobile App in the Hardcore Category at Game Connection 2017. It was also winner of an Excellence Award and the Communicator Award for Best Mobile App Design, Platinum Winner of the Best Mobile App Awards 2017.
---

Game Title: The Low Road
Developer: Xgen Studios
Platform: Desktop Win
Website: http://www.xgenstudios.com
Country: Canada
Did you ever wonder what it would be like to be a corporate spy? If so, Xgen Studios' The Low Road is a game you will enjoy. The Low Road is a point-and-click graphic adventure set in the 1970s automobile world. It follows a team of corporate spies dedicated to protecting and appropriating industry secrets. The quirky cast of characters take players through intricate puzzles and branching moral dilemmas.
In May of this year The Low Road was Vancouver Full Indie Prize Winner. It also received the Best in Play award at the Game Developer Conference in 2016 and was a nominee for Playcrafting 16 Bits "Best Style".
---

Game Title: Maruta Escape
Developer: Busan Sanai Games
Platform: iOS
Website: http://busansanai.com/
Country: Canada
Maruta Escape is a stealth puzzle escape game set in a cloning facility. You are one of the clones and are trying to escape while enemy robots are searching for you on every level. If you are detected you can time warp back a few seconds and try a different path.
Maruta Escape has received favorable reviews on Pocket Gamer and Mobile Syrup (under its previous name, Maruta 279. It was a top ten finalist at the 2017 IndiePlus contest and an official selection at Google Play Indie Games Festival in San Francisco.
---

Game Title: Pets Race
Developer: Kooapps
Platform: Android
Website: kooapps.com
Country: United States
Pets Race is a 2D side scrolling multiplayer racing game. 4 players race against each other online. Each player is a cute animal racing for first place and to gain valuable loot. Players can pick up special racing items and valuable boosts during the race and can also collect special coins to customize the animal and its home or to give it treats. A player can also chat with other players in a player lobby and invite other players to join the game.
---

Game Title: Armajet
Developer: Super Bit Machine
Platform: iOS, Android
Website: http://superbitmachine.com/armajet/
Country: United States
Armajet is a mobile game designed for competitive gaming on tablets and phones. This multiplayer shooter features fast-paced jet pack combat as teams confront each other. Although the game is easy to learn, mastering it is a different question. Armajet is cross-platform and can be played simultaneously on iOS and Android.
Armajet has been an official selection at Google Play Indie Festival 2016, at GamesBeat 2016 and at LA Games Conference 2016. It was also a Best Game nominee at Google Play Indie Festival 2016.
---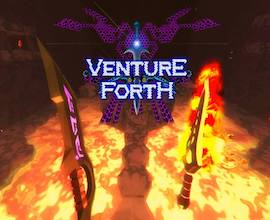 Game Title: Venture Forth
Developer: Arclight Worlds
Platform: Desktop Win
Website: http://www.arclightworlds.com
Country: United States
Venture Forth is set in a labyrinth of caves with danger lurking around every corner. This challenging adventure game has a 90s shooter feel and is extremely challenging.
Venture Forth was an Indie Prize Winner at 2017 Sacramento Indie Arcade.
---

Game Title: Philosopharium
Developer: Philosopharium team
Platform: iOS
Website: http://philosopharium.com
Country: United States
Philosopharium is a point-and-click adventure puzzle game that helps the player understand core concepts of Eastern philosophy. It is intended for teens, young adults, teachers of philosophy and anyone interested in spiritual development. The game's story line offers opportunities to think about concepts of death, free will, moral obligations, the meaning of life and the importance of empathy and self-improvement. Although these are the big questions, the learning is both efficient and fun.
Philosopharium was selected for the Youniverse art exhibition.
---

Game Title: Tiny Bubbles
Developer: Pine Street Codeworks
Platform: iOs
Website: http://pinestreetcodeworks.com
Country: United States
Tiny Bubbles is a puzzle game using clusters of soap bubbles. Players can pop the bubbles by matching at least four colors, creating cascading chain reactions. But this is more than a match game because these are soap bubbles. So besides popping bubbles, players can snip the edge, connect bubbles, mix colors and fill in a bubble to create a matching color. There are more than a dozen different moves and the puzzles are far from easy.
Tiny Bubbles was a winner at the Seattle Indie Game Competition and also won the Best Overall Game award at Intel Buzz Workshop.
---

Game Title: Sand Stories
Developer: Sensory Studio Games
Platform: Android
Website: sensorystudiogames.weebly.com
Country: United States
How high can you build a sand tower before the tide rises? Find out in the endless vertical runner game, Sand Stories. As you build you can collect power ups and dodge obstacles to grow higher and higher into the sky. All this while enjoying the hand-crafted art style and stop motion animation.
Sand Stories was accepted into the first Google Indie Fest in 2016.
---

Game Title: Doomwheel
Developer: Katsu Entertainment LLC
Platform: iOS
Website: http://www.katsugames.com/
Country: United States
Doomwheel is a fast-paced infinite roller that the player pilots through the battle field to claw out territory. The goal is to rise through the ranks of the ratmen by building the fastest, most powerful Doomwheel ever.
At the East Coast Game Conference 2017 in Raleigh Doomwheel won the Indie Prize Competition.
---

Game Title: Planetoid Pioneers
Developer: Data Realms
Platform: Desktop Win
Website: www.datarealms.com
Country: United States
Planetoid Pioneers is the result of Data Realms unusual approach to collaborative to game design and production using a community of player/contributors. The game has players crafting, exploring and struggling to survive on and inside planetoids. Players construct their own planets and creatures and share them with others.
The game received:
Best Hardcore Game at Game Connection America, 2016
Best of Quo Vadis at Quo Vadis 2016, Berlin
Best of Show at Arizona Video Games Showcase at Phoenix Comicon, 2016
Best Technics Indie Game Award at Taipei Games Show, 2017
---

Game Title: Auto Age Standoff
Developer: Phantom Compass Inc
Platform: Desktop Win
Website: www.phantomcompass.com
Country: Canada
Would you enjoy becoming a wheeled warrior in head-to-head combat? Customizing your vehicle? Playing as part of a team or going solo? If so, Auto Age Standoff is a game you will enjoy. It takes place in the future when the recovery of New America is in your hands. You can go alone in your own death match or team up for a death match or a base assault.
Auto Age Standoff was the winner of "Best in Play" at GDC 2017.
---

Game Title: Crashy Cars
Developer: pixelbizzare
Platform: iOS
Website: pixelbizzare.com
Country: United States
Crashy Cars is an endless, one-touch arcade game. Your goal is to get your car safely across the intersection with cars coming at you from all directions. To succeed with it you will need to ramp up your timing, your ability to anticipate and your precision. Success lets you earn points, gain coins and unlock rare cars as you explore new levels and aim to beat your best score.
Crashy Cars was the winner of Big Indie Pitch San Francisco in March, 2017.
Comments
Catherine Quinton
Catherine Quinton is a staff writer for www.gamesauce.org. Catherine loves her hobby farm, long walks in the country and reading great novels.