Wibe Wagemans: Creating Change in Consumer Behavior | Casual Connect Video
Solitary players are spending most if we put them into the most socially active room! - Wibe Wagemans
Click To Tweet
As the fastest growing social casino company, Huuuge Games is innovating through relentless focus on a real-time social multiplayer platform. At Casual Connect Asia, Wibe Wagemans spoke about how Huuuge Games has already achieved category leading monetization (ARPDAU) and has seen success with TV and digital ad campaigns and how Huuuge Games is going after new market segments and demographics. He reflected, "The funny thing is there are a lot of players in social casino who play slots solely alone. What we've discovered is if we put them in the same room room with other players, you can drive the ARPDAU for even 50-year-old players." Keeping on top of updates is crucial to user retention. He explained, "I cannot emphasize enough how important speed is for a startup. We have cycles where we do updates every two weeks – which allows us to innovate way faster than anyone else in the industry."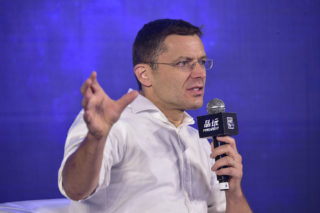 Wibe Wagemans, Chairman of Huuuge Games, is a man focused on the ability to change consumer behavior, something he maintains can be done with tremendous impact in startups. Wibe joined the board of Huuuge when the company incorporated in the USA, following experience running the mobile divisions of both Big Fish Games and Rovio, and serving as President of Indoor Atlas. His time with these companies has been an advantage since both the challenges and opportunities are similar to those he faces with Huuuge Games.
Bringing Change First and Fast
Wibe became involved in the game industry in 1999 when he produced his first mobile game over SNS and his first mobile online video game came in 2003. It was an exciting opportunity to be the first to bring this change to the consumers.
He particularly enjoys the pace of his work, emphasizing, "It's amazing what a highly skilled, focused and motivated team can do."
To anyone interested in a career like his, Wibe points out the importance of the learning curve and suggests beginning by finding great mentors in a growing market. Start with a specialized role and put in the 10,000 hours necessary to become expert. Then you will be ready to look for a culture in a startup that suits you and a wider role in a less structured environment.
Creativity and Perseverance
In his fifteen years at the executive level in the game industry Wibe has been responsible for several dozen # 1 ranked hits in the App Store in the US. In those early days creative approaches to every process made a great difference. He emphasizes that creativity still makes a great difference but now he deals mainly with brand management and large budgets.
When Wibe started with Huuuge Games, they experienced challenges getting the funding they needed. As he relates, "No one wanted to offer us a decent term sheet for series A and we had to lay off team members." But they persevered and overcame this problem. "Less than a year later we were at break-even, managing triple digit growth."
As he looks toward the future in the game industry, Wibe foresees that most games will be truly social. Huuuge Games has discovered, "We see that solitary players are spending most if we put them into the most socially active room!"
Two Genres of Casino
While Huuuge Games is the fastest growing social casino company, they are aware that they may be competing for users with real money gaming. However, Wibe points out that the two are mainly separate genres with separate growth paths. Social casino's success comes through optimizing the experience for the 98% of users that want to play for free. The difference between the two genres can be seen when comparing the one time deposit for the two. The OTD on social casino is 60%, while for online casino it is only 7%.
Social casino is focused principally on entertainment and attracts more players than RMG. The social aspect creates greater stickiness as users attempt to unlock a new level or beat their friends or earn bonus points.
In contrast, money is the sole purpose in online casino. Money is what the players want and gambling is what gives them a rush. "This is why," Wibe asserts, "there are low conversion rates from OTD to second time deposits in the case of online casino, as real money is involved in online casino."
Future Opportunities for Casino
In the future, social casino and online casino may be able to work together to take advantage of such things as brand management opportunities. There is the potential for joint CRM programs where the player will allow opt-ins that track their behavior both in online and offline casinos if they see benefits as a result.
Wibe also foresees opportunities coming in skill-based gaming, especially in poker and AI.
VR offers possible opportunities as a platform for social casino, but this is probably five to ten years in the future. He explains that the basic problem with VR is it requires a different setup; you can't just grab your phone and play. Apple Watch has a different problem. The screen size is just too small for an enjoyable user experience.
What it Takes to Succeed with Social Casino
There are a number of factors social casino companies should consider in their efforts to succeed. Innovation is essential. Wibe considers the tremendous success of Huuuge Games is a result of their platform innovation that makes social casino really social. They are also able to use tracking for very effective mobile marketing and their superior game mechanics allow them to be much more aggressive with their faster ROI. All of their marketing tools were built in-house to meet their specific needs.
The speed of constantly changing technology is a constant challenge in the game industry. Huuuge Games deals with this through extremely fast development cycles.
Effective ad campaigns are a necessity for getting a game noticed. Wibe insists that the only way to know if a campaign is effective is through constant testing. This year TV advertising has been performing really well for Huuuge.
And, of course it is important to know where to market. Wibe believes there are still many countries and areas, such as Asia, that are emerging markets where social casino can grow.
Comments
Catherine Quinton
Catherine Quinton is a staff writer for www.gamesauce.org. Catherine loves her hobby farm, long walks in the country and reading great novels.