Oskar Burman: Finding the Magic in VR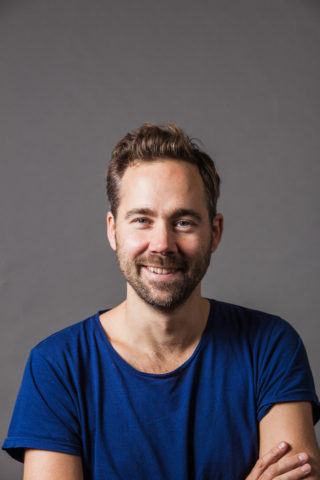 Oskar Burman is CEO of Fast Travel Games, a company they founded with some friends from EA DICE during the summer of 2016. As CEO of a small company, their role includes everything from janitor to project manager and business developer. Fast Travel Games is a VR games studio, and after twenty years in the game industry, Oskar found the opportunity to do VR, something they felt compelled to try. "It's been a childhood dream," they say, "and the future is finally upon us!"
During Oskar's years in the game industry, they have been Development Director at Avalanche Studios (the creators of Just Cause), COO at EA Easy, a part of EA DICE, and General Manager of Rovio (creators of Angry Birds 2). All of these positions built the experience that led to the position Oskar fills today.
These days the most enjoyable aspect of Oskar's work is "finding the magic in VR." At this stage all the rules are being established; this is a new medium they are exploring, trying to understand which genres will work and how the UX/UI should be structured.
Fun Times Making Games
Oskar has been fascinated by gaming from childhood and by age twelve was already making games. These early games were in Basic and were small games for family and friends. The experience was incredibly enjoyable, particularly the ability to control the computer.
Hooked on computer programming as a teenager and already selling their own games on floppy discs all over the world by the time they left school, there was just no other choice than to begin trying for the profession of making games. This was in the early 90s, and the market for games was still quite limited, but Oskar describes the struggle to make a living from games as "Fun times!"
Oskar describes their creative process as very much a gut feeling. The questions are always whether the game they are building is fun and if there is something more they can do to add to the fun. The inspiration for their games comes from almost anything: other games, books, people, society, nature. And sometimes it is difficult to identify where the inspiration originated.
Interestingly, Oskar sees a lack of constraints in time or resources as simply another form of limitations on game development, since then anything should be possible. So they prefer to build within stated limits. There is nothing quite like the fantastic moment when all the pieces they have been working on click together. But unfortunately the pieces sometimes never do come together, and then, of course, there is nothing to do but start over.
Ups and Downs of a Career in Games
There have been many moments in Oskar's career that have brought great satisfaction, but perhaps the most exciting in recent years came with the release of Angry Birds 2 in the summer of 2015. After working long and hard, the team had completely redesigned the game.
They used a new game engine as well as redesigning it for F2P, so they didn't know if fans would like the game. But the release went well and became a great success for the studio.
The low points in Oskar's career have come when it has been necessary to let staff go. They have found the best way to handle this painful experience is to be completely transparent and honest. "Let the employees understand as much as possible of what is going on in the company." This has worked well for Oskar when they had to let people go at Avalanche Studios; in fact, many returned when they were able to hire again.
The team members Oskar looks for are those with a can-do attitude and lots of energy. "People that shine bright and love to explore the unexplored," they say.
What Oskar hears most often from the team is, "Stop breaking my game!" For some reason, Oskar is very talented at doing the unexpected when testing the latest build!
Coming Soon in VR
Within the next few years, Oskar is certain VR will be a huge influence in the game industry, especially VR in social play. The social aspect of gaming is already important on PC, console and mobile, but VR can bring it to an entirely new level with players actually being in the same place with each other. There will certainly be limitations in developing games using VR, but limitations could be a stimulus to creativity rather than a drawback.
Many of the classic game genres will be coming to VR in the next couple of years, but Oskar is most interested in the "creation" genre. They are waiting to see the next Minecraft sensation in VR.
The business models Oskar expects to see with VR will include premium, F2P and everything in between. While there may not be any new business models with the VR platform, they expect the balance between the different models to be more even than on mobile.
To anyone interested in following a career in game development Oskar recommends getting the right education. There are excellent schools to prepare for this career; in Sweden Game Assembly in Malmö and Future Games in Stockholm both offer a two-year crash course in game development.
Comments
Catherine Quinton
Catherine Quinton is a staff writer for www.gamesauce.org. Catherine loves her hobby farm, long walks in the country and reading great novels.