Finding Success as an Indie | Casual Connect Video
You know the mobile games market is saturated, with many games coming out every week. And the gigantic companies have a huge advantage; everyone knows who they are and what they can do. So how can you, an indie developer, succeed in this market? And can you do it while staying true to yourself and what you want to create?
There are indie developers who have found ways to compete and succeed. At Casual Connect USA 2018, a panel of these developers shared their experiences in the session Ask the Developers – How Indie Devs Can Compete with Giants and Remain True to Themselves. Here are the participants: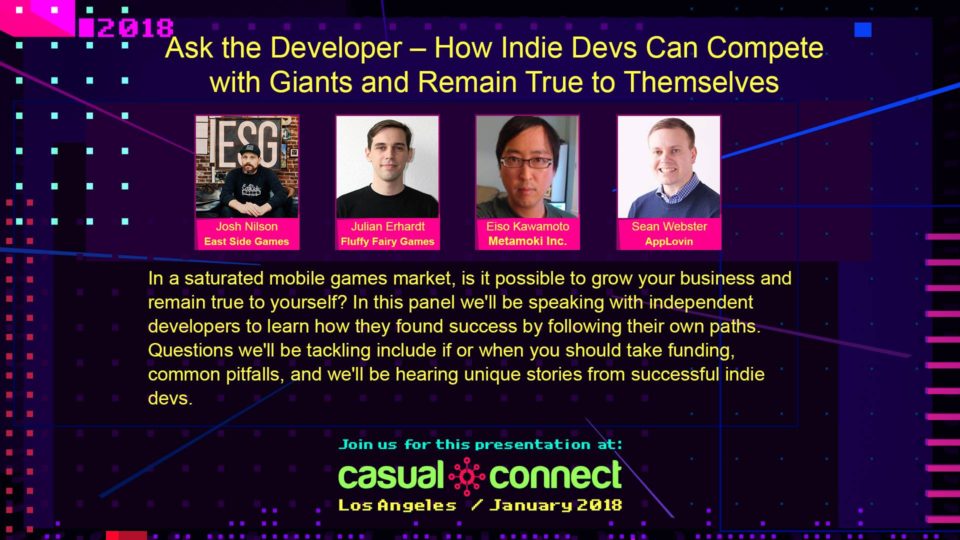 Josh Nilson, CEO and Co-Founder of East Side Games, the studio that created Trailer Park Boys: Greasy Money. This game was a top 100 game in more than 100 countries and had great player reviews.
Julian Erhardt is Producer at Fluffy Fairy Games. He began as one of the first employees one year ago. Now he owns the full release process for all updates of Idle Miner Tycoon and all platforms. He makes sure the millions of players get new content and optimizations every week.
Eiso Kawamoto is Head of Product, Monetization and User Acquisition for Metamoki, the studio that developed and published Mob Wars, Fruit Pop and Tap Mafia. Eiso spearheaded business development and game publishing in a partnership with Warner Music Group, building and successfully launching Wiz Khalifa's Weed Farm on 420.
The Panel Moderator was Sean Webster, VP of Business Development at AppLovin, a mobile marketing platform that helps developers expand their businesses. Sean brings in new publishers from around the world to a company that processes more than fifty billion ad requests every day.
The panel discussed questions of urgent importance to indie developers, such as: should you take funding and when, and what are the common pitfalls. They also described unique stories from successful indie developers. If you are concerned about how to succeed as an indie, these are the answers and experiences that could help you. Be sure to watch the video of this session!

Comments
Catherine Quinton
Catherine Quinton is a staff writer for www.gamesauce.org. Catherine loves her hobby farm, long walks in the country and reading great novels.