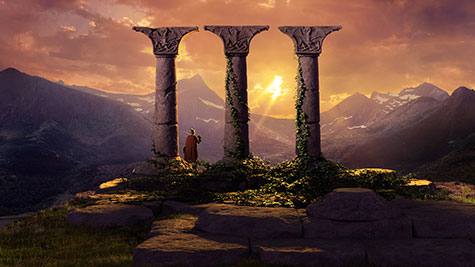 Located in the US, Basilisk Games is an independent game developer with the mission to produce old-school computer RPGs. They have been working on the Eschalon trilogy since 2005, and released the last chapter in February 2014. Thomas Riegsecker, owner of Basilisk Games and Lead Developer of the Eschalon Trilogy, shares the story.
---
A Dream Project
Way back in 2005, I decided to take my notes from years of developing role-playing game ideas and turn them into a computer game. Originally called Under a Riven Sky, the game was going to be a trilogy based on secret societies, the end of the world, and an enigmatic race of creatures so advanced as to appear to be alien to the player. The game would feature pen-and-paper-like game mechanics, an open world, and a genuinely unique turn-based combat and movement system. Before I knew it, I was living off my savings account and working full-time on the game that would eventually be renamed Eschalon: Book 1.
Encouraged by an ever-growing fan base who had seen screenshots and read about the game mechanics, I worked night and day for two years to complete the first game of the trilogy. In November 2007, I released the game to the world and was genuinely surprised by the response. The game earned back my full investment in three months and made enough in six months to fund the second game in the series. Not to mention, I was officially a successful indie game developer. Working from home, earning a solid paycheck, and making games was a dream come true.
2007: A Very Different World for Indie Games
When Book 1 launched in 2007, the gaming scene was very different than it is now. There were no tablets or smartphones back then. Computer displays were predominately 4:3 CRTs, and even the few LCDs that were available were not widescreen formatted. Indie gaming was in its infancy and the market was uncluttered. Eschalon: Book 1 was right at home in this market, and it sold very well to gamers who were tired of the path that mainstream RPGs had taken over the previous decade.
However, between 2007 and the launch of Book 2 in 2010, things changed dramatically. Many people had dropped their old CRT monitors in favor of a 16:9 wide-screen LCDs, yet others still clung to their old, beloved square CRT displays. This was a problem because the Eschalon game engine (which I was committed to reusing for all three games) used a fixed resolution with bitmap sprites. It was not particularly flexible and trying to make the game look good on these different displays was difficult. Although I did increase the native engine resolution up to 1024×768, I did not adjust it to a 16:9 format which was probably my single biggest mistake at that time of Book 2's development.
A Crowded Marketplace
The most dramatic change between 2007 and 2010 was that indie gaming had exploded during this time. When Book 1 launched, we had all the media coverage we could want. The game was featured in mainstream gaming magazines and websites, and not a week went by that I wasn't asked to give an interview or write an article about the development of the game. But by Book 2's launch in 2010, we were just another indie game among hundreds, and our fixed resolution engine no longer looked as good to gamers who were accustomed to seeing high-resolution 3D graphics. I had to work much harder at promoting the second game, which ate into the first year of my development time on Book 3.
Of course, by the time Book 3 launched in February 2014, the indie game scene had become an out-of-control monster. The market is now over-saturated, with dozens of indie games coming out weekly. This has driven the sale price of indie games to an all-time low, and even then, many customers will wait for the 50 percent discount that they can expect over the summer and holiday sale drives. It seems that as the indie scene grows more popular with the mainstream gamer, "niche genre" games are pushed further out of the spotlight for games that feature tried and true, familiar elements. And remember that mistake I had made in not converting Book 2's engine into widescreen format back in 2010? In 2014, many gamers refused to even try Book 3, citing the lack of widescreen support to be too jarring to be able to enjoy the game.
Reflecting Back and Looking Forward
If I am honest about what has made Eschalon a minor success, it's because it is a game series that caters to a very narrow spectrum of gamers. Many of our customers are over 30 and grew up on pre-Diablo style role-playing games, and they are looking for a very specific type of gaming experience now. These are the customers I focus on because if I tried to appeal to the mainstream gamer mass, I would be neglecting the customers who have supported Basilisk Games from the start. It's a challenging path to follow, and more than once I drew the ire of Eschalon fans for trying to add a feature that I hoped might draw in new customers. Catering to this niche market has limited the game's appeal to the general gaming audience, though it is the very reason for Eschalon's successes as well as its failures.
It's hard to believe that I've spent nearly nine years working on Eschalon. From the earliest design phase in 2005 to the release of Book 3 in 2014, it has been a long and difficult road marked with many highs and lows. I've been asked by many people, "Was it worth it?" I assume that people want to know if the money I've made from the games justified the ridiculous, unhealthy number of hours I worked to develop them. I can't really answer that right now – not until I've had a chance to decompress from this final game development cycle. Although, I will give some advice to other indie developers: do not let a large project take over your life. It's very easy to find yourself working day and night, weekends and holidays, all towards the dream that your game will be loved by all and will sell a million copies in six months. That kind of success is extremely rare and the mental burnout that you experience from such an extended, crushing workload can have long-lasting, negative effects.
Our fans are already asking us what is next for Basilisk Games, and the truth is that the future is more clouded than ever. Everything depends on how well Book 3 sells in the next six months because this will determine the budget of the next game. One thing is for sure: Eschalon is done. There will not be another Eschalon game, and the Eschalon engine will not be used again. Beyond this absolute truth, I am honestly just as as curious as our fans are to discover what is next for Basilisk Games!
The Eschalon Trilogy is available on Steam, GoG.com, Mac App Store, and on their website. Stay up to date with Basilisk Games by following them on Facebook and Twitter.