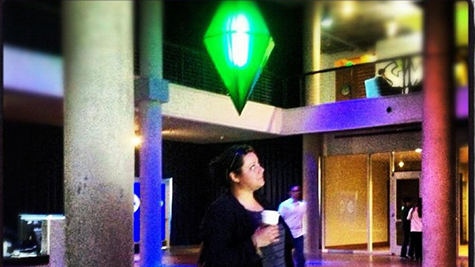 "The framework for analysis that I use when I go into any game is taking a look at what is the metric that is suffering the most right now that can contribute the most to my gross revenue," Roxanne Gibert told her audience during her session, Monetization Toolkit: Tuning Game Design Using Analytics, at Casual Connect USA.
Facing Distribution Challenges
Roxanne Gibert is a Product Manager of User Acquisition for DeNA. She is currently working on driving new viral, cross-promo, and user acquisition targeting features for the Mobage platform. She believes the biggest challenge the games industry currently faces is becoming truly cross-platform and finding new distribution sources outside of the social networks. The industry needs to create new networks that can connect developers with distribution sources other than Facebook and the Apple store.
Her previous experience as a developer with an emphasis on user behavior analytics will help her create more seamless discovery experiences for players on the Mobage platform.
In Roxanne's free time, she enjoys spending time with various activities around San Francisco, a city where she loves living. She takes urban hikes through the city or Golden Gate Park, explores the restaurants and lounges and drives around Lake Tahoe and Napa Valley. She also enjoys wine tasting, playing poker, and cooking for her friends and family. She occasionally likes to dabble with playing the piano and guitar.
When you realize what flying blind really looks like, you want to find the answers, and the process of coming up with those solutions is really enlightening.
Analytics from Scratch
When Roxanne tells us about the greatest moments of her career, she describes starting a mobile gaming studio two years ago. They published a midcore strategy game that wound up hitting Top Ten Strategy in US and Canada, and they make their own analytics platform. She describes this time as an incredible learning experience.
Creativity vs. Data
The biggest challenge Roxanne has had in her career was trying to merge a culture of creative design with a metric-driven business strategy. Although she doesn't claim to have overcome this challenge without a few bumps in the road, she did learn how to merge the two over time. She tells us, "This process led me down the path of diving really deeper into user behavior analytics and forecasting than I had in my career. When you realize what flying blind really looks like, you want to find the answers, and the process of coming up with those solutions is really enlightening."
Android Emergent
Roxanne believes the next important trend in the games industry will emerge as Android opens up a whole new way of looking at app development and discovery. She says, "I am excited to see how developers grow on Android."