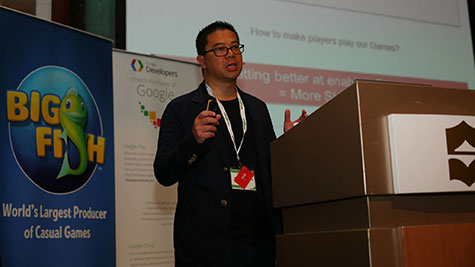 "Sometimes it's a miracle, sometimes you don't really know it, but in a way you can plan it or you can also structure it," Tung Nguyen-Khac said in regards to getting your game up in the app stores at Casual Connect Asia 2014. "But it is one of the hardest things to do, to get into the app store, to get into the top grossing charts, but also to get into the top installs charts."
Tung Nguyen-Khac, CEO of ProSiebenSat.1 Games, feels the major achievement of his career was when the company acquired Aeria Games. ProSiebenSat.1 was the first company to close a large M&A deal in Europe. This was an especially satisfying experience for him because he had the idea, initiated the talks, and, together with their M&A team, he negotiated and executed the transaction. He says, "We made the impossible happen! Only a few in the industry would have expected this from ProSiebenSat.1."
Love For The Industry
Nguyen-Khac became involved in the games industry after meeting Heiko Hubertz, founder of BigPoint. When he came on board, BigPoint was a rather small company, but he immediately began expanding, growing it from just a handful of people to a few hundred employees; it became a big player for online browser games in Europe. And he has never regretted the decision.
He emphasizes that he loves the industry: it is never boring, and, as in a big family, you can exchange views and opinions, even with competitors. He particularly appreciates the way gaming connects people, whether old or young, or from the East or West. This is especially important to him because of his Asian background.
Taking The Helm
Nguyen-Khac assumed leadership of the management board of ProSiebenSat.1 Games in December 2012. He tells us, "The story which led to this position includes a good mixture of startup experience, media, and finance know-how, and naturally, a good portion of luck. It helped a lot that I've learned the intricacies of a big corporation in the past, so I was well prepared when joining." As CEO, he is responsible for strategy, M&A, and all online games publishing departments. It is not surprising that he thinks of himself as someone who can make things happen.
When not involved with work, Nguyen-Khac pursues several interests. He is an avid reader, especially of biographies, and he loves traveling. But doing activities with his family is the best quality time he can think of.
Most of Nguyen-Khac's gaming is connected to his work. Currently, he is playing the internal beta of Goal One, the football manager they have coming out this May. He also has fun playing and testing mobile quiz games and mobile eLearning apps—he is always looking for the best ones for his children. An iPhone is the device he uses for his gaming, although he believes both Android and iOS have their distinct advantages from a business perspective.
He must be a very dedicated gamer, since he describes playing while sitting in a ski lift last December. He was losing when the lift made a swift movement and his phone fell about 30 meters down deep into the snow. Of course, he never found it again, although he says, "The person who found it may be a happy mobile game player!"
Free-To-Play Domination
For the next few years in the games industry, Nguyen-Khac sees free-to-play continuing to be the dominant business model and mobile becoming the number one platform, with eLearning more and more relevant, especially in Western markets. He also believes we will see more and more highly involved communities forming around specific gaming concepts, uniting different kinds of gamers, from casual to core gamers of all ages.
At Casual Connect Asia, Nguyen-Khac announced that with the acquisition of Aeria Games, ProSiebenSat.1 Games formed Europe's number three publisher, SevenGames. He also discussed Goal One, their new football manager which will be at the launched internationally at the end of May.