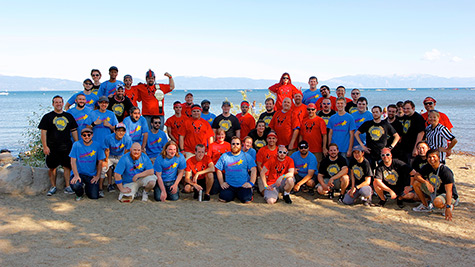 When a person has a passion for gaming and the motivation to do something with that passion, great things happen. Such is the case with 5th Planet Games. The "studio" was, at first, not even a studio. It was just four guys who played games together. Slowly, they warmed to the idea of making their own games – games they would enjoy playing themselves. This idea drives them forward each day. In the beginning, 5PG took a chance by launching a hardcore game on Facebook at a time when it was believed these games would not "work" there. In May 2010, they proved everyone wrong when their first title, Dawn of the Dragons, became a Facebook hit. 5PG believes they create social games that are fun and engaging for all kinds of gamers, from hardcore or casual.
Life at 5PG
Since Dawn of Dragons, the company grew from 4 to 55 people, but they still all share a passion for games. In fact, it is such an important trait that they look for it in all new hires. "Does somebody really love gaming and really love their work?" asks Robert Winkler, co-founder and CEO. "Do they believe in what we're trying to do and are they willing to go the extra mile to get the job done? These are intangible traits, but very important to the kind of culture we are trying to build." He jokes that having "insane skills in whatever role you're applying for" is helpful, too.
Shared passion makes it easy for the team to work collaboratively. All ideas are considered and encouraged, regardless of who it came from. Even when there are disagreements, they are quickly taken care of. "Everything we do always comes back to the premise of 'Is this the right thing to do for our player base and community?'" says Winkler. "It's usually pretty cut and dry when you look at things that way, so that helps resolve most disagreements or difficult decisions."
Creating Outside the Norm
At the time of Dawn of Dragons, hardcore games were not successful on Facebook, so why did 5PG take the risk? Simple – these were the games they wanted to play. 5PG games reflect that shared passion through the gameplay, storylines, and artwork. The amount of work involved can be a problem, but they enjoy it regardless. "We are creating these whole worlds that players are asked to invest themselves in, so we have to make them seem as real and fantastic as possible," says Winkler. "It's not like a casual game, where you can design a whole game around one or two simple mechanics – there's a lot of layers to our games, and they take time to flesh out, but in the end, we feel it's worth it."
5PG added another challenging genre to their portfolio: Digital Collectible Card Games. According to a report by the Casual Games Association this is one of the highest monetizing social games categories. They update these types of games by creating new cards with new mechanics. "With each new release, we risk that a new mechanic has a different effect on the game than originally intended, or that it severely alters the way the game is played," says Winkler. While this can be a challenge, Winkler says it also creates unexpected opportunities for players, causing them to think up new strategies. He spoke more on this topic during a session at Casual Connect.
A Lasting Community
The community surrounding and supporting their games is key to 5PG's success. "One of our guiding principles is building games that enable players to benefit from cooperation. Helping fellow players rather than rewarding payback and the demise of fellow players," says Winkler. To do this, they incorporate certain ideas into their games promoting this type of gameplay, such as guilds and alliances. The team shows a lot of respect to the team members who interact with their community the most, and puts a lot of emphasis on supporting their large community. "Community interaction is so important to our games not only because it makes them more social, but because it depends on a player's engagement and keeps them engaged for longer," says Winkler. "We even fly in a group of players every month or so to hold player councils, where we can pick their brains directly on what new features they'd like us to implement, how they want to see the games evolve, and other ways to improve the games."
With such a focus on the community, one sees why the fans stick around, but Winkler points out that there is another reason: "Our Games-as-a-Service approach, we are constantly rolling out new features and content so the gameplay never gets stale or boring." Even Dawn of the Dragons, launched over three years ago, receives regular new updates. 5PG also takes player feedback into consideration when looking into new content. "We take in feedback – both constructive and not so constructive – and iterate on our designs and content based on this feedback," says Winkler. "We find that our players understand the games at least as well as we do and more often than not, their suggestions are right on the mark."
Find out what 5th Planet Games is up to now through Facebook and Twitter.