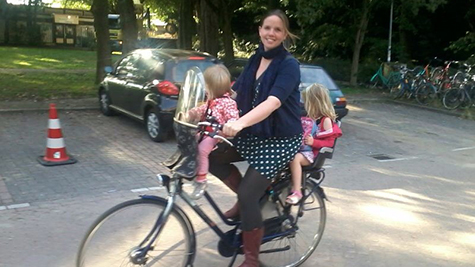 Kim Verbon talked about designing games for tween girls during her session at Casual Connect USA 2014. "If you're going to develop for a wider children's audience, destroy the stereotypes," she advised.
Kim Verbon, founder of YamSam, loves the endless possibilities in the ever-changing landscape that is the games industry. There are new mechanics and trends emerging around every corner, and she has the opportunity to decide if she should stand still and let them pass by, or dive deep and go for it. She says, "The industry itself has become a game of skilled surfers riding the waves of trends, mechanics, and platforms, trying not to be eaten by sharks, sometimes paddling against the stream and, in the best scenario, being sold to a whale." And for someone who enjoys games as much as she does, what could be more fun than riding this wave?
The Joy Of Bringing Joy
The greatest satisfaction she gets through her work comes from seeing children enjoying the games she has worked on. After releasing 50 games she designed herself and more than 200 her teams created, she declares, "It's amazing to see the children play, or read the comments they give, or hear them talk out loud to the game; seeing children enjoy your game, that's magical!" She emphasizes that this is why she keeps creating: the moment of tension questioning whether they will like it, and the broad smile and proud feeling if they pick up or point out the little jokes, new mechanics, or puzzles she put in there.
The Next Level
YamSam is Kim's latest creation; she founded the company in June 2014. After she decided to leave Spil Games, where she had worked for seven years and on many games for children, she immediately received several requests for game and strategy consultancy and game design work. So she founded YamSam, and she's currently working with several clients. She is also working on her own project, now in the concept phase, a game for tweens full of experiments and exploring. She expects to have the high concept level ready to show by the end of the year. YamSam offers consultancy on games for children as well as gamification for educational products.
Fragmentation Challenges
Kim believes the biggest challenge facing the games industry today is the enormous fragmentation of platforms, and the number of choices to be made that seem old by the time you come to a decision. She responds by making clear and conscious decisions, and then following through on them. Otherwise, she claims, "If you keep turning back, you'll never release anything because you'll be stuck in the circle of trends and buzzwords forever." She feels the market for children is still very open if you make decisions based on your target audience and game subject, but it is essential to make clear decisions and not necessarily follow the big hits of the day.
Experimenting Outside Of Work
The enjoyment Kim finds in creating and experimenting in her career also comes through in her free time activities. She loves to experiment with cake and cookie baking, using the ingredients she has on hand, although she also enjoys using a recipe. And baking with her pre-schooler is an experiment in itself, answering the important questions in life, such as "How do you get as much flour in the bowl as on the floor?" or "How do you keep the yummy dough from magically disappearing in a tummy?" But any cookies that do make it to the oven are delicious! And besides baking, she enjoys pub quizzing, photography, swimming, writing stories, polka dots, and, of course, petting unicorns with her two daughters.
For her gaming, she plays whatever she likes wherever she finds it. Currently, she is playing Mario Kart 8, where she is trying to get better than her husband, Monument Valley, which she considers the best game of 2014, Scribblenauts for the funny solutions you can create, Little Inferno for the thrill of setting things on fire, and lots of kids' titles for both research and fun.
And she keeps a truly eclectic collection of consoles, PS2, PS3, Wii, Wii U, Gameboy, Nintendo DS, Nexus tablet, iPad, iPhone, even Atari and ColecoVision, although she avoids mentioning these last two to her brother who is actually their owner. And, of course, her PC.