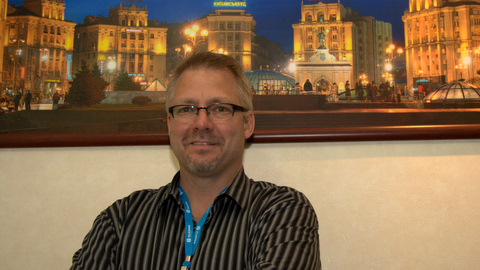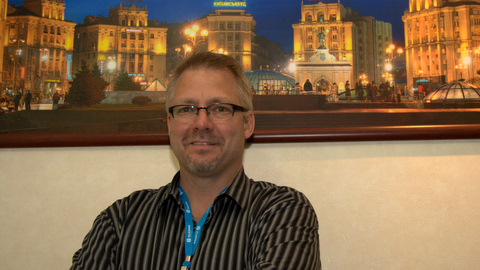 After almost a decade of being in executive and managerial positions at companies like Microsoft, WildTangent, Screenlife and most recently Gazillion Entertainment, industry veteran Stuart Moulder is now traveling the world in search of a new challenge. "If I was a corporate, political kind of person, then that was right," Moulder says about his previous positions. "But I'm a product person. I came into the industry because I liked games." We sat down with Moulder during Casual Connect Kyiv to talk about his interest in casual games, how big franchises can wear you out and the value of Western game professionals in Eastern Europe.
Stuart <3 Casual
In 2003, Moulder realized that he had very little opportunity at Microsoft  to have any real impact on the games he worked with, Moulder quickly considered finding a new challenge. After a year of 'detoxing' as a consultant, Moulder joined WildTangent full time. "They were a casual game company and that was pretty interesting to me."
Probably because as I had gotten older and had a family, my own playstyle incorporated more casual game types. I think that hardcore gamers in their 30s and 40s are all pretty similar that, most of them want to be good parents and have a balanced lifestyle, and they don't want to give up too much time for gaming.
Moulder believes casual games have been a great answer for gamers who's lives have changed, but still have a passion for gaming. It later became one of the reasons Moulder got involved with Screenlife, who would later bring their Scene It? franchise to the Xbox 360 and several mobile phone platforms. Moulder moved over to Gazillion in 2009, but left the studio last summer because his job ended up being a lot like his previous position at Microsoft. "You have that amount of management responsibility, that the amount that you can affect game development is pretty modest," he recalls. "The other thing that I was struggling with was that Gazillion was founded on the old online model of having a high concept or a great license and then building a rich Warcraft-like MMO."
"Even when you do three-year games that are successful, it actually wears on you."
Moulder soon found himself uncomfortable with that model and the estimated development times of two to three years per product. "But it's usually four to five years or more," Moulder says. "It didn't feel like they were able to throw aside the work that they've done and shift gears to try and reinvent themselves."
Now that the business aspect of monetizing online, social and casual games has become more developed, Moulder is on the hunt for potential partners. For a product-oriented person like himself, the idea of rapidly working out the core gameplay and marketing it quickly is golden.
"You're not stuck with the same for two, three or four years only to have it not be a success in the marketplace," Stuart argues. Recounting his own motivation to orient himself to another direction, Moulder remembers recognizing the same kind of fatigue one can get from those kind of projects in the eyes of many developers he previously worked with at Microsoft.
"Even when you do three-year games that are successful, it actually wears on you," Stuart says. "Part of why Bungie left Microsoft was that all Microsoft cared about was more Halo. The people who started on Halo in 1997 have been doing that same basic game for over ten years–in some cases, more than half of their lives. It's hard to feel like you're job is creative and innovative when you're working on something for so long."
XP points
Moulder's search for the right partners has also led him to Eastern Europe on multiple occasions where many developers are very much interested in western developers for their expertise and experience. "Their games are a very solid top 10% kind of quality, but it's definitely not that top 1%," Moulder argues. "It's like wine tasting, where there are people that taste wine and can really tell. […] I think the talent is there. What they need is people who can transfer that knowledge and can partner with them."
According to Moulder, the expertise he and many other western industry professionals have acquired could play a key role for talented Eastern European developers to significantly improve their business. "It's the polish, the tuning and the feel," he says. "You can talk about it, but it does take a certain articulation beyond 'it wasn't fun'. That's what twenty to thirty years of playing and developing games gets you."
"Nintendo has done this in the past, where they've worked with a non-Japanese developer."
Moulder admits to be surprised that Western publishers seem to rarely send experienced professionals and producers to provide assistance to their Eastern European partners. Having consulted several companies in the region himself, Moulder suggests more publishers should build on such a model. "Nintendo has done this in the past, where they've worked with a non-Japanese developer," Moulder recalls. "The best-known one was Rare. They would bring them into Kyoto and Myamoto-san would have them in their shop as kind of apprentices if you will. They would take the game through its next stage of development in their environment. […] Rare could go back and could deliver that level of quality of their own."
Carrying with him a wealth of experience in managing development teams behind big-budget titles, Stuart Moulder is but one of many industry veterans who have happily embraced the shift to more rapidly developed, iterative and smaller size projects in the casual and social game sphere. That shift has struck more and more developers all around the industry, who are now roaming the world in search of new projects to challenge them.
As for Moulder himself, he is currently doing full-time consulting at Gazillion's Netdevil studio in Colorado, where he is working with the teams of both Lego Universe and Jumpgate Evolution.