Sara Is Missing: How "Real" Is It?
By Jeremy Ooi, Game Designer of Kaigan Games
Kaigan Games is a 6 person game company based in Kuala Lumpur, Malaysia. Founded by two brothers, Sharizar and Shahazmi along with Jeremy Ooi, the team started working on their first game together before the company was even formed. Wanting to break the mould from making casual games, they decided to take on a more serious approach and make narrative-heavy games designed specifically for the mobile medium. A pitch was drafted and a demo was made. Jeremy shares the story of Sara Is Missing, the Best Mobile Game of Indie Prize Asia 2017.
---

When I met my partners, we were all burnt out of making casual games mostly for other people. Thirsty for a new project, I jokingly pitched a game concept that was as far away from casual as possible. A game set in a phone, like Replica, combined with the mystery theme and realism of Her Story. I said "jokingly" because the logistics of filming with live actors and designing a game where you replicate an entire phone in form and functions feels like a huge undertaking for us at that time. However, after some discussions, we were serious about the possibility of it happening. A few days of brainstorming – and we settled on the idea of a found phone horror game called S.I.M – Sara Is Missing and started working on the demo.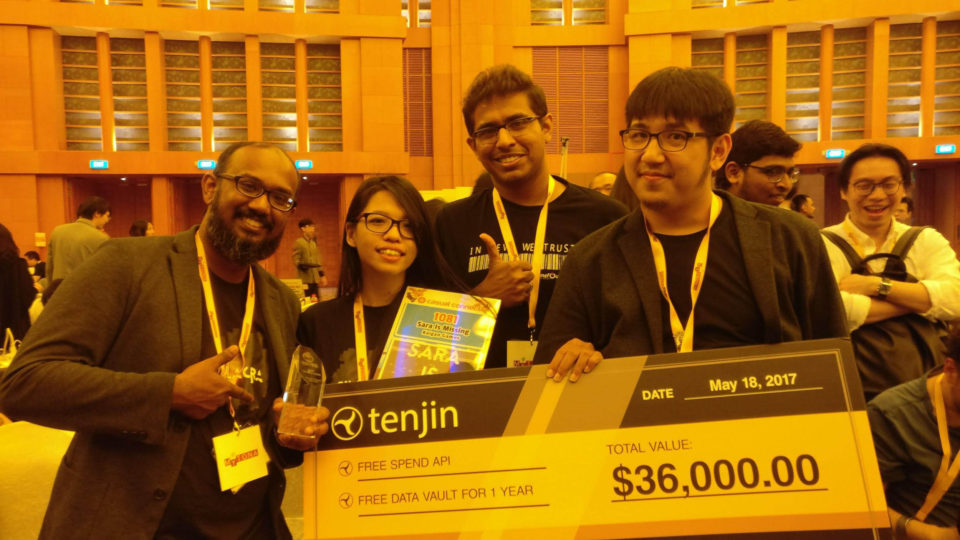 Phoneception
While "phone simulator" games are starting to become a genre of its own as of the time of writing, we didn't have much to start with during the early months of development. We had no point of reference and pretty much had to come up with everything from scratch.
The vision was big at first. We want to fully simulate a phone, with chats, galleries, call features along with popular apps like Tinder, Uber, a web browser and a music player. We were strapped for resources at that time and couldn't bear the risk of making these features and failing. So we went just for the core features and shelved the rest. A chat app for players to make narrative decisions and learn about the characters, and a phone assistant (like Siri or Google Assistant) to guide the players along the way. We added filler features like a gallery, emails and music player to give the characters more personality. Just enough to make a game out of it and prove the concept.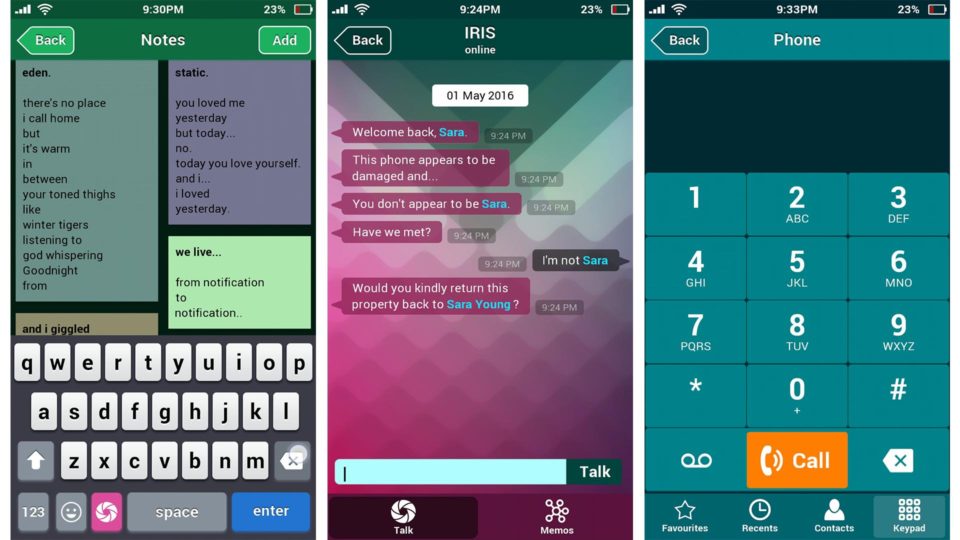 The story was particularly challenging, as none of us is a trained writer. We knew we wanted to make a horror game so that YouTubers would pick it up, but we didn't know what would be the best way to do it. We used an obscure Japanese urban legend called the Red Room as a base for the story and built the rest from there, where the titular character Sara gets caught up in a technology-based supernatural event. A non-linear story of exploring a phone excited us, but having no writing experiences, we settled on a linear one instead. We decided to focus more on creating game mechanics while we sought the help of a writing team to flesh out the narrative and film the in-game videos. Whatever we couldn't film or write, we asked for permission from other creators to use their work and incorporate it in the game, like the creepy videos and some of the filler texts.
We wanted the game to create a sense of eeriness and evoke a voyeuristic experience for the player.
Gating the game's content through gameplay was something we spent the most time on. We wanted to make the gameplay as close to using a phone as possible, trying not to introduce unfamiliar mechanics to the game. The most logical solution was to block the player through password puzzles, but that proved to get quite repetitive. We used the supernatural aspect to justify the phone being limited in data and explored different mechanics on how to unlock them over time. We even experimented with a keyword-style puzzle where players enter notable keywords to "restore the phone" but that proved to be confusing and it also breaks our own rule. While not the best solution, we settled a tap and hold feature which allows players to progress and find clues by tapping and holding on interesting text or images.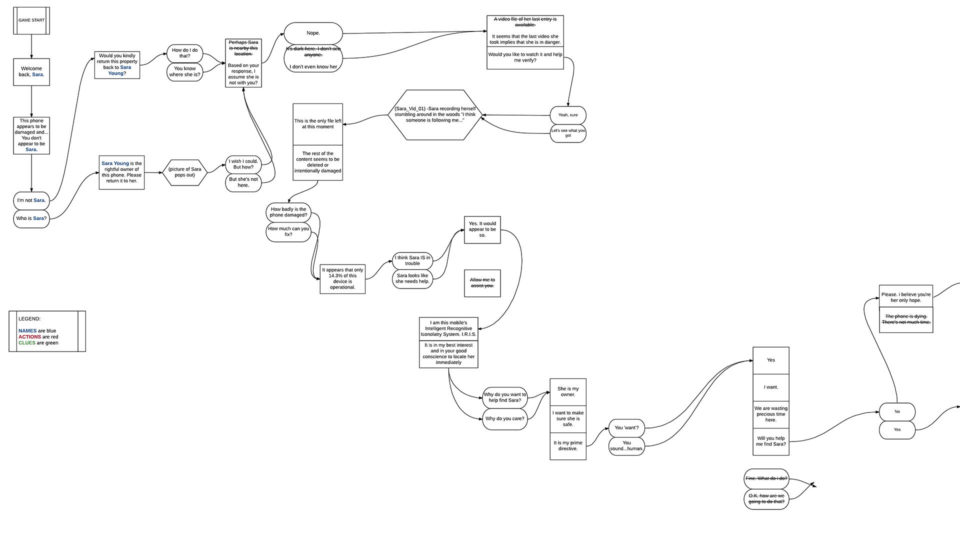 Verisimilitude
We wanted the game to create a sense of eeriness and evoke a voyeuristic experience for the player. For the most parts, we did it. But the flaws of the game became very apparent once the novelty wears off. Since this game was a proof of concept, we took many of these lessons to our next game (more on that later).
The realism aspect was a double-edged sword. Some people were really immersed in the experience, drawn deep into the game with little effort, while others got genuinely freaked out by the game. At the beginning we asked the player to reset their "phone", as a meta scare, making players second guess if their phone was really corrupted. This turned off plenty of people and telling them "it's part of the game" inspired very little confidence.
The UI was also a tricky thing to balance. We recreated a phone UI as accurately as possible without much thought, but it turns out to be disruptive to the experience. Our notification bar served no function and was was there for purely aesthetic reasons. And when the player's real messages came in and sometimes overlapped with the NPC's messages, they were confused if that was part of the game. We also based the navigation on an iPhone UI, where the back button is on the top left. People who played the game on Android kept pressing their home buttons, with the hopes of going to the game's home screen, but instead made them exit their app.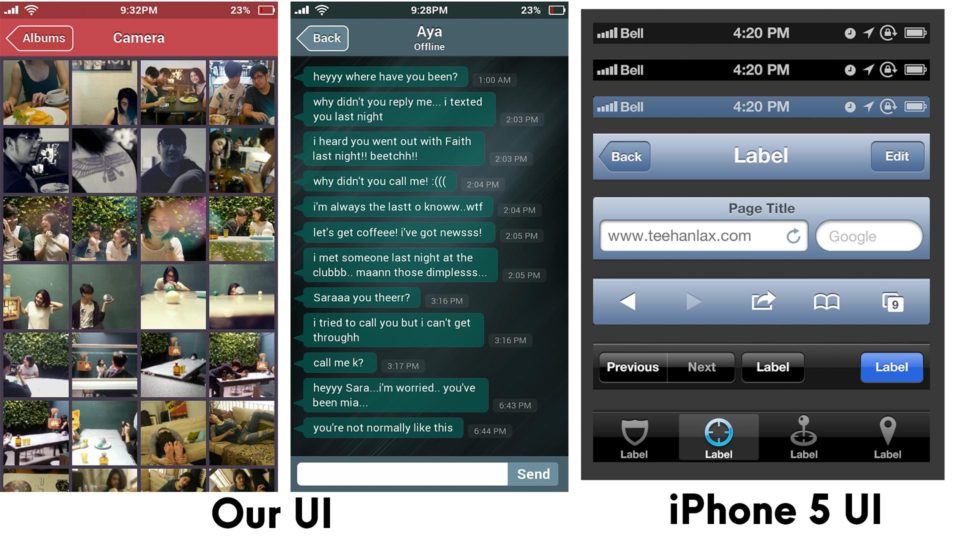 When building a narrative game, there are some expectations you have to meet, and one of the most important ones is multiple endings, which we didn't really have. We only spent 2 weeks on the story and  ended up with a pretty short game, with an average completion time of 15 to 20 minutes. However that should not pardon us from at least trying to create more endings. Speaking of which, the biggest criticism from players was that our ending was pretty weak and abrupt, further robbing them of their satisfaction when they complete the game.
When you make a game that feels real, some players will explore how "real" it is.
One of the biggest surprises for us was that we didn't expect players to dive in so deep into game game's lore (there was no lore). When you make a game that feels real, some players will explore how "real" it is. Most of our dates and times don't match up to the character's actions, which left the hardcore game theorists dissatisfied. Some players tried to connect the creepy videos with the game's story, but they we're really just placeholders made out of random videos from the internet. Others think there is some ARG (alternate reality gaming) elements to the story. Some players realized that one of the in-game coordinates is of a real location, but it is more of a hint to where we, the developers, are from, and nothing to do with the story. We even had players calling our fictional phone numbers in the game, where one of them turns out to be real.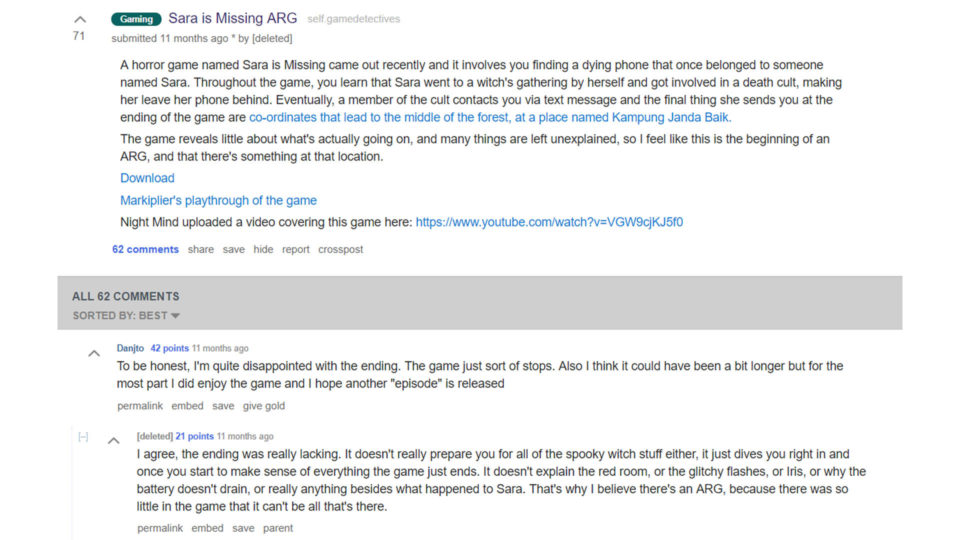 More Than A Concept
Sara Is Missing could have easily crashed and burned, and we accepted the risk. Thankfully it paid off. While Sara Is Missing is a free game and we made no money of it, but the value of the project is still there. It brought us plenty of opportunities and support for our next title and grew our team to 6 people. The novelty of a "found phone" games is starting to wear off as many other games are trying to have their own go at the medium. The challenge for us today is to elevate that concept and transform it into a proper genre, with a deeper story, tighter mechanics and making things fresh again.
Sara Is Missing was a valuable lesson in more ways than one. SIMULACRA is the true vision of the game with all the cut features incorporated and all the lessons implemented. We believe we have pushed the boundary of what this game genre can be, and are excited to see how our fans will enjoy it.
Comments
Industry Contributions