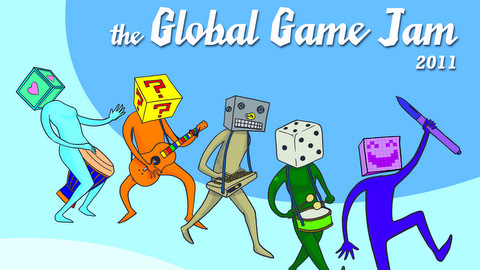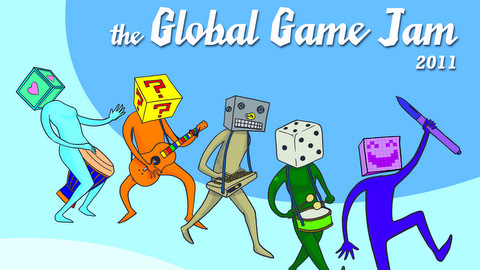 We have announced the ten winners of the Gamesauce Challenge for the IGDA Global Game Jam!
The ten winning games were selected from the 1487 games that were developed last weekend during the Global Game Jam 2011. Each winning team has been awarded the opportunity to showcase their game during Casual Connect Europe on Thursday, February 10, 2011 in Hamburg, Germany and all-access passes to Casual Connect Europe and three nights of accommodation.
Submissions were judged based on the potential of their teams to create commercially viable projects and meet with publishers during Casual Connect Europe. Each Global Game Jam site was given the opportunity to nominate their very best project for the contest.

The Winners (in alphabetical order)
Death Pizza
Turku, Finland
Sabastian Jakaus, Tatu-Pekka Saarinen, Arash John Sammander. [email]
Hamsters and Plague
Oulu, Finland
Mika Oja, Teemu Kaukoranta. [email]
The Last Fleet
Capetown, South Africa
Marc Luck, Luke Marcus Viljoen, Rodain Joubert. [
email
]
Ned, You Really Suck the Life Out of a Room
New York, USA
Team NED: New York, USA, Randall Li, Chris Makris, Ben Norskov, Matthew LoPresti, Roger Cheng. [email]
Planetary Plan C
Curitiba, Brazil
Henrique Schlatter Manfroi, Pedro Medeiros de Almeida, Amora B., Karen Garcia, Rafael Miranda Gomes, Rodrigo Braz Monteiro, Fernando Su, Ne Sasaki. [email]
Rhythm of the Stars
Tampere, Finland
Pekka Kujansuu, Olli Etuaho, Juho Korhonen, Aki Jäntti. [email]
Somyeol2D
Bremen, Germany
Kolja Lubitz, Jannik Waschkau, Carsten Pfeffer, Jan Niklas Hasse. [email]
Snobli Run
Kajaani, Finland
Veli Vainio & Ilkka Leino. [email]
Speck
Manila, Philippines
Marnielle Lloyd Estrada. [email]
Ultimate celebration
Rochester, New York, USA
Lane Lawley, Brian Soulliard, Devin Ford, Lawrence Jung, Kevin MacLeod. [email]
The Runner Ups (in alphabetical order)
Dramatic Extinction
Hamar, Norway
Stig-Owe Sandvik, Kenneth Aas Hansen, Andreas Fuglesang.
Glitchhiker
Utrecht, The Netherlands
Jan Willem Nijman, Rami Ismail, Jonathan Barbosa Rutger Muller, Paul Veer, Laurens de Gier.

How to Kill Pandas
Pelitalo Outokumpu, Finland
Antti Piironen, Anssi Pehrman, Tuuka Rinkinen, Salla Hakko, Heikki Koljonen, Hannu-Pekka Rötkö, Lauri Salo, Juho-Petteri Yliuntinen, Lari Strand, Henry Härkönen, Sina Aho.
Johann Sebastian Joust!
Copenhagen Game Collective
Douglas Wilson, Nils Deneken, Lau Korsgaard, Sebbe Selvig, Patrick Jarnveldt.
MeteorCrash
Córdoba,  Argentina
Ezequiel Soler, German A. Martin, Carla Soledad Corcoba.
Make sure to participate in the IGDA Global Game Jam next year for your opportunity to win!