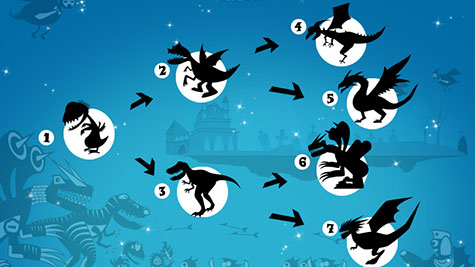 NTFusion is an independent game studio based in Guangzhou, China. They created their first game, NTCreature, in 2011. In two years, it has grown into a series of games: NTCreature, NTCreature2, Pocket Creature, Pocket Creature PVP and the newest Pocket Creature Shakespeare. They have been popular in global game arcades. Zhifeng Chen shares the experience and lessons they learned while making the whole series.
Our Love of Tower Defense and Playing Pokémon!
We are fans of tower defense and Pokémon. So it made send that our first game idea was a combination of tower defense and creature-raising. Players have to defend their castle from waves of enemies, and they can control a creature of their own. Their creature can eat different types of enemies to evolve and each have unique attacks and abilities.
We worked for four months to make our idea a reality. The result was NTCreature. It won us the grand prize at Mochi China Flash Game Developer Contest, which was very important to us. It was our first game and it won! It felt like we were on the right track.
More Creatures and Game Modes
After almost half a year, NTCreature2 comes out, and we added two races of creatures, five game modes and even more towers. However, we felt that we were beginning to lose control of the game. The complexity of NTCreature2 has made difficulty balancing a really tough job.
Now there was too many controls and strategies for the players: WSAD for directions, SPACE for abilities, E for eating, attributes adding, evolution, all while building different towers to defend every route. Players found it difficult to get familiar with all the staffs of NTCreature2. Many of them gave up after playing only 5-10 minutes. Even worse, only 0.1 percent of the players completed the whole story mode.
Simple but New
We decided to simplify things with the next game, Pocket Creature. We kept the creature's evolution strategy, but made the battle simple: players didn't have to make decisions during battle. The only thing to do in Pocket Creature is build your creature team and feed them for evolution, and then watch them fight!
Surprisingly, Pocket Creature, which only took us one month, is more popular than NTCreature2. Many players asked for a new version of Pocket Creature. With their voice, we decided to go further. Based on the players' feedbacks, they want more diverse strategies and a system that can challenge the creature teams from other players.
We design a new GEM system to let players put GEMs on their creatures. Each GEM can increase creatures' attack damage, HP or elasticity. With the GEM system, players can have plenty of strategies even with the same team. They can choose a high damage team with range knockback creatures, or a high HP team with all melee guys, or a balance team with both high damage and elasticity creatures…there are numerous possibilities!
Of course, we have another exciting system, the PVP system in Pocket Creature PVP. Players can challenge other creature teams from all over the world. And with the GEM system, you'll find lots of fun in doing so.
The release of Pocket Creature PVP has been a big hit on flash game arcades. It has been featured on many big game sites like Kongregate, Newgrounds and Armorgames. And now we have the newest version of Pocket Creature, the Pocket Creature Shakespeare, has three new levels, seven more legendary creatures and a Free Lucky Draw system for getting rare creatures.
So, What Have We Learned?
1. Be creative, but don't make the game complex. Letting players focus on one single creative point is just OK.
2. Listen to the players to learn what they want (PVP system, for example), but you may not know how they feel (some may find it hard and some may find it easy). Just remember to watch the statistics!
3. It is a good strategy to make a series of games. But if you find you have lost control, feel free to redesign it. You will be surprised with what you can do!
To keep up with NTFusion news, follow them on Facebook!