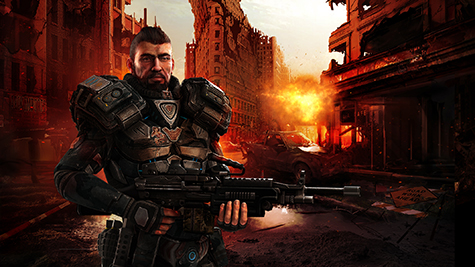 "China is big, we all know this," Patrick Wheeler tells his audience at Casual Connect Kyiv 2013, "but to deliver games there, you need to be wary of the regulations and choose Chinese partners carefully."
Patrick Wheeler, CEO of Smartions, describes his company as a provider of comprehensive game and app adaptation services for the Chinese mobile market, supporting their clients in effectively monetizing games and apps, as well as increasing user acquisition and retention. Their goal is to make China accessible to foreign game developers, so they act as a business enabler through providing services in adapting, publishing and monetizing games in China, as well as a technical enabler with their China SDK and tools. Patrick says, "Bringing great mobile games to China and making the experience as painless as possible is what we are all about."
He explains that his experience while working with Aeria Games in Berlin taught him a great deal about the economics of free-to-play games since monetizing in difficult markets is something Aeria Games excels at. As well, every member of the Smartions team brings an understanding of the B2B market in the West and the B2C market in China. As a result, they are working with more and more great publishers and developers to bring their games to China.
Establishing a Business
Patrick started his career as a developer many years ago, at a job where his focus was on the details, the components of a problem, and finding a solutions to complex code level issues. He found running a business naturally requires a broader focus, looking at the big picture and the road ahead. Finding a balance between these perspectives took a lot of discipline, and being able to see enough of the detail in the day-to-day challenges, while at the same time keeping an eye on all-important business objectives was difficult. He maintains, "You learn that being a perfectionist is a sure way to bury yourself with stress, so sometimes a little compromise is required in order to get things done."
Founding the Smartions Berlin office in June of this year with his colleague, Rajmund Balogh, is the time Patrick feels has brought him the greatest satisfaction in his career. They had both worked with Smartions China CEO, Fang Liang, and with their combined industry experience, as well as the increasing focus on the mobile gaming market in China, it made sense to use their shared passion for the business to establish a presence in Europe.
Regulation
Since the focus for Smartions is mobile gaming in China, their greatest challenge is regulation, especially possible changes in regulation. In China, the only model that works for mobile gaming is free-to-play. As a result, developers are centering their attention on increasingly aggressive free-to-play monetization models, some of which cross the line between free-to-play and pay-to-win. But China already has regulations governing foreign games, virtual money, gaming consoles, and online gambling, as well as legislation requiring anti-fatigue and addiction mechanisms in online games. So the industry in China must police itself with regard to monetization methods in free-to-play games or risk the potential for more government regulation.
"To thrive in China, one typically needs a more robust free-to-play monetization model than in the West. And if a game lacks well thought-out monetization, it can be difficult to retrofit without diluting the gaming experience."
Whilst Patrick does not see self-regulation as being likely for the industry in China and believes that this may prompt further intervention in the Games market by Chinese regulators, he emphasizes, "To thrive in China, one typically needs a more robust free-to-play monetization model than in the West. And if a game lacks well thought-out monetization, it can be difficult to retrofit without diluting the gaming experience." Patrick reminds us that although China has a history of issuing broadly worded notices that impose strict regulations affecting various aspects of the gaming industry, he also expects the west, including EU, may also start looking at more controls on free-to-play gaming in the coming years.
He suggests that in China, app stores may play a part in responding to this situation through their approval processes, possibly mitigating the perceived need for more regulation. But it is up to individual developers and publishers to make sure they stay on the right side of the line between robust monetization mechanics and monetization mechanics that verge into grey areas, either legally or ethically. It is especially important to self-regulate when bringing a foreign game to China via one of China's local publishers.
Bringing a Game to China
Patrick describes the process Smartions goes through in bringing a game to China:
"When we look at a game and the market-fit in terms of China, we take a look at all aspects of the game, including monetization. We will evaluate and adapt the monetization model for China and, before making changes to these mechanics, we consider how these changes will impact (positively or negatively) the player experience, and if there may be any "harmonization" issues. In other words, we need to calibrate the monetization model to the market and be responsible in doing so."
Evolution of Mobile Gaming
There are now several trends that Patrick sees converging in the industry. The console hardware that will soon be available to gamers will provide more immersive gaming in free-roaming worlds. The consoles themselves, head-mounted displays, and motion controllers are all components of this trend. He is also interested to see how cloud computing will be harnessed to complement the processing capabilities of consoles and smart devices. The increased power of smart devices will allow more sophisticated AAA titles to be targeted toward mobile gamers.
He emphasizes, "The evolution of mobile games and development environments, whether Unity, Marmalade, Game Maker, native etc., means we have to constantly ensure our teams' skills are sharpened and expanded. We need to maintain both a broad and deep skillset internally. To incorporate this in our planning means a lot of time is dedicated to training and ensuring we do what we can to retain knowledge internally. The basic principle here is simple: we hire great developers who love games and do what we can to make sure that they are happy in their work!"
At Casual Connect Kyiv, Patrick announced that Smartions will be releasing some great mobile titles in China in the coming months. According to Patrick, they have signed Czech publisher Craneballs and will be bringing their highly popular shooter Overkill 2 to China on Android, as well as Magic Beanie, a beautiful 3D endless runner built on Unity made by Byte Rocker's in Berlin. In addition to the multitude of character customizations within the game, Patrick says, "The launch itself is unique in the fact that it's a China first launch, and we have been lucky to have been able to work closely with the Byte Rocker's team to develop some really engaging China focused content and mechanics within Magic Beanie, so we are very excited to be bringing these and other games to China in the coming months."
Also, before the end of the year, they will be making Smartport China SDK available externally. This SDK provides mobile game developers with direct access to popular mobile payment services in China (both carrier and independent) as well as Social Media platforms such as WeChat, Sina Weibo and others. Supported by their China analytics platform, the SmartPort SDK enables developers to monetize their games and build their player community in China. Plugins for Unity and Marmalade will follow close behind. SmartPort is an important component of the solution they are building to open up China to foreign developers.