What Makes Goodgame Studios Tick
Who would imagine that one of Europe's biggest free-to-play games studios is situated in a quiet part of Hamburg in the north of Germany? Over there, Goodgame Studios, the makers of the hit mobile game Empire: Four Kingdoms, have established their own little realm where more than 1,200 employees from over 60 nations are busy working on new and existing games. GameSauce published an article about the German high-flyers in 2013, and a lot has happened since then. "The speed with which we have been growing is incredible. In 2014, we nearly doubled the number of our employees as well as our revenue," founders and brothers Kai and Christian Wawrzinek explain. Read on for the brothers' story of their company's extraordinary development.
Our Main Constant Is Change
Since the foundation of Goodgame Studios in 2009, change has been a big part of our story. In only six years, we have become Germany's largest developer of gaming software as well as the nation's fastest-growing technology company.
"We now have several independent in-house studios that are each in charge of a different game genre. In these studios, developers, artists, product managers and many more are working on existing games as well as developing new prototypes."
Our team has reached quite an impressive size by now, which is why we have rented more office space in another area here in Hamburg. It actually seems like people, desks and even whole teams are constantly moving. That is how you feel in your everyday working life — that things are always changing at Goodgame Studios. One major change that came with our expansion is our new company structure. We now have several independent in-house studios that are each in charge of a different game genre. In these studios, developers, artists, product managers and many more are working on existing games as well as developing new prototypes. This new structure allows us to diversify our product portfolio and publish more great games in the near future.
A Great Team at the Heart of It
Great games are created by great teams. This is one of the mottos we live by at Goodgame Studios. We are convinced that it is the people who define a company's success, which is why we put a strong focus on hiring the best candidates for each position and on giving them the scope to deliver impact to the organisation as a whole.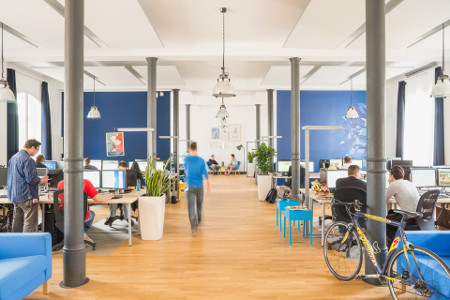 For a great team, it is vital to have the right mix of talent. We rely on the productive amalgamation that results from very analytically-oriented people with a talent for numbers coming together with creative lateral thinkers and collaborating on products. We always hire people that are creative, self-motivated and great at communicating and collaborating. These people can succeed here, because they get to drive our success story with their own ideas and become part of something big. At Goodgame Studios, you can impact millions of users on the internet and work in a creative, buzzing and ambitious environment. We believe that a great team deserves special treatment and hence have a Feelgood Team that takes care of our employees' well-being and offers a large range of recreational activities.
Creating Something that Lasts
From the very beginning, Goodgame Studios has been built to last. This is why our strategy clearly focuses on long-term goals. For instance, we have been continuously increasing our staff, because we believe that if a company wants to grow sustainably in the long run, it needs to have enough of the right people to implement that growth. Very importantly, this approach also means that we do not overextend ourselves financially but rather focus on consistently growing our strong and healthy revenue and profit base. Even when we were still a startup, we had a very clear focus on profitability and we are keeping that outlook. In 2014, our EBITDA margin increased by 17 percent and our revenue nearly doubled to over 200 million euros in comparison to 2013. We invest most of our profit in the development of our existing and new products.
A Scientific Road to Success
A game company like ours flourishes through creativity, out-of-the-box ideas and the innovations of every team member. On top of this, we place great emphasis on a scientific approach to the making of games. This has always been key to our success: we create a symbiotic relationship between analysis and creativity. Analysis plays an important part because to achieve such fast growth and success; it is necessary to have a thorough understanding of the complex mechanics and data of the games. This is why we constantly build up scientific knowledge and expertise.
The proof is in the pudding and our success can be seen through our global user base of 270 million registered players, and this number is constantly increasing: about 200,000 new players join one of our more than 10 games every day, which is more than two new users per second. Our most successful game is the MMO building and strategy game Goodgame Empire. More than 70 million people play the game on their browsers all over the world. The mobile version has over 40 million users and is in fact the highest grossing app made by a German developer worldwide, according to App Annie.
Connecting with Players All Over the World
The advantage of running an online games company is that the cost-benefit ratio is very good. We do not have to set up a whole distribution center in a different country in order to make our games available there, for instance. With our flagship browser games Goodgame Empire and Goodgame Big Farm, we are now active in more than 200 countries and regions worldwide. Our long term goal is to become as successful in every country as we are in our home market. We already have huge communities in Brazil, Germany and the US. Another key market which offers great growth prospects is Asia, which is why we have been proactive in setting up offices in Korea and Japan. There, our first mobile app, Empire: Four Kingdoms, shot straight to the 1st spot in the download charts, which we are very proud of, but we still have a quite a way to go over there.
What we are doing is working well. Our user base is constantly growing and we have a highly qualified and passionate team which is still growing. And we know where we want to be in a couple of years: among the world's biggest and best gaming companies out there. Our main short-term goal is to diversify our product range and produce titles for the core gaming markets. Stay tuned for some great upcoming games!
Comments
Industry Contributions