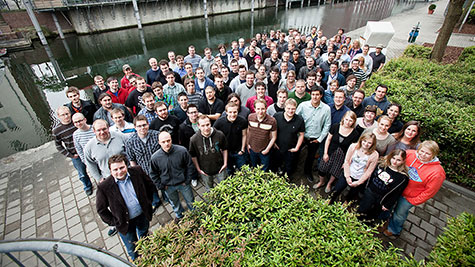 InnoGames has always enjoyed prosperous, organic growth, and has been able to maintain a solid user-base of dedicated fans. But were there tough times as well? Were there struggles? Have battles been fought in order to preserve the company and its ambitions? They never intended to start a company in the first place, that's for sure. Founder and CEO Hendrik Klindworth takes us through the history of the company that he founded together with his brother Eike and Michael Zillmer.
Just for the Fun of It
"The original idea was to create a game which was fun for the three of us and our friends. It was never supposed to be a game for millions of players. We were inspired by games like Inselkampf (a very early browser-based game), but also by Age of Empires II, which was the game we played most in those days."
Though the 'hobby' project kept on growing, it wasn't until four years later that they founded InnoGames. "In 2005, we already had 50,000 active players and we knew that the 'premium accounts' business model worked for us," Hendrik says. "That gave us a good feeling about starting a business in 2006." The brothers called their company "Klindworth Internetprojekte" and one year later, they founded InnoGames, solely to run Tribal Wars. Aside from the money they accumulated through the game, one of the main reasons for starting their own company was the feeling that is was a "now or never situation". The early bird catches the worm, and it was with this mindset that they set out in 2006 to develop professionally, in part because they would need all the advantages they could get, not possessing huge funds. The risk involved was minimal: "Eike and I were still studying and Michael had an IT traineeship, so we were also not risking too much by founding the company," Hendrik explains.
Having already established a steady revenue stream and accumulated years of experience, their start-up encountered almost no hurdles. Pretty much the only challenge was the formal side of things, to which end they decided "to hire an accountant quite soon". Other than that, it was smooth sailing, with international success to boot! "Particularly the Polish version became extremely successful," he says. Their second game, The West, also did well and after five years, they had experienced barely any setbacks. "One or two cooperative projects ended quite disappointingly, but we got over it quite quickly."
One or two cooperative projects ended quite disappointingly, but we got over it quite quickly.
Which left plenty of room to learn from their successes, the major one being that "speed and timing matters a lot". Tribal Wars would not have been such a success if they'd had the idea five years later. "It is very important to do the right thing at the right time," Hendrik says. "That is why we strongly value flexibility at our company." Another lesson is focus. "It is better to handle one project with a lot of focus than spreading it out over three projects."
Fun+Passion+Professionalism
The vivid company culture at InnoGames extends far beyond the office itself. Their core values are determined by "company goals, management, but also a lot by the employees we have," according to Hendrik. They have a young team at InnoGames, "although our average age has reached 30 for the first time in 2012". The vivid company culture simply reflects the vivid and lively people that work there. "The majority of us have turned our hobby into a profession," he says. "This applies to us founders, but also to our colleagues. That obviously influences team spirit a lot, too." It should come as no surprise then that they sum their company culture up as "fun + passion + professionalism".
Keeping that culture going strong is a bit more tasking though, now that the company has grown to the extent of employing a couple of hundred people. "We want to maintain the start-up feeling to a certain extent, but we also see that we have to evolve," Hendrik says. A great example there is the internal communication: "When it was just twenty of us, we used to have an all-hands meeting on Friday and everyone summed up what he or she did during the week. That way, everyone was in the loop about everything. That obviously does not work with a couple of hundred people, so we had to find new mechanics and new communication flows."
We want to maintain the start-up feeling to a certain extent, but we also see that we have to evolve.
Attributing their success to ambition, they note a distinct difference between browser games and retailed games. "You don't stop working on them just because you released them." With update cycles of a few weeks for every game, they also have development teams for each of them (including Tribal Wars, which celebrates its 10th birthday this year). As such, growth is simply necessary, aside from wanting to start new projects. "Furthermore, we believe that the growth was also necessary to prepare our company for the competitive state the industry is by now in, compared to four years ago," Hendrik says.
Staying Focused
As far as how to measure their success within the company, the answer it quite simple: "The most important measure is the fluctuation. We are losing very few employees and in these times of 'warring for talent', this is extremely important from a business perspective," Hendrik says. When it comes to distinguishing themselves from their competitors, they take pride in preferring quality over quantity. "One of the major differences is quite obvious in the portfolio: ours is way smaller than most." They believe this leads to a more sustainable growth pattern and a high ratio of successful titles. "In a market environment of masses of games and increasing marketing costs, this is essential," he says. And as soon as they believe a project isn't good enough for a commercial launch, "we'd rather stop it than just launch it anyway".
Even now, they still focus their resources on just a few games a year, a strategy that might not seem too safe. "At first glance that might appear risky, as both could fail. However, we believe that the chance of having a major success with one of these games could even be higher since we can focus more on each of them," Hendrik explains. "That definitely paid off with Forge of Empires, which was the most successful launch of a browser game in 2013, worldwide."
When you focus on so much on just a few games, fostering the community takes on an even higher level of importance. Finding a formula that works is key. "You have to find the right balance between localization and centralization in community management. We have a lot of local community managers and supporters who know best about local culture and regional preferences. It is very important for us to stay close to the players and to understand their demands and needs," Hendrik says. "But on the other hand, central tools which are provided by the headquarters can speed up the support processes."
It is very important for us to stay close to the players and to understand their demands and needs.
Entering New Markets
Their overall success has seen them exploring different continents, and even different platforms. "We believe that mobile games have huge potential. It is quite likely that the tablet will become one of the major gaming consoles." As such, they see now it as the time to evolve from a browser-based company to a cross-platform company. "Our goal is to publish our games for smartphones, tablets, and the browser, all in the same time frame, and with the best possible quality on all devices," Hendrik says. Making the switch to a cross-platform company is a big step and needs quite some effort, but they are sure that it's "somehow essential for the future". Not believing that the market for browser-based games will remain the same, moving in a new direction is "needed for future success, you just have to go with it".
But branching out doesn't limit itself to other platforms, as said before, new continents were explored as well. "InnoGames Korea was originally founded in order to buy Asian licenses and to publish those games in Europe," Hendrik explains. They tried that with Bounty Hounds Online, but that didn't really work out for them. As a result, they switched their focus there to publishing their own games in Asia. "In Korea, you legally need a local company to do that." This also brought some insight into Korean company culture. "There is no sense in adapting all of them in Europe, but a new perspective on some topics definitely helps," Hendrik says.
They didn't stop there, however, and are currently entering the Brazilian market as well. One can imagine it being a far cry from the Asian markets. "The Korean gaming market in general is very big, but it is quite dominated by MMO client games and the browser games market is not that big." The user's willingness to pay for games and items is quite high, due to a good economic climate. That way they can do well enough, even without a gigantic number of players. "Business wise, it is the other way round in Brazil," Hendrik says. The amount of browser gamers is huge, and they already have "more than 20 million registered players there, but the average revenue per user is quite low." This means having to find smart ways to use marketing, but also finding feasible payment schemes. "We believe that this is most likely to be possible with a local office."
We believe that mobile games have huge potential. It is quite likely that the tablet will become one of the major gaming consoles.
Focusing on just a few titles has paid off in terms of having a core of extremely loyal players, but what is key to creating such a player base? "Game design is very important. Tribal Wars, for example, is a classic 'easy to learn, hard to master' game, maybe a bit like chess even," Hendrik says. By focusing on player-versus-player, the tactical and strategic situations keep changing. "Even after having played for a long time, you could find yourself in a new situation quite quickly. That makes it interesting to play the game for years," he says. Another factor is the "fair premium" model. By making sure the player never feels ripped off when making a purchase, you ensure a long game life.
Right now, plans exist to launch some initial titles in the mobile market. "If we enter the mobile market successfully, this might be one of our biggest strikes in the company's history," Hendrik says.