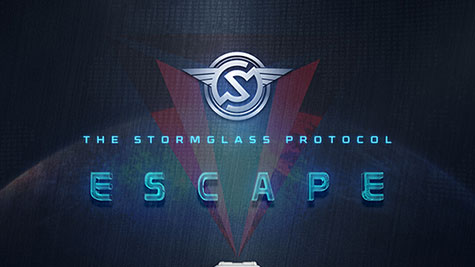 Previously the Managing Editor and Creative Director for The World of Chinese, Andy Deemer was recruited to work on The Stormglass Protocol. He shares the story of its development with Gamesauce.
The Birth of The Stormglass Protocol
Like many things, The Stormglass Protocol was born of secrecy, borders, and government lies.
I was running a propaganda magazine for the Chinese government in Beijing when I received a strange call from India. One of the founders of GameSpot — that celebrated and oft-disparaged website — had moved to India's tech capital, Bangalore, and had a fantastic idea: a series of games and books about a secret school for junior secret agents — a Hogwarts for spies, perhaps — filled with gripping adventures, devious criminals, and terribly fun puzzles. The GameSpot founder was looking for someone creative to helm the operation. And he thought of me.
I had absolutely no experience in producing games or writing novels, but I'd worked alongside him at GameSpot for eight incredible years. My recent film, a chicken-zombie musical called Poultrygeist: Night of the Chicken Dead, had been hailed by The New York Times as "perfect." My photo-novella, Pyongyang Too, was about to be released in France. And Bon Appetit had just publicly mocked my recipe for Philadelphia Cheese Steak Ice Cream. So I must have been an attractive choice.
Oh,  and the GameSpot founder was also my older brother. That may have sealed the deal.
And so, over a series of international calls, he convinced me to quit working for the Chinese government and outsource myself to India. After all, I've always wanted to make a game. And write a book. And live in India. I got to do all three.
The Original Failure
I arrived in Bangalore to an office filled with employees, computers, and even a resident stray dog: a playful mongrel with no name, but called "O.D.", short for Office Dog. A team of twenty was already coding away, and within hours, I was whipping out storylines and adventures for the game. Some ideas were "Two San Francisco kids have disappeared — help track their kidnappers!", "The drinking water at a New York high school has been polluted — find the culprits!", or even "Catch a magician/confidence man in his lies!"
We spent a year perfecting The Stormglass Protocol. It would be web- and subscription-based. In-game videos were shot on RED in a London studio using actors I'd hired over the web, with me directing over a flickery Skype connection. A fitness instructor in Boston developed a series of exercise assignments for kids, a Chinese factory manufactured secret agent Stormglass pens with hidden compartments and UV flashlights, and a Hugo award-winning novelist in Berkeley, Tim Pratt, wrote the first draft of a novel. All development was done in Bangalore. This was a truly international production.
Workdays were 10 hours, sprints were two weeks, and we documented in Jira, coded in Javascript, and tested with a crew of 8-12 year old kids — Stormglass agents — from a local international school. The kids- sorry, agents assured us this was the greatest game they'd ever played, more addictive than Skyrim or GTA. They adored the storyline and in review sessions, they gave Stormglass five stars out of five.
After a year of development, we knew the game was ready for the prime time. On November 6th, 2012, we pushed it live.
And there was nothing. Silence. Utter, painful silence.
Finally, with sick stomachs, we shut the Amazon servers down.
Sure, we could drive users to the site with Google AdWords and Facebook campaigns, but they never stayed long. When the ads were turned off, our analytics flatlined. We spent six months trying to fix gameplay, tinkering with the backend, modifying the UI, tweaking the stories. But it soon became clear we weren't going to succeed. Days became more disheartened. Members of the team floated away to other companies and more secure jobs. Finally, with sick stomachs, we shut the Amazon servers down.
But this isn't the postmortem for that original version of The Stormglass Protocol. This is the postmortem for Stormglass Version 2.0. And that didn't fail.
The Return of Stormglass
The company had six months of operating cash remaining, and I had six months on my Indian residence visa and my apartment's lease. All three ended on November 1st, 2013. That trifecta of timing seemed to give us just enough space to produce a great game from scratch, but we didn't want to repeat the same mistakes we'd already made. So we started by brainstorming an entirely new game. Time was short, pressure was on, but we spent two full and very valuable days in an off-site. How can we reinvent Stormglass? I broke the day into individual brainstorms, paired brainstorms, group brainstorms, idea-generation challenges, and absurd physical exercises. The walls became plastered in layers of poster-pages, each filled with scribbled notes, golden gems, and some really truly terrible ideas. Yet we kept coming back to one seed: an iOS room escape game in fully-immersive 3D. Something that — as far as we knew — had never been done before.
It would be filled with the same dark humor as my other work. We'd feature puzzles parodying Gilbert & George, Magritte, and even one level mimicking Yayoi Kusama's infinity rooms (This was mere months before her real infinity rooms led to six-hour queues in New York's snowy streets). In-game ads would promote Fracking ("It's Like Hugging the Earth"), Affordable Laser Lobotomies, and — of course — Cheese Steak Ice Cream. There'd be Monty Python quotes, celebrations of classic b-movies like They Live and The Toxic Avenger, and subtle references to North Korea and Kim Jong Il.
However, we only had six months to complete it. To start with, I rearranged the team. Only one of us had ever worked in iOS before. Bijoy, a smiley, mild-mannered junior developer, was also the charismatic lead singer of one of India's leading Christian rock bands, Cross Legacy. He'd spend all day coding, and then ride his motorbike across town to play a stadium show to tens of thousands of cheering fans. He became the dev lead, Javascript-diving into Unity.
For 3D, we were a little luckier. Meiding and Ebey both had experience. Meiding started out like every other man in his family, as a career soldier in the Indian army. But one day, Meiding decided to put down his gun and pick up Maya. I'd found him on India's job site Naukri, where I was inviting potential employees to model and texture a vista of auto-rickshaws. Meiding took the challenge, and gave me something that looked like a photo. We hired him immediately. On the original Stormglass, he was a junior designer, but I loved his vision. I put him in charge of the game's "evil prison-laboratory-office" aesthetics. Meanwhile, Ebey was just a kid, appearing out of nowhere. He was, and still is, a full-time student in 3D and filmmaking, but heard about Stormglass and sent me an unsolicited Hollywood-level demo reel. We didn't need him, but we couldn't let him go. So he agreed to juggle full-time work and school. I'm still unclear how he managed it.
Every week, we'd hold all-hands brainstorming sessions to establish room themes and puzzle-types: a game show, a dream room, a museum condemning Thomas Edison's cruel business practices! And while the dev team was building the first two levels, and the 3D team was building the third and fourth levels, I'd be writing the descriptions and stories for the fifth and sixth levels. Almost every two-week sprint followed that process.
Learning From the Past
To avoid the largest mistake we'd made with Stormglass 1.0, we didn't develop for a year and then release a polished product. Instead, we pushed out a rough product with only three basic levels as early as we could. We didn't have much time — less than six months now — and we needed to know what real users thought, immediately.
Fortunately, they loved it.
We kept a close eye on iTunes reviews, though, and modified the game accordingly. These were our focus groups. When users complained about the navigation — a valid complaint — we redesigned it and pushed out a new release. The next comment was about the puzzles being "too easy", so we ramped up the difficulty.
This release-review loop quickly became circular. Fans realized new releases addressed their reviews, and updated their reviews with revised feedback. Two-star reviews became five-star reviews. "Too easy" became "Wow."  And most new feedback became three repeated words: build more rooms. We were building as fast as we could with two developers, two modelers, two modeling assistants, a designer and me! Still, we didn't want the level of immersion — or the quality of the game — to suffer. We wanted Stormglass to have the dark laughs of Limbo, the obsessive confusion of The Room, and the snark of Infocom's classic Hitchhiker's Guide. Also, I was still working on my novel, editing and rewriting whenever I had time.
The Final Push
Our November 1st deadline was rapidly approaching. It wasn't just a goal; it was the last day I could stay in my apartment and in the country. And, perhaps even more important, it was the last day we could afford to pay the team, and still give severance packages. With each release, and each sprint, I found myself cutting so that we could meet our deadline. Puzzles were removed. Characters were eliminated. Easter eggs I'd so loved when they were written, axed. But most of it made it in. Through long nights and dedication to the game, the team managed to fit almost everything in.
And, with one week to spare, we pushed.  And the reviews started to appear….
"A definite must-have." – JustAdventure.com
"A room escape puzzle game like no other. ★★★★½" – 148Apps.com
"Rich graphics, an immersive storyline, and puzzles that will have you turned upside down." – iDownloadBlog.com
"The Stormglass Protocol… pulls the genre out of its stationary roots." – JayIsGames.com
And, at precisely the same time, the reviews of the novel started to appear. And they, too, were great…
"Like a Bond adventure for kids… undeniably entertaining." – Kirkus
"A brilliant twist on the classic theme of villainous world domination… a captivating read… ★★★★★" – ForeWord Clarion Reviews
"Action-packed and fast-paced… barrels along with a cheerful intensity and no shortage of middle-grade Bond-style adventure." – Publishers Weekly
But time had run out. We said goodbye, the team and I. I didn't know if or when I'd be back in India, but every member of the Stormglass Protocol 2.0 team — Bijoy, Dharma, Ebey, Krishna, Meiding, Uday, Varun, and Yagnesh — was a crucial part of the game.
In the Bangalore airport, with my visa expiring in just three hours, I checked in for my 2 AM flight back to San Francisco. Repatriating myself, I filled out the customs forms with a smile. I was, after all, using my hidden compartment and UV flashlight Stormglass pen. My spy pen. And my mission, of course, was accomplished.
The Stormglass Protocol is on iPad, and you can experience The Stormglass Protocol for yourself here. You can also purchase the Stormglass Novel here. You can see more of Andy's traveling adventures on his blog and his weird eats on The Huffington Post.