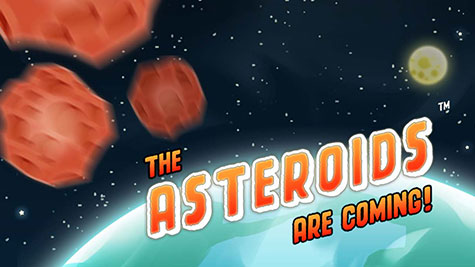 Based out of Los Angeles, The Hohng Company is a one-man development studio created in 2011. Sangwoo Hong, the man behind the company, had worked with entertainment industry leaders such as Pixar, Squaresoft (now Square Enix), and Electronic Arts, but decided to break out on his own as an indie. After making a few games on his own, he teamed up with a partner to create The Asteroids Are Coming!, available for iOS, Android, and Kindle Fire.
---
Starting Off and Finding The Tools
Ever since I got a Commodore 128 as a birthday gift, I've been interested in creating my own games. I've fiddled with too many pieces of tech to remember since then, but I eventually found the one that works for me in early 2011. The years I spent banging my head against XNA paid off. After watching some tutorials, I grokked Unity3D and saw that I could make a game with it for real. So I did…or so I thought. I made prototype after prototype, but then I ran into a problem. I realized that I wouldn't be able to finish any of the prototypes, at least not in a reasonable amount of time for me to be able to make a living doing so. I realized that I needed to explain to myself what I'm doing and why I'm doing it, or else I won't be getting anywhere fast.
I realized that I needed to explain to myself what I'm doing and why I'm doing it, or else I won't be getting anywhere fast.
Game Tiers: Seeing My Place in the Industry
By now, you might be wondering what does any of the above have to do with The Asteroids Are Coming!, the game to which this article is supposed to be a postmortem to, as well as what I mean by a Tier 2 game. The Asteroids Are Coming!, or TAAC for short, is the fourth game I've released since my first game Cubistry in August 2012. I'd like to think that a single man company putting out four games in a year and a half with just one external collaborator is pretty good. But things could have easily gone differently. I might still be hacking away at some unfinished game with no end in sight. But I knew I didn't want to do that. I needed to ship games in order to start building up my business. And the thing that helped me do that is seeing my place in the game industry's scheme of things, to know what tier of game I'm capable of creating for now.
I'm not sure exactly when I started seeing things in tiers. What I can say is what I consider to be, at least for the moment, the five tiers of games that are out there.
–Tier 1: These are very simple games with a single game mechanic. Good examples would be the original incarnations of Tetris, Bejewelled, Columns, etc. This tier also includes many classic early console games like Missile Command, which of course has a direct connection to TAAC, a Missile Command-like game with Asteroids.
–Tier 2: These are simple games with a meta game component. TAAC fits here because it has missions to accomplish and ranks to earn. A very good example of a game in this tier is the wonderful mobile game 10000000, which was the direct inspiration for adding the meta game to TAAC.
–Tier 3: These are games irrespective of game mechanics that have a certain amount of content which would be too much for a couple or even three or four people to put together in a reasonable amount of time. An example of this tier of game would be the excellent mobile game The Room.
–Tier 4: Games in this tier are what would have been "AAA" back in the days when single player games ruled the roost on consoles. Games like Resident Evil or Silent Hill come to mind. Early 3D games like Super Mario 64 and Legend of Zelda: Ocarina of Time do as well. One would definitely need a larger team, say 10 or more, to accomplish games in this tier in a reasonable amount of time.
–Tier 5: Sky's the limit once you arrive here. Anything and everything which is now referred to as "AAA", from the Halo series to League of Legends, which literally takes hundreds of people to put together and maintain, fall into this category. Obviously not something for the "traditional" indie developer.
Once I began to see games in tiers, I quickly came to see that the prototypes I put together were for Tier 3 and above games, with no chance of being finished by myself.
A Fresh Start
Once I began to see games in tiers, I quickly came to see that the prototypes I put together were for Tier 3 and above games, with no chance of being finished by myself. I needed a clean break and a fresh start. So I put all those early prototypes aside and started from scratch. I created Cubistry in a month's time and shipped it first on PC, then on Android and iOS, and it's been keeping the lights on for me since. But the goal for me is not to make Tier 1 games for the rest of my life. I needed to move on to the next level and that's where TAAC came in.
After completing my last Tier 1 game, which is a simple free-to-play game called Fairy Artillery (a more direct clone of Missile Command with a fairy theme), my art partner on the game NVS Pixel asked if it would be okay for him to work on a space-themed reskin of Fairy Artillery. Having seen the quality of his art work and the professional manner in which he delivered them, I jumped at the chance to work with him again. And being a big fan of 10000000 by then, I decided to take the plunge in to Tier 2 with TAAC by adding the meta game component.
TAAC of course is not the end, but rather a stepping stone. I will take what I learned from TAAC and apply it to my upcoming games. Some of these games are Tier 2, a few are Tier 1 still, and there are even Tier 3 games which are now spinning up with new found partners, thanks to the success I've had in Tier 1 games. Will I ever attempt a Tier 4 or 5 game? I certainly hope so. But for now, I am content in knowing that I am continuing to grow as a game maker because I've made the choice to take things one tier at a time.
Sangwoo Hong is currently busy working on his first Tier 3 games, Space Chicks and The Tomb. You can find out more about Sangwoo and his current and future projects by visiting http://hohng.com.