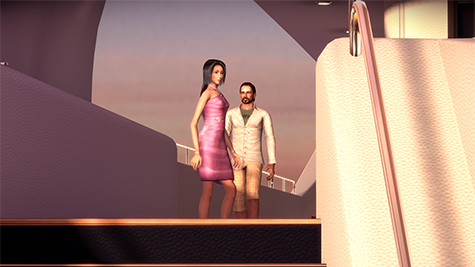 Based out of Finland, Tribe Studios was founded in 2010 with the passion of building great, cutting-edge games and tools. With eight members, the studio has worked to bring to life Velvet Sundown, a game that casts you right in the middle of the intrigue and lets you determine the outcome of the storylines. Elina Arponen, the founder of the studio, tells the story of its creation.
---
Planning to Break the Mold
The company behind Velvet Sundown was founded in 2010. Since then, we've been building the technology to enable us to create multi-user storylines, which was to be called Dramagames. We set a very high target for ourselves in the beginning to create something new, something that's not yet out there on the market. We wanted a game of high audiovisual quality that is enjoyable in short ~1 hour intervals and is social so you can play with friends. We felt that many of our best gaming experiences have been when they've been shared with others, so we wanted the game to be multiplayer. From the beginning, it was clear the game mechanics would be different from resource management or reaction speed challenges.
We were six people at the time and started to develop the first story: Velvet Sundown. We thought it wouldn't be too hard of a problem to tackle, as we had some tech base built up already to help us, but I'm still glad that we could not foresee all the challenges we would have to face to solve it all. 😉
Executing and Iterating on the Plan
The first playable version of Velvet Sundown was ready in the summer of 2011, and we played it together. It was not finished by any measure, but we had fun! It was finalized for the first closed beta release in Autumn 2011. We had some good feedback on the game, but realized that it was 1) too hard to access (you basically had to bring your own friends with you to play) and 2) our iteration speed on content was way too slow.
So we improved the user experience of getting into the game and did a new revision on our story tools. Next soft launch happened in Summer 2012, by which the underlying platform was named Dramagame. We didn't do much in the way of PR or marketing, but maybe it was good that we didn't, because we again noticed some technical issues. Out of all the issues, the main was that the game was functioning as a web site plugin, not a standalone application, thus creating continuous issues.
That autumn, we switched focus to the Dramagame platform and started with a partner to develop a training game with the Dramagame story mechanics, with Velvet Sundown to be the first (and so far only) entertainment game created using the platform. We've done couple of corporate training games with the same platform, but they are very different from Velvet Sundown. But of course, the time we took on this will help as later on, as the development of the platform is beneficial to all the Dramagame projects.
In Summer 2013, we got the opportunity to continue developing Velvet Sundown itself. And now in 2014, we have started the beta for Velvet Sundown for the third time. So the very short version of Velvet Sundown's history would be "This is the third iteration on everything". As with every iteration, the content, UI, and everything else has been going through adaptations, not only the few things we mentioned above.
So How Does It Work
Velvet Sundown is a multiplayer story taking place on a luxury yacht sailing on the seas of a fictitious Caribbean state. We thought about many alternatives to this setting. We were thinking of going with a space ship, but then decided on something that is not so common in games to stand out better.
When you go into the game, you get put in the shoes of a character that is either one of the passengers or part of the crew of the yacht. You will control everything the character does and says in the game. Essentially, you are acting out that character's role. You will be given quests that form up your character's agenda. When acting a character, you can talk with the text input like you were that character and the game will translate it also to voice.
All the players in the game will be acting out their own roles as well. You have quests, and you can be creative on how to go towards your goals. It is not only allowed, but encouraged to make things up on the way. The quests will always tell you what to be talking about if you have no clue. We see quests and roles as some of the core elements in multiplayer stories. Roles define a big part of the story setting and quests direct the story and give meaningful content to act upon.
At the moment, Velvet Sundown has two scenarios. One is called Sea of Fire, and it has more clear-cut win conditions. The other one, Story of Fathers and Sons, is more about story exploration than winning. Sea of Fire has story elements on secrets and politics, where Story of Fathers and Sons has more elements towards party and romance. We hope to build more scenarios for Velvet Sundown as the user-base grows.
Going Forward
We see massive potential on building many variable story-driven games. Games are too often built around only one type of mechanic, and story is left in the secondary role. By combining Dramagame mechanics with other types of games, we'll be able to deepen the game storytelling. Games often tell very similar stories that involve a lot of physical fighting. If you compare them to movies for example, they have a much wider range in the types of stories they tell. We feel games can cover as much, if not more, of the range in interactive means.
In that sense, Velvet Sundown is the beginning, and we eagerly await our players' feedback to see what directions to take in the future with the game. So far, our beta players have been a wonderful source for inspiration for us.
Velvet Sundown is available in Steam and at www.velvetsundown.com. The game works in PC and Mac and is free to play. To unlock all the scenarios, you will need a premium account.