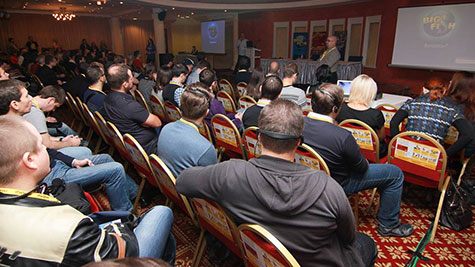 The first global conference program to recognize and serve the game development community in Eastern Europe, Casual Connect works every year to bring great speakers, the most current topics, valuable industry learnings, and meaningful connections with the most qualified, successful game development community in Eastern Europe and beyond. The show included speakers from a number of multinational organizations such as Facebook, Game Insight, Big Fish Games, G5 Games, and Unity, as well as key domestic success stories like Odnoklassniki and Creative Mobile Games. More than 60 speakers from all over the world presented information-packed sessions about free-to-play games design and operations, social casino games, technological evolutions, development methodologies, new platforms, postmortems…and the list goes on.
In addition to the sessions, attendees at Casual Connect had the opportunity to build relationships with other businesses and create strong community ties, something that Casual Connect strives to accomplish with each conference. Networking opportunities were everywhere, including at the fun and unique sponsored parties. The Indie Prize Showcase also gave new developers a chance to talk to publishers and other developers about what they've been doing.
The Most Prominent Woman in Games Award from Casual Games Association was also awarded in Kyiv to Julia Palatovska, Business Development Director at G5 Entertainment.
With Casual Connect Kyiv now a fond memory, Casual Connect turns their attention towards their return to the location of the FIRST-ever show, and hopes to see you in AMSTERDAM in February 2014!
If you were unable to attend the show, the presentations were recorded on video and made available for free on Gamesauce and the conference website.
Casual Connect Videos on Gamesauce:
Barak Rabinowitz: Analytics and Social Casino
Artur Sakalis: Opportunities in Eastern Europe
Oleg Pridiuk: Dare to Own the Task
Kresimir Spes Pursues Perfection
Roman Povolotski: Stabilizing Success
Oren Kaniel: Measure Twice, then Measure Again
Katia Vara: Leveraging Global Experience
Nemanja Posrkaca on Making Games Accessible for Everyone
Kadri Ugand: The Value of Accelerators
Roei Livneh Sets the Bar High
David An: Kimchi and Publishing at ProSiebenSat1
John Gargiulo: Looking at the Potential
Sara Lempiainen: Reaching and Supporting the Developer Community
Ville Heijari: The Importance of Focus and Collaboration
Maarten de Koning: Navigating the Minefield of Rapid Change
Patrick Wheeler: Bringing Mobile Gaming to China
Valentin Merzlikin: Putting On Your Game
Michail Katkoff on Staying Out Front
Dan Prigg: Moving Forward
Ivan Lavoryk: Facing the Latest Challenge
More videos can be found on the conference website.
Other Coverage of Casual Connect Kyiv:
"Mario is Out, Mobile is In" – App2Top
The Long Lasting Aftertaste of Casual Connect Kyiv – Renatus
Shorts Cuts: Why Fishing Cactus wants its next game to turn gamers into coders – Pocketgamer.biz
Big Fish Opening the PC Market to Android Devs – App2Top
BlueStacks partners with Big Fish on mobile game integration – CNET
WildTangent Expands to ASUS Tablets and PCs – App2Top
5 promising indie games from Casual Connect in Kiev – Pocketgamer.biz
Casual Connect Kiev 2013: Interview with DeNA – App2Top: Russian Version and English Version
Community spirit: Why every dev needs to foster a relationship with their players – Pocketgamer.biz
Casual Connect Kyiv 2013: App Annie will soon open an office in Moscow – App2Top: Russian Version and English Version
'Mario is out': Why BlueStacks believes microconsoles will fill gaming's console shaped hole – Pocketgamer.biz
Casual Connect Kyiv 2013: interview with WildTangent – App2Top (Russian)
Short Cuts: How small studios can benefit from the power of recognised IP – Pocketgamer.biz
Casual Connect Kyiv 2013: Interview with Big Fish – App2Top (Russian)
Casual Connect Kyiv 2013 – glafi.com
Jessica Tams: People Don't Sneer at Casual Games Anymore – App2Top: Russian Version and English Version