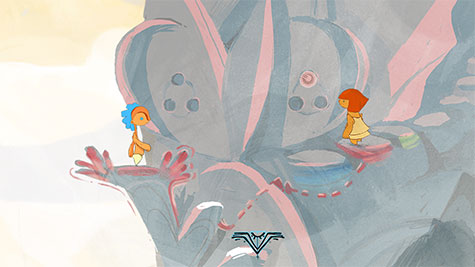 Amazu Media is a Danish games studio creating personal storytelling worlds. It houses a duo of directors running different in-house productions around a common goal of approaching meaningful issues through fantasy. Shrug Island, an adventure game about friendship, nature, and the power of communication, is the studio's second project and the latest part of many projects in an environmental fantasy universe called Shrug Worlds. Alina Constantin shares the story of its creation.
---
A Frozen Vision
The first idea for Shrug Island came during a walk in the nature, on a still day in the middle of February, as frozen as it usually gets in Danish winters. I hadn't had a fresh idea for months… Suddenly, I imagined the frozen plants around me being people. People stopped in time. The reason for this would be the mystery to be solved. The tools, hidden around these human plants, would need to be found in order to sing to the nature — so that it would raise its icy hand and awaken the people again.
From Clay Houses to Game Concept
Many years before, I was an animation film student between France and Norway. I had been painting and telling stories since I can remember, and I put this, along with my love for nature, into an environmental fantasy world.
On a magical island, creatures called Shrugs lived and migrated, shifting their shapes to adapt to their changing world. This would become a 2D short film named Shrug, finished in 2009. It was awarded by a youth jury at the Annecy International Animation Festival and went around children's festivals worldwide: RedCat in Seattle, Beginning Film in Russia, and CICDAF in China, to name a few. This was a first huge encouragement after years of solo student work. Using watercolors and nature's sounds, stylized shapes, and minimal music, I tried to use a poetic approach to discuss our relations with our environment.
And it worked somehow. Many people would give me very personal interpretations of the film, and I was amazed by the feedback. But it could only reach exclusive audiences of festivals, and I've always wished to share stories with larger circles of people.
I was just starting my career, and it was too early for me to know how to follow this up. So I left the Shrugs, my freelance jobs, and the world of media for a while, let life happen, and somehow found myself living like my characters, building clay houses in a sustainable community in Sjælland, Denmark.
On that winter day, as I was walking by the frozen reeds and river outside the ecovillage, a new Shrug story after many months arose in my head. It wouldn't be a film, and I wasn't going to make it alone. I'd involve the audience, but it would take a while before I knew how to make it.
Open Workshop — Transforming from Animation to Game Design
In the end of 2011, I was accepted to the lively Open Workshop art residency. It's a department of the Animation Workshop, a renowned school and center for animation development in Viborg, Denmark. (Like other art residences throughout the globe, one applies with a creative background and engaged project, and, if selected, receives workspace, some material, and counseling to take a project further). For a time, I was given a creative context and opportunity to experiment towards the best format to bring a new animated Shrug story to life.
A year of sketches, pitches, masterclasses, morning dances, music jamming, and a few teaching jobs later, I had designed a full family of Shrugs to choose from, along with dynamic island locations. And I knew this was to be a game.
The diversity of Shrug characters, their transformations within their world, and its musical language – it was all really made for multiple choices, ambient puzzles, and player involvement. Researching, I stumbled upon the indie adventure scene, and "Games for Change", so I stepped off the deep end. My plan was to turn Shrug Island into a meaningful adventure game.
Amazu Media – Adding Wings to a Dream
Having been already been involved in a few idealistic endeavors, I knew I needed collaboration and experience. I attended events, played more, went to game jams, and wrote to different foundations. I saw how much was ahead before I or anyone would be ready to start this large adventure. Igor Noronha, a friend in Viborg, suggested I build another game with the Shrug world, something smaller and casual. If I did that, I'd be welcome in the game company he had recently started, and he´d help me make that game. In the middle of 2012, I joined him at Amazu Media, and the idea for Shrug Tides was born. This was a simple sidescrolling platformer, with one little shape-shifting Shrug, for mobiles. I'd get game design experience, grow an audience, and get to Shrug Island later.
The Long Haul
This was much easier said than done. Gaps between animation and games, in terms of design and production, proved deeper and deeper, and Igor gave me more control than I expected. The first programmers I worked with were nearly as baffled as I was. But I kept learning, optimizing, and adapting a painter's mindset to level designing and 2D animations for triggers and event calls. Meanwhile, still researching larger games, I visited schools and university staff all around, and even crunched a first two-week prototype for Viborg's Learning Games Expo in 2012.
It was great to see people around an iPad, playing a Shrug scene for the first time, trying the game and being surprised by its characters. But there also came sobering realizations. No matter how early a concept and how much I tried to involve both the audience and teachers from the onset, Shrug Island would not be easily used in schools. It did engage people, and could become a nice game to discuss natural, social, or even musical subjects, but the learning was not practical or measurable enough. I wished to keep outcomes of game challenges open for interpretation, let the player decide and make conclusions. That left defined curriculums out. Unless I narrowed it down to one subject, and let the Shrugs illustrate the textbook, which was too literal a use for this story to work.
So Shrug Island wouldn't end up as a learning game, and practically, I also stepped away from the funding that educational institutions could have offered. To make a large game, I needed to keep a team. If not a core educational market, I'd have to show that it could reach a commercial audience, so I followed Igor's advice to try for mobile.
Shrug Tides became more important. It could be my first step into a possible market. I kept working on its production, as programmers came and went.
Scandinavian Game Developers – the Magic of Harmonizing
In February 2013, a sauna changed everything. Igor and I were at the Nordic Game Jam in Copenhagen. On a weekend away from our projects in Viborg, long challenges and computers, we were board game jamming with a few lovely game-makers.
An amazing character by the name of Nicklas Nygren ran by, looking for company for the sauna. I decided to join. The two of us started something mostly resembling a music jam with a bunch of other grinning Nordic developers between the wooden walls of a tiny sauna, and I felt the magic was coming back into my world of game development.
Two weeks later, I invited this talented Swedish developer by the code name Nifflas to Viborg. We game jammed for a week, reused some assets from Shrug Tides, and came up with a new little game called Shrug Song. The closest I had ever gotten to my initial vision for a game: 2D transformations, ambience, and music puzzles. After a few months of working separately on the game in our free time in various parts of the country, we released it online on Nicklas's website.
I was overwhelmed with the response! Game magazines picked it up, people posted personal YouTube videos, and, with a few exceptions, the experience was exactly what I wished to create. The sound atmosphere was again a core part of the Shrug worlds. Shrug Song became the core mechanic for one of the characters of Shrug Island. The game was starting to get its shape, and we received a little development funding from the DFI game scheme in June 2013!
Shrug Island Finally Begins: Reuse, Recycle, Return
With the DFI funding boost, we had six weeks to make a prototype. Unfortunately, Nicklas had other projects and could not stay with the team. I discussed my plans with him, got advice wherever I could, and found two young programmers to move forward with me.
The summer went by in a flash. Our aim was taking two Shrug kids from previous prototypes, strengthening their individual mechanics, introducing the island in a few scenes of exploration and puzzles where the player would switch characters, at the end of which the two friends would meet. It was to be an alpha for the game's beginning, before the crisis arose on Shrug Island, the mystery thickened, and the large puzzle adventure was unleashed.
Even with constant checks and scaling our ambitions, we realized we had too many challenges. The first one came with recycling assets. Being the only artist in the team as well as the game director and team manager, I had to reuse everything I could. Half of the assets were designed for smaller, closed prototypes, so re-adapting that code was discarded in favor of starting from scratch. More challenge followed in 2D design.
Character moves had been designed differently: one in profile for a sidescroller, another one in 3/4 for exploration. So they couldn't walk on the same ground. I found visual tricks to include them in same scenes, and two individual pathfinding systems were built. Certain animations of the island proved too large to run on iPad. On the other hand, this created interesting solutions for a bigger game. Yet it turned out too costly for our short schedule. We all lacked experience, and, when scaling the plan down, I chose compromises for team spirit over design. It was greatly felt in the result: an attractive, but very segmented experience, which didn't fulfill the game's objective of a connected world. Nevertheless, we got to confirm in tests that the aesthetic parts of the experience still fulfilled their purpose.
Players would pass the game to each other, stay around, interpret, and help each other out. We managed to create a shared feeling in an adventure game, while many games from this genre provide a solitary experience. Eventually we got close, but not enough.
A Responsive Background
A core feature was missing for the island to feel as the living breathing character it is. The background world needs to consistently respond, grow, and sing back to the player. This wasn't implemented well enough for testers to feel it.
Funding ran out. Production stopped, programmers left, and I had a half-finished prototype, still far from the vibe of the game.
Something great came out of this as well. I no longer simply had a vision, I had a road map and a toolbox defined through experiences of testing, successes and failures. Now I knew what aspects of the Shrug world's magic was meaningful in game language, and to a certain extent, how I could better guide a game production team to unfold this together.
It has always been my objective to have the audience involved. So came the next step to get this done: going to Kickstarter, and with humble aim and proper preparation and give my all.
Grounding the Story and Continuing the Journey
I started building up a message and online presence in the last months of 2013. I returned to the casual platformer, and, with a last little push, finished it. Amazu Media released Shrug Tides for free on Android in late December 2013. A few months later, it reached 30,000 downloads. Yet it remains true to itself, an unpolished experimentation of a first product, made to learn.
I remind people these are all different games. Shrug Song, the second, though earlier released, minigame, is closer to the larger adventure, but is still research. You'll meet the same characters in Shrug Island, but the gameplay is different. I'll let the Kickstarter campaign confirm if all of this has given the right direction, and if Shrug Island has reason to take the last step to come alive.
It took two years to begin to see myself as a game designer and understand how to define the game I once saw on a winter's walk, the one I dream to share. I was always dedicated to learning, and I've certainly gained an invaluable understanding, from production and funding schemes of a game to its audience outreach. I've learned what is and isn't worth compromising, and the value of the right team. The real adventure is only beginning. I look forward to it.
On March 23, Shrug Island has been successfully funded on Kickstarter. Alina is currently building the final team to get Shrug Island back into production and release the first chapter of the game on desktops and tablets in late 2014. Alina's first Shrug game with Igor is freely available on Android, a casual spin-off of Shrug Worlds called Shrug Tides. Shrug Island's early core mechanic and "feel" demo called Shrug Song is available for PC via Nifflas' website. To keep updated on the development, follow Shrug Worlds' Facebook and Twitter.