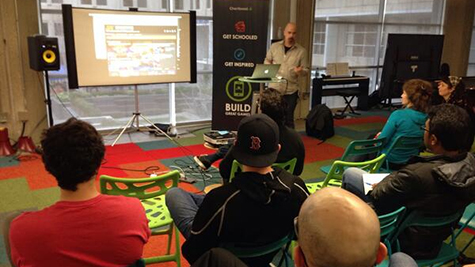 In this month's Game Audio Artistry column, video game industry veteran Nick Thomas, CEO and co-founder of SomaTone, Inc., discusses the importance of a creative audit and what it can do for a game. 
---
Our Creative Audit process was spawned through our involvement with Chartboost University, which brings in eight of the most talented Indie developers from across the globe, with the philanthropic goal of helping these devs learn and grown in a mentorship environment.
SomaTone's role was to serve as the creative auditor of the audio in these games, and to provide an expert perspective on the tech, creative, and overall experience of the audio within these games—and to do so with zero bias. The response from the indie community at CBU was a combination of gratitude, excitement, and relief that there were creative experts, with hundreds of games to their credit, who could evaluate and constructively critique the quality of this aspect of their games. Questions were answered and the end result was a clear understanding of the "temperatures" of their current audio, with a clear road map on what could and should be done to bring their game from passable to excellent.
Not Only For Indies
It turns out that it is not just the indie community who finds this service useful. In fact, indies arguably have a more advanced sense of how to approach audio in games and what sounds good, what tech to use, and how to make their game sound like an excellent product. Established mobile game developers and publishers have also found that the Creative Audit provides them with an invaluable opportunity to gain a critical, objective perspective on the relatively subjective world of game creativity (including design, art, and audio).
While it's always helpful to get feedback and fresh eyes and ears on any project at various stages of development, gathering input, insights, and ideas from experts and specialists can make a big difference toward enhancing a game. So here are five key reasons why all game makers should seek out a Creative Audit for their games at some point along the way:
5 Reasons for a Creative Audit
We're in an age when specialists, not generalists, are key players in the fine-tuning process.
1.  The Creative Audit leverages the experience of experts. No single game designer or producer can be an expert an all aspects of game production. While some experience may lean more towards visual design, others have an audio background, and some specialize in analytics. We're in an age when specialists, not generalists, are key players in the fine-tuning process. Experts often have a highly focused set of expertise, so there is wisdom and benefit derived from seeking creative assessments from a range of seasoned and skilled industry pros representing different disciplines.
2.  It's all in the polish, and a Creative Audit takes you there. Candy Crush is one of the most polished games I have ever seen in the mobile games space. All aspects of the art, programming, design, and even audio have been scrutinized with granular precision. In today's crowded and highly competitive gaming ecosystem, there is no room for a marginal or even just good product. It must be excellent. The Creative Audit offers an opportunity to bring a product to the next level by offering qualitative assessments that spring from solid experience and expertise, coupled with actionable recommendations for improving and further polishing a game.
Different minds see things differently, and these kinds of divergent viewpoints can really enhance the creative levels of a game, often in unexpected ways.
3.  Even experts need an outside perspective. Even if you have hired the most talented art director, composer, artists, level designer, (whatever), there is simply a human limitation to what comes with an inside-only perspective. After 6-12 months of looking at only one product, and doing so intensively, it is practically impossible to avoid tunnel vision. By giving fresh perspective, a creative audit can do a lot to re-inspire and re-invigorate a game and identify key opportunities that may have been missed by those so intimately (and exhaustively) familiar with the game. Different minds see things differently, and these kinds of divergent viewpoints can really enhance the creative levels of a game, often in unexpected ways.
4.  Asking the right questions leads to interesting answers. It takes a level of humility to admit that we cannot know what we don't know. It can be vexing to attempt to evaluate a game's creativity level without knowing the essential questions to pose in this analytical process. When the right questions are asked, some interesting answers and realizations can be unearthed that will amp up the degree of originality and excellence in a game.
5.  No harm, no foul. A Creative Audit is a free, or at most, a very inexpensive way to benefit from an outside perspective from a team of experts. This process can serve as the catalyst for key tweaks, improvements, and embellishments to correct aspects of a game that need some work and catapult good games to a higher level of creative excellence.
Asking questions is widely considered to be the single most important habit of innovative thinkers, so naturally the Creative Audit process is bound to lead to higher levels of creativity and innovation within a game. What do you think?
Check back next month for the next Game Audio Artistry article!