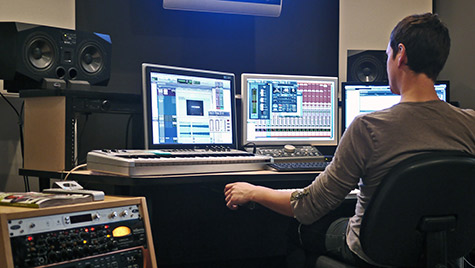 Adam Levenson
's career has evolved from performing as a classically trained percussionist to overseeing the busy operations of SomaTone's creative teams in Emeryville and Vancouver while focusing on leading the company's growth and expansion into new arenas in his latest role as the COO of SomaTone Interactive. In this latest Game Audio Artistry article, Adam and other members of SomaTone talk about using sound to improve a game.
---
Great games have great audio. Developers who focus and execute on high quality and attention to detail know that audio adds high production value to the overall experience for a relatively low cost. With a plethora of choices flooding the digital marketplace, great game sound is that "secret sauce" that can make mobile games and apps stand out.
Well-conceived and expertly executed game audio contributes mightily toward delivering an immersive and engaging experience that can feel much bigger than the small mobile device nestled in a player's hands. The name of the game for us as creative partners is to focus on effectively creating and incorporating original music, sound design, and VO into the mobile experience so that players keep coming back for more.
To this end, here's what some members of SomaTone's creative team have to say about using sound to make great games.
1.Understand the importance of game sound, and treat audio production NOT as something that comes last in the pipeline, but rather an important component of game design that should be thought out creatively and technically from the inception of your game.
—Eric Van Amerongen, Senior Sound Designer
2. Establish a clear idea of what the creative style and aesthetic of the audio should be and define important delivery milestones.
—Ollie Glatzer, Audio Producer
3. Pay attention to detail and keeping that in line with an overall, inspired vision.
—Michael Bross, Chief Creative Officer




4. Creative and effective integration – You can have the greatest SFX on the planet, but if they're not playing back correctly, or mixed just right, the audio experience won't be good.
—Ben Gabaldon, Sr. Sound Designer



5. Passion! Pre Production! Strive for a cohesive, focused audio experience. The audio should be engaging and captivate the players to want more.
—Ben Brown, VP Business Development
Sound and music truly make visual entertainment come alive. Fun, memorable moments that we experience when playing our favorite games are often tied to a great character line, or a catchy melody, or a sound effect that thrills. Savvy game makers know this, and whether the project is a new slots game or a point-and-click survival horror game, smart developers use sound and music to deliver more entertainment value to the audience.