RED Games Keeps Fingers on Pulse of Technology
One of the first things someone might notice when looking up RED Games online or visiting their brick-and-mortar location is the code FF0000. While some may be at a loss to the meaning of this letter-number combination, those in graphic and game design will likely recognize it as hexadecimal for the color red.
RED Games CEO Brian Lovell says the unique branding is indicative of the company's work and has been a great talking point for clients. "It suggests we do things a little different and we tend to think outside the box. It subtly connects the name RED to the work we're doing with design and technology. New clients will ask us what it means, so it's been a nice icebreaker. Most of the time (people) get a kick out of it once we tell them – they get to be part of the cool kids club."
Evolution
RED Games definitely has a different way of doing things. RED Interactive Agency, the company RED Games is under, opened its doors in Los Angeles in 1999 with a different approach to the business world. Rather than honing in on a specific niche or product, RED began with the idea of simply doing cool work with interesting clients.
"We knew that the actual type of work we were doing would evolve over time with the constant changing needs of clients, new technologies, consumer demands etc.," Brian says, "so our vision has always been to evolve with these changes but to never forget what drives us on a day to day basis, which is to do great work with awesome people."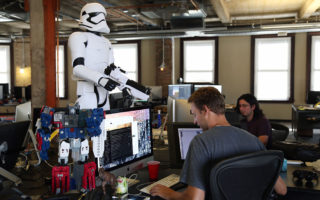 RED started out building websites and applications mostly for clients in the entertainment industry. Since then, they have expanded into Boulder, Colorado, and Salt Lake City, Utah, mainly to tap into new talent pools outside of the LA market – something Brian says has been a driving factor in RED's success.
Another driving factor for success, Brian says, is the way RED is organized. The company works across eight practice areas and works with brands and organizations across their entire customer journey to provide a consistent brand experience. Each department within RED has a very specific focus, which allows RED to bring a deep level of understanding and expertise to their work.
Today, along with some of its original entertainment clients, RED works with major brands such as Nike, ESPN, Netflix, Microsoft, Lego and more. Meanwhile, RED Games, which started out in Salt Lake City creating web games and game-like experiences, has become completely devoted to casual mobile games.
The CULTURE OF RED Games
RED Games launched its first self-published mobile game title, Pet Peaves, in 2013 with a team of roughly seven people. The game did over one million downloads organically with no marketing. This was followed immediately by Battle of the Beards in partnership with A&E. Now, RED Games has a team of over 20 and is working on multiple projects with companies like Nickelodeon and Hasbro.
The company's culture has more of a startup vibe, with the benefit of being part of something larger – affectionately termed "Big Red." RED Games keeps their hierarchy very flat – with RED Games Executive Creative Director Jared Kroff noting that it's much easier to put together teams and complete projects when there is no jockeying for position.
"We run small agile teams that ship multiple titles a year," Jared says. "We rely on each team member to actively contribute to all aspects of the project from concept to launch. We thrive on collaboration, fast iteration, and a passion for striking visuals."
Jared admits the flat hierarchy can be initially disorienting for someone coming from a more structured environment, but the company believes it provides the best opportunity for people to realize their full potential – regardless of their role.
GAME Development
At any given time, RED Games is working on two or three mobile game titles. While the company is currently excited about and focused on the mobile space, Jared notes they develop their games in Unity and many employees come from a console background, which leaves the door open to expand to other platforms – including VR.
A typical game cycle – from concept to launch – takes roughly six to eight months. Brainstorming is something everyone really enjoys, but they will quickly dive into art and code for rapid prototyping as part of the conception process. Jared says that once a team captures an idea for a game the vision becomes self-perpetuating and at that point the game is happening.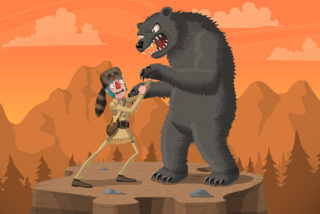 "It doesn't matter if everyone has a slightly different version of the game in their head," Jared notes. "It is the collective excitement that makes things start happening. One of the skills we cultivate as a studio is the ability for this to happen predictably."
All development is done in-house – even back-end server development, which RED Games works with "Big Red" in Los Angeles on.
Currently, many of RED Games titles have been kids-oriented 2D illustrated games with traditional animation. However, they are currently working on 3D titles and games targeting women 45+ with "equal passion." While the company is very enthusiastic about making their own titles, Jared says they are equally enthused about working on partnered titles because they choose the clients that allow them to do their best work.
Monetization & Discoverability
One of the biggest decisions in game development often deals with monetization. RED Games isn't picky when it comes to the different monetization methods out there. Jared says premium games are "refreshing" but notes that when it comes to partnered games, titles are always free-to-play with in-app purchases. "We believe that in order to be successful on mobile you need to be able to set aside any disposition you might have towards a business model and dedicate your time to finding a fun game that has real value to the player."
We believe that in order to be successful on mobile you need to be able to set aside any disposition you might have towards a business model and dedicate your time to finding a fun game that has real value to the player. – Jared Kroff, RED Games
When it comes to app discoverability, Jared notes that it's a big challenge. The company has been lucky to have their games featured by Apple on launch day – and they always make sure to merit the feature. They also partner with brands they believe can drive downloads and have a big impact on user acquisition.
The company has also invested in an internal team focused on marketing and user acquisition and will often help create marketing plans and provide promotional materials for clients on partnered games.
Moving Forward
While every game the company built has been featured in the App Store, the company takes the most pride in the relationships they've cultivated with their partners and team members. RED President Donny Makower says each project is a step forward and the company is currently working on its biggest and most exciting titles ever, anticipating that 2017 will be a "breakout year."
A big part of RED's culture is to keep our fingers on the pulse of technology. – Donny Makower, RED Games
Brian agrees with that sentiment, saying that the company has big projects and game titles on the docket for 2017. Additionally, Brian says, the company will continue to build long-term partnerships and co-production deals, invest in marketing and user acquisition capabilities, and even create and expand RED Games' own intellectual property.
Looking forward, Donny says there is a lot unexplored potential in new frontiers and RED Games is constantly working to stay on top of the latest ideas. "If you walk through any of our offices you're likely to bump into a 3D printer or a defenseless dev wearing an Oculus. We have a passion for toys and are working with partners on some exciting physical-to-digital initiatives. A big part of RED's culture is to keep our fingers on the pulse of technology."
Comments