The Secret Games Company Tackles Colonial India, Procedural Generation in Kim
The Secret Games Company was created in 2012 for the simple purpose of publishing a side project that founder Jeremy Hogan and some of his friends were working on. Since that time, Jeremy has kept The Secret Games Company alive as a vehicle to publish all of his independent work. While Jeremy is the sole founder of The Secret Games Company, he has always had key people working with him on all the projects he's put his company name behind.
The first project to come out of the company was a board game in which the artist was extremely influential and the second was a strategy multiplayer game in which the programmer was vital. The third and most recent title from The Secret Games Company is Kim – by far the company's biggest and most ambitious project to date – of which the project's programmer, Lasse Jørgensen, has been "absolutely integral."
The secret of Kim
Kim is unique in several aspects, though some people might not realize just how unique it is at first glance. Perhaps the most unique aspect of the game, and one of its most daunting technical challenges during development, is the fact that it is procedurally generated.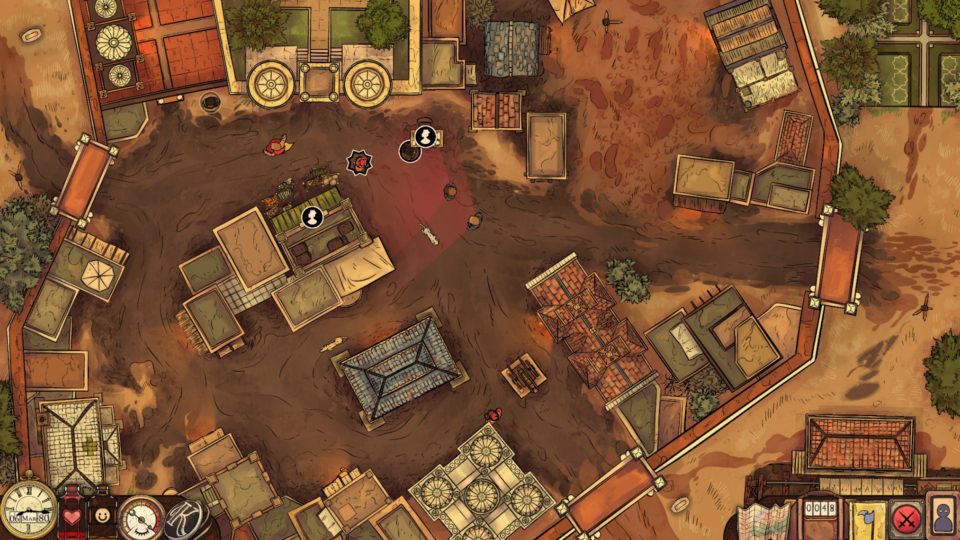 "Every NPC you encounter is procedurally generated – and the landscapes and events and everything," says Lasse. "I don't think people will see that at the first sort of glance of the game. But it's something they'll discover along the way: 'OK this is much more depth than what we originally thought we were seeing.'"
Procedural generation basically works by having the developer hand the computer a set of rules and guides and having the computer build everything as the player plays the game. Lasse notes that procedural generation is very unusual for this sort of game, and that it's generally easier and safer for the developer to design NPCs and environments themselves because they have full control.
"We've run into situations where there's part of the map on a level that you can't get into because it's surrounded by rocks or whatever," Lasse notes. "That can be potentially game-breaking because there might be an NPC or something inside of that circle of rocks. It can be dangerous and it takes many hours of work and iteration to get it to run as we want to."
The need for CHANGE
Despite the challenges of procedural generation, Jeremy planned on having it from the outset of game development. He notes that the game takes place across an enormous area of Colonial India, Pakistan, and some other countries. The game has about 500 levels and Jeremy wanted to ensure that there would be an abundance of replay value for users by implementing procedural generation to make sure that each playthrough was always a bit different.
There are some rules they've given the computer to follow in creating the game's environments though to ensure that the game mimics real life. For instance, environments will be populated with the correct flora and fauna and whichever ethnic group was dominate in a given area for the time period will be the main ethnic group for NPCs in that area.
According to Jeremy, there is only one part of the game that is not procedurally generated. "All the towns in the game are hand-drawn to reflect how they looked in the era of Kim – which is in the late 1800s," Jeremy says. "We've researched the 17 different towns in the game, we've found old photos and old accounts of them – and even old Victorian travel guides – and our artist has carefully drawn those out. So they're really cool. When you arrive at each one we present a photo of it."
The company was able to use photos from the British Library for only a nominal fee – which Jeremy said was "really nice of them" – and they found a corresponding passage from a Victorian travel guide to display below each photo. This way, Jeremy says, when players arrive in a new location they get some background on it. Most people haven't heard of these towns, he says, noting that India is a long way away.
Source of inspiration
The source of much of the game's dialogue and inspiration is the Nobel Prize-winning literature of Rudyard Kipling – specifically the novel Kim. "It's considered his masterpiece," Jeremy says. "It's a beautiful love letter to India and his childhood there. It's a wonderful adventure tale."
Jeremy says about half of the book, close to verbatim, is in the game – although much of the material had to be edited for comprehensibility and brevity. He notes it was also the perfect chance to set a game in a time and place that nobody else would cover because it's too risky for a big company to dive into.
He was also lucky enough to choose material that had just recently passed into the public domain. "Would you believe it, stroke of luck, Rudyard Kipling's work entered the public domain about two years before the moment when I bothered to Google this – 75 years after his death. We're able to use his material … which is amazing to be able to work with writing that good. It really is the very best of writing."
Beauty in the details
In addition to the dialogue and plot of the game, Jeremy notes that the game's graphics as a whole are "a real achievement." He notes that the game's top-down, 2DR style has drop-shadows, dynamic shadows, and a cloud layer to top things off. Lasse says the shadows, in particular, were difficult to perfect, but "we did end up getting it to work and it looks beautiful now."
Jeremy adds that "it's really hard to (make depth in a 2D game) and shadows are your main way of doing it. Working in 2D – it's all smoke and mirrors. Unity helps, but we had a lot of times where we said 'it can't be done, let it go, you can't have this and that' – but by the end of the development we had everything we wanted and stuff we didn't even imagine we could have."
Release and response
Overall, Kim took about two years to perfect. The game spent about six months in early 2016 in an "intense" Early Access period – with the developers continually coming up with new stuff they wanted to add. The full release of the game has been out on Steam since October 2016. However, even that isn't the end of things for the game. The company has released one content update already with many more planned.
Jeremy says they have received really positive feedback from players – with about 90 percent positive reviews on Steam and over 90 percent positive reviews on Good Old Games. Additionally, Kim was invited to be part of Casual Connect's Indie Prize showcase in Berlin earlier this February. Out of 470 games that were submitted to the showcase, only 130 – including Kim – were accepted. "We were really delighted to be accepted," Jeremy says. "It's been a blast coming out and meeting everyone. Indie Prize is a great way for us to get out here, meet fellow devs and spread the word about our game."
Jeremy encourages anyone who grabs the game to tell The Secret Games Company what they think. "We really love to hear from people," he says enthusiastically. "I know people say this, but we really mean it. Reach out to us on Twitter, follow us on Facebook, talk to us on Reddit, email us via our website. We'd love to hear feedback about the game – anything you'd like – get in touch!"
Comments