Nonstop Show: How To Be Noticed In Local Market
By Vania Marita, Co-Founder of Wisageni Studio
The three of Wisageni Studio team members decided on starting their own company after meeting at Gamelan, a local game developer community in Yogyakarta, Indonesia back in 2014. Each of them has previously worked for companies that make games for PC, Flash, or do outsourcing. "So when we started Wisageni Studio, we used our background experiences and created some Flash games and worked with some sponsors", recalls Wisageni Studio's co-founder Vania Marita.  As the Flash games market declines, in November 2016 they finally tried to redirect development to the mobile platform with the release of their first mobile game, Nonstop Show.

---

At that time, we didn't know anything about publishing. So we tried to focus on the local market first, to make self-publishing easier for ourselves. Bringing the story of a street musician through a clicker/idle gameplay, we were aiming for the casual market segment. Our game's idea came from a real experience: one can find street musicians in most big cities of Indonesia.
Actually, there are real stories of street musicians both local and international, who finally made it into record labels and became famous. Justin Bieber for example.
Development took about 2 months. The beta version of Nonstop Show was released only on Google Play Store Indonesia. We sent out press releases and were grateful that some local media and newspapers supported and published news about our game.
Community Input
Our users love the updates and actively give feedback through Google Play Store or Nonstop Show fan pages on social media. For a few months we updated the game every 1-2 weeks based on data and feedback we got from users, some trending elements suggested by our community made it into the game and it helps with visibility in the Play Store. However, as we are a small team working on feature updates, marketing and publishing stuff, this approach made each of us work long hours and weekends.
Another challenge for us is that our users are mostly Indonesian. They use a lot of low-end gadgets and have less reliable internet connections. This resulted in us having to do testing on multiple devices to ensure the game file size is small and can run smoothly on all devices.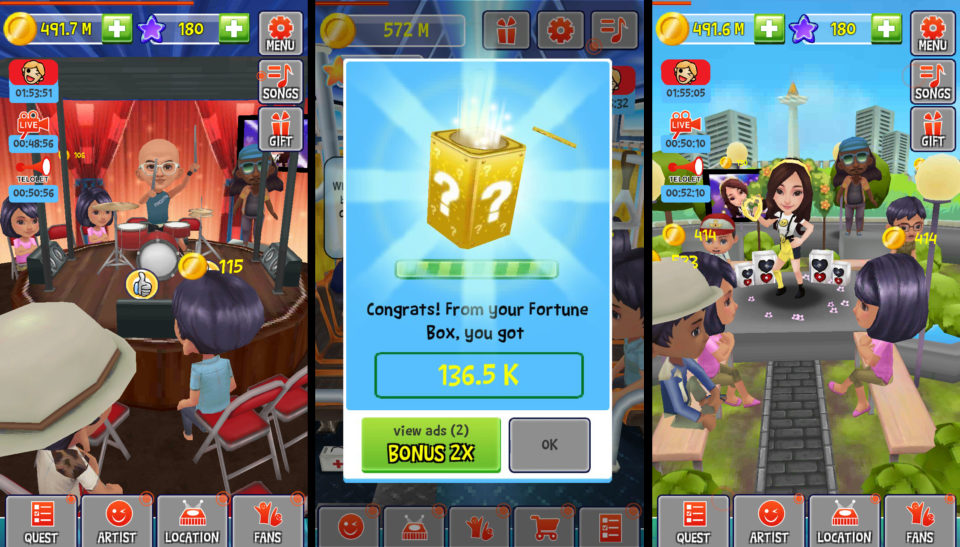 Local Influencers
Our users love the 3D graphics we provided. They also liked the accelerometer feature that makes the game experience feel similar to wiggling percussion instruments. Some said it is quite unique and makes their friends curious and download Nonstop Show. We also got a lot of positive feedback from users who play with their children or grandchildren.
We were lucky to be able to work with Arie Hamzah, a former drummer of a local indie band Endank Soekamti. He let us include him as one of the playable characters in the game. Arie also helped promote our game through his own Facebook, Twitter and Instagram. Wasn't too hard to make his loyal fans directly downloaded and played Nonstop Show.
A few weeks after release, we got an email from the Google Play Store that our game will be featured in Indonesia. These features were quite helpful for increasing the downloads.
We are also fortunate enough to have our game nominated for several contests – Indie Prize at Casual Connect Asia 2017, Google Indonesia Game Contest 2017, and 2nd IMGA SEA 2017. In these events, we could exchange ideas with fellow developers. From them also we got a lot of responses, knowledge and supports that have been invaluable to us.
Too Local To Go Global
What we overlooked at launch was safety: we discovered a lot of players were using cheats. We tried to implement multiple security add-ons as soon as we could, while updating the features to get people to  download the latest version.
In February 2017, we localized Nonstop Show to English and released it globally. Of course, the game wasn't doing as good in the global market. Like a boomerang. The thing that made the game quite visible in the local market happened to be the main cause of failure of the global launch. The content is too local. It's not easy to get into the market and be understood by global users. As the time and effort to redirect the premise of a game would be similar to creating a new game, we decided to let Nonstop Show represent Indonesian local content and culture.
Currently Nonstop Show has been downloaded by more than 250 000 users. Most of them are Indonesian, and also users from several countries in Southeast Asia and India.
We also worked with IOT developers and created an arcade version prototype from Nonstop Show, which was showcased in local B2B and B2C events.
Publishing Partners Wanted
Although we made many mistakes, each member of our team also has learnt a lot. From working on 2D games for PC and browser with Flash to 3D games with Unity for the mobile platform, new business models, marketing and publishing. It's such a bittersweet experience for us. It motivates us to better prepare ourselves in the next game production.
Currently, we are more focused on development and looking for publishing partners so we can make the products more satisfying to users and minimize the risks.
We are trying to implement the things we have learned from the Nonstop Show into our new game that targets the global market.
Comments
Industry Contributions