Ilyon Innovates Amid Rapid Growth
Ilyon has only been on the scene since 2013, but they already have over 40 titles and are continuing to see strong user acquisition and retention growth every month among their various titles. The company, which was started by four former Israeli military officers who worked on their game projects at home, has since grown to 40 employees with an office in Israel.
Scaling growth
The company started around a simple bubble-shooter game with only one game mode which Ilyon COO Ilya Molo says had a "total respectable" 2M downloads. They then took the feedback and data they received from that game and worked on it full-time to improve it. The resulting changes led to 1000% growth in downloads and revenue. Today, the same app has more than 14M downloads.
Ilyon has continuously used this model to grow: Reinvesting in its games as it reaches new thresholds – creating new levels, hiring new designers, adding game modes and improving in-app purchases. Additionally, they create special bubble-shooter apps to take advantage of current events such as the Olympics or holidays.
power of community
Adi Haddad, Ilyon head of marketing, says that community is very important to Ilyon and has had a major hand in their success. "We see it as a very important aspect of the company to have feedback to change (things) if we need or add features and listen if (our users) have problems we need to solve."
Adi notes that Ilyon's app pages on Facebook are very active – with hundreds of thousands of users – and they engage with their users on Google Play and the App Store as well. Ilyon's support team also responds to all the users that reach out to them and the company has even implemented customer surveys to get more feedback.
Ilyon has used this information to create bubble-shooter games featuring new styles, designs and features. Ilya says the company uses cross promotion on their biggest apps to draw attention to their smaller apps. The company is currently seeing 30 to 50 percent growth each month – most of which is organic.
Quick iteration
Currently, Ilyon apps are all based on the simple bubble-shooter game, which has allowed them to quickly iterate and create new apps at a breakneck pace – sometimes with multiple app releases per week. In addition to using the same underlying game, Adi attributes the company's employees to its ability to quickly release apps, saying that the company's "very talented" CTO has built the basic platforms that the company uses and the company's teams are efficient and work very fast.
Ilya says that, despite using the same bubble-shooter concept, Ilyon's apps are strikingly different from each other with different styles and mechanics – noting that the average user plays five to ten different Ilyon apps – something they wouldn't do if every game was the same.
Going for the gold
Adi and Ilya both believe that there is still a lot of user acquisition and retention they can achieve in the bubble-shooter ecosystem and that they are far from reaching a plateau. However, they note that Ilyon is not putting all of its eggs in one basket either.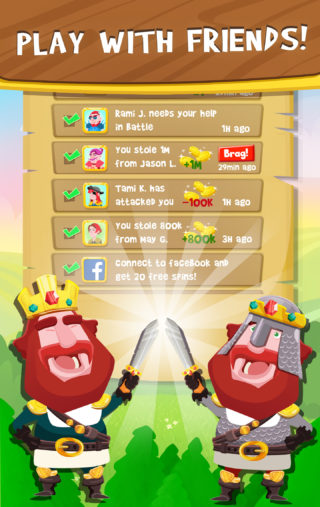 Adi says that they know their users love casual games and they are currently in the process of developing new and different casual games that are standalone products. Their next release will be a casual strategy game titled Greedy Kings. The game will be a big departure from the bubble-shooter formula, with a focus on using wits to build castles and create an empire while using alliances with friends to build power.
Ilya says Greedy Kings will mark a shift in strategy for the company and that there are plans to release more games that will be uniquely different from each other and take longer to develop. Ilya notes that the casual games industry cumulatively has a lot more downloads than Ilyon has achieved – and they plan to take increasing shares of the casual games market. "Our goal is to be the top casual publisher."
Comments