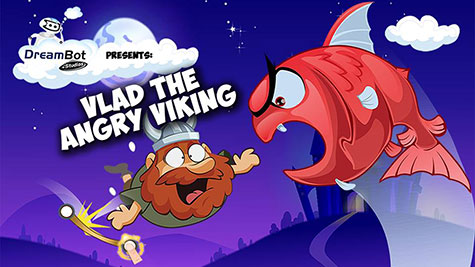 Releasing over 30 titles in the app stores such as Vlad The Viking: Barbarian Run, Turbo Train (an Indie Prize nominee), and Tesla Boy, Dream Bot Studios is an independent game studio founded by Markus Skupeika. They believe they must design games to enlighten and free people from the hidden agendas of the powers that be, using stories and experiences that empowers gamers to live a life with purpose. The studio's latest hit, Vlad the Angry Viking Voyager, was developed from all the data collected from the company's other titles to produce what they consider "toilet time gameplay". Markus talks about the game's development.
---
Time to Build Anew
After launching multiple titles in the App Store and getting some great player data, we felt we could make some better decisions on our next game. Along with this, it was time to create a new game engine, which Dream Bot Studios could use to build a collection of branded games around. These branded games would focus on one core character, a character players could feel connected to and hopefully invest in. This is when we began thinking about Vlad, our cute little chubby viking.
During the process of choosing our viking theme. I would role play around the office as a viking or pirate. Yes, a goofy-like grown man thinking he was a viking, yelling around the office. Oh the joys of game development! It's like acting for a movie script. I get into character, then draw some silly designs to see if it fits the way I'm acting. Character development is crucial because if you can get those players to connect to the main character, this can turn into more in-app purchases, higher retention, and revenue for the studio. Plus, who doesn't like being a viking, especially a cute chubby one who bounces around his viking town?
Toilet Time Gameplay
When we first developed mobile games, we totally forgot people were playing these games mostly with just one finger. We were creating far too advanced gameplay or controls when in reality, people are playing mobile games while commuting, waiting, or what we like to call "toilet time gameplay". Players usually use only one hand and finger to play mobile games.
In order to make a dent in the App Store, we wanted a casual type game to attract a larger audience. Since we are dealing with $0.99 in-app purchases, at least 20,000 downloads would be required in order to get the studio's money back on the game. The way we did this is with a casual, easy-to-pick-up game.
After the many mistakes we learned from publishing our games, we had to come up with a system to make a great game. During each iteration of developing games at Dream Bot Studios, we always ask these questions for each game mechanic:
+ How can we have players want to continue playing? (retention)
+ How can we have players become our apostles? (downloads)
+ How can we have players want to spend more? (revenue)
Keeping Players Playing
The first thing in our game development process is getting controls to feel right. Making things feel right increases game retention. In Vlad The Angry Viking Voyager, we decided on drawing a simple platform to bounce our hero throughout the level. It was an endless level, so we could cut level design and simply increase the difficulty as players advanced through the game.
This was initially difficult at first simply because our character was at first created with as a normal human body, but bouncing a full body around the screen using physics was a horrific experience. So we made him into a cute ball-like character, animating his arms and facial animations.
We really wanted our players to connect to our hero, so we focused on creating really big eyes for our character. When players connect with the hero, the retention is always increased. A great tip for those who are building such characters is to look at Disney and DreamWorks' characters. All the characters show personality through their eyes. So we did just that and gave Vlad an eye-bulging makeover.
Bouncing Just Right
After getting our character model into a little cute round cannonball shape. We now had a bigger problem getting the bouncing mechanic right. We decided to create bounce strength variables from the start to allow us to change the velocity and height of our hero. This allowed our team to balance our bounce mechanics more easily and also was strategically planned for in-app purchases for players who wanted to bounce Vlad into space. By having our hero use the bounce velocity variables to increase the height of his jumps, we could easily build upgrades later, which players could purchase with in-game currency. This proved to be beneficial and helped the studio receive more in-app purchases.
The longest part of development was the bouncing mechanics. This took quite some time to get right. Players could change the angle of the platforms and would create weird results. So after a month of testing internally and with friends and family, we finally got it right. Once we were feeling comfortable with the main mechanics, we began thinking about how we could make playing Vlad more fun. Keeping the idea in the back of our mind of toilet-time gameplay, we started coming up with new silly ideas.
Adding More Fun
We started thinking of cool power up bonuses with which players could upgrade their character. As we came up with ideas for the power-ups, this also sparked some imagination for our enemies in the game.
We started slicing up the new mechanics in mini salami-sliced iterations, like peeling the layers of the onion. We took one mechanic at a time to check if it would work. If it did, then we would check if we could use this mechanic to increase retention and build more revenue from the game. Each mechanic added followed the same process: does it make the game fun and how can we increase retention or create revenue from this mechanic?
We onion-layered in cool dragons, UFOs, coins, and power-ups. Each object in the game has its own cool way to make the game more enjoyable. Finally, after putting these new objects into the game, we had to test the game's difficulty. Initially, it was too easy, and in my opinion, still is. But we will be updating the game to increase the challenge on our next iteration.
After each iteration, we would always ask the same questions as before, so our next step was how to get more downloads for this game without spending a huge bundle on marketing until we knew our numbers.
Transform Gamers Into Apostles
We came up with some really cool ideas to find ways to have players share the game with their friends and the world. We are indie developers, so we have to be creative. We created a super-cool viral mechanic leveraging Facebook's huge user base. We didn't hide it on a menu, but instead placed it right inside the main menu when players start the game. We ask them if they wanted to play with their friends.
If they choose yes…
They will see their top three friends score during the game. Then they will also have a chance to invite friends or brag to their friends on Facebook.
The opportunity to share happens on each end-of-level screen. This means free marketing and more downloads without having to pay for those expensive $2 to $7 installs. We let our users be our apostles and spread the word! This is something every game developer should consider when creating their game.
Another cool mechanic we did was our Kingdom of Coins. We want gamers to brag about the game or their achievements. So what better way to do this then giving a player his or her own castle to fill up using coins? After players collect coins, they turn them into diamonds. After every level, we send players to this Kingdom of Coins to collect diamonds and build their Kingdom, so they can share with friends on Facebook and Twitter.
Psychologically, players now are:
+ Collecting: (Gather as many coins as they can – increasing Retention)
+ Competing: (Showing Off – Whose Castle is Bigger?) with friends on Facebook and Twitter
Also, players are free at any time to purchase more coins, which increases their collection and size of castle! It was a new piece of the game I really wanted to add, to have a player invested into achieving more in the game and having some visual feedback to prove it to themselves and their fellow gamers.
What Is Game Without A Boss Battle?
Another layer we decided to push into the game was a cool boss battle. It was hard to think of a way to battle a boss while bouncing. We had one idea of a viking carry a long stack of bricks and the player had to bust through the wall of bricks to advance, but this proved to not be that fun.
As I was playing, I got to the part of the game where you can start bouncing over water. I thought about a fish jumping out of the water like I've seen in other games. So I took this idea and ran with it, making the fish really huge. This turned out to be our boss battle, as well as another way to allow the player to break from the usual gameplay while collecting more coins to upgrade their hero.
Now we had to answer the question of how to have players spend more in the game.
Creating Revenue
When creating the upgrades and in-app purchases, we didn't want to break the action, so we strategically placed our store as a part of the gameplay. Upon starting the game, players were immediately introduced to the upgrade area and then onto playing the game. It was not just to buy stuff, but really to upgrade your character with the coins you collect from the game.
Our players come to the upgrade menu each time the game starts and the player begins a new level. It works very well, as it is not intrusive and players view this store as more of a upgrade area, rather than just a store. We took weeks to design the menu and make sure it was easy to navigate. I believe it was a good investment, considering the more players visit the store, the more likeliness to increase retention and revenue.
Quick Development
The team at Dream Bot Studios learned a ton from this game. We used analytics to see what users were doing and this proved to be valuable to help us see our exact numbers. Eugene, our lead programmer on the project, did a fantastic job of taking the ideas in the game development doc and collaborating with the team to make sure the game ran smoothly. It was a large project for us; we learned so much and we will continue to iterate new versions and test them to see what works best for our players.
We learned so much and we will continue to iterate new versions and test them to see what works best for our players.
I would have to say it's important to develop games quickly, especially being a self-funded studio. The team at Dream Bot Studios now takes game development in really small pieces, trying to create polish in each piece of development. And we really stick to our three important questions when creating new mechanics and recommend other game developers to ask the same questions.
Listening to Players
After launching Vlad the Angry Viking Voyager on the Apple App Store, we got great reviews from players. We published a free version and paid version. Both did well, but we had some hiccups with our free version, as it was crashing for some gamers.
I really wanted to help our gamers, so I spent time in communicating directly with them and found they were initially upset of a free game crashing on their device. But after discussions with them, they were super happy to just know they were being listened to. We fixed the bugs and released an updated version within seven days.
Vlad the Angry Viking Voyager is only one instance of the collection of games we plan to release with Vlad as the hero.
Vlad the Angry Viking Voyager is only one instance of the collection of games we plan to release with Vlad as the hero. This game will lead to other games to help us keep our development cost down and produce higher profits by using winning mechanics that worked and adding more cool features to the world of Vlad. Again, it comes down to making small iterations.
Dream Bot Studios is happy with our release, although we are still working on making a large dent in the App Store and looking to win more rewards for our unique titles. Until that time, we will continue to iterate and make some really cool PC, mobile, and console games in 2014.
Markus Skupeika is always looking to connect with other folks in the industry. While spending most time developing games and running the studio, he feels there is always time to connect on the web. Feel free to tweet him, Facebook him, and like Dream Bot Studios on Facebook and follow them Twitter.