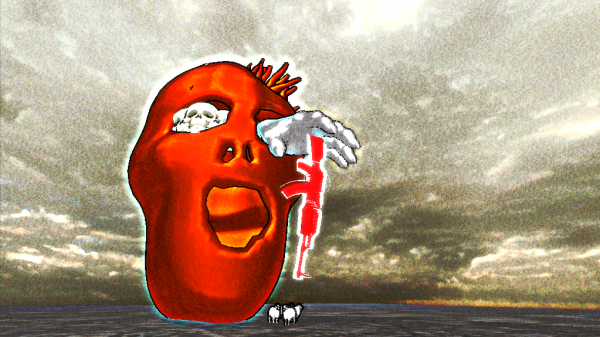 Like many games, Exist originally began as a short prototype titled Ten Minutes, and was supposed to last for exactly that long. With a simple premise of "finding the bomber in a crowded city area", it's developer, Ansh Patel a.k.a. Narcissist Reality, intended to complete Ten Minutes within two weeks. He never finished that game though, and the concept eventually grew both in scope and ambition – until Exist came into being. Ansh explains how he created the game using experiential and experimental design. 
He also spoke about using games to discuss real-world issues during Casual Connect Asia.
---
Lack of Certain Skills Means the Need of a Partner
On one of the early development stages of Exist, there was a point when I understood that the scope of the game had outgrown the space where I, as a solo developer, would be able to provide justice to it. I looked at the number of possible environment art and animations: I'd have to create a single "scenario", and, taking into account how little confidence I had in my own skills, I realized I had to team up with someone like-minded and also equally competent.
At this particular time, I needed a person to handle the modelling and animation, a critical aspect of development where I considered my skills severely lacking. I would be killing both the game and my own confidence if I kept half-heartedly doing what I'm not really good in.
I would be killing both the game and my own confidence if I kept half-heartedly doing what I'm not really good in.
So I got in touch with Kimberly, the environment artist, animator and also the art designer of UI elements. Some mutual Twitter friends recommended her, and we instantly managed to find a lot of common ground in not just expectations from our creative collaboration, but also the possibility to fit it into our daily schedules. This was important, because we were to work remotely and in different time zones.
Having a partner changed my development process a lot. I could now focus almost entirely on design, programming, writing, visual scripting, and level design, without stressing about making subpar models and animations due to my novice skills.
It also significantly changed my thinking process: now, instead of keeping design or its visual aspects ideas inside my head, I could discuss them with Kimberly. Transforming thoughts into words gave me, the speaker, a fresh perspective on my own ideas, enabling many of the crucial creative breakthroughs we made in the following months.
Now, instead of keeping design ideas inside my head, I can discuss them with Kimberly. Transforming thoughts into words gave me a fresh perspective.
Experiential Approach: Designing the Game as You Develop It
When it came to designing the game, I knew right off the bat: Exist wasn't going to be one of those games I could accomplish by simply creating a game design document describing and finalizing all features within a day or two. A game based on real people's experiences would require an equal amount of research, which should be further filtered through my own world view. It wasn't something I could design simply out of my thoughts at a specific moment of time. Considering that, I decided to go with experiential design – the technique where you design the game as you develop it.
It may not be considered a "good design practice" in traditional terms, and has its fair share of problems (which I was to find out soon). But this was the only design technique that could have complemented Exist. I saw it as a form of conversation between me and the game, where I understood the game more and more as I developed it, enhancing or altering certain aspects to reflect my newly found understandings.
A form of conversation between me and the game, where I understand the game more and more as I develop it.
Same as for many designers, scope creep was always a major concern for me, especially when the range of themes I could possibly incorporate into the game was so broad. I solved this issue by listing down a variety of life backgrounds, personalities, and fears the character could have, and religiously sticking to that before creating the procedural character generation algorithm.
Empathetic design was one of the major motives behind Exist, that is, making players feel what the character is experiencing purely through the mechanics and/or aesthetics. On top of it, I was also aware that traditional adventure mechanics would not work unless they were subverted into something else. This presented me with a challenge particularly in the highly fragmented structure I ended up having for the game: one where every single thought sequence needed to efficiently convey what the character was thinking to the player – using text or dialogues only when absolutely necessary.
The subversion of traditional adventure mechanics also allowed me to incorporate a stream-of-consciousness structure. This means that each sequence would activate depending on what the player saw or interacted with in the game, thus imitating the character's thought process. Doing this properly was important since "feedback" to player's actions within the game is a critical component of the design, and I did not want to overlook that.
I wanted to avoid restricting Exist's philosophy to solely its themes. Instead, leaving space for the player's thinking and interpreting words and sequences differently would mean branching paths that would accommodate all those things, without diluting the unifying theme that I, as a developer, am trying to keep through the whole game. All these variations resulted in a massive downtime where I had to learn more about the Unity3D engine we use for development, as well as visually scripting the shaders through the ShaderLab.
Leaving space for player's thinking and interpreting words and sequences differently would mean branching paths that would accommodate all those things.
The Desire to Make a Game Makes It Easier to Work in Different Time Zones
Progress in the initial few months was incredibly slow, and the constant adjustments made to the UI design resulted in time being wasted. But these are the hazards which are part and parcel of the aforementioned "experiential design". Working remotely with another team member across a massive time zone difference is going to be a challenge anyways. But both Kimberly and I are willing to incorporate daily adjustments into our routine and sit down to discuss things that need to be done (collaborative tools like Trello or Gliffy are incredibly handy in situations like this).
Exist may still be at an early stage, but its first part of the journey has been quite eventful, with the game undergoing many facelifts and changes, particularly in the structure, which is now non-linear, and the player takes in the thought process of the character, as opposed to the linear progression of the earlier build. Environments have become more beautiful and the world is now more alive with Kimberly's contribution. We've used some feedback we received at Casual Connect Asia and tried making some elements less vague. Although I hope that all the drastic changes are all behind us, there is always a risk of some new ones when you're developing a game based on a set of people's experiences.
We're close to finishing the first of the three "questions" of the game and, while it may have taken us quite a while to reach this point, now the algorithms and most of the backend work we've dealt with should make the process comparatively smoother from here onwards.
Exist will be released in the first three months of 2015 for PC and Mac. The developers say that they're not planning any new platforms for the nearest future, since they prefer to focus on one single task at a time.