GameStylus: We Want to Allow all People to Create Their Own Games
By David Moren, 
GameStylus

 consultant

GameStylus is a small game studio located in Prague, Czech Republic. It started in 2013 with one idea: To create a simple game engine and game editor, which would allow anybody to create his/her own adventure games without lengthy programming. And so, many months later, the GameStylus.com web site and game engine were born. And first adventure games came, one of them reaching more than 1,4 millions of downloads.
GameStylus game studio was founded in 2013 by Petr Mandik, who had previous experience with adventure games development from his previous game company Agawa, which published adventure games in 1990s in the Czech republic. These were games for PC, published on CDs – who remembers these times? But the times has changed and this time he decided to target broader audience – mobile and PC gamers around the world. But as aforementioned, he wanted not only to create games, but also to offer his game engine and game editor to other people.
When you want to allow people without any previous experience to create adventure games easily, how would you do that? How should the game engine look like? And what about the editor of locations? There is probably only one answer: It all must be as simple as possible. And this is the reason why GameStylus game engine is 2D, the game editor allows to create games mostly just by clicking – creating active areas, paths, where heroes can walk etc. Simple instructions are selectable from a menu, so no classic programming is necessary.
Finished games can be played on PC, Android and iOS. But let's make one step back: When the authors finish their game, the game definition may be downloaded only to the GameStylus app for Android. They may test it there and debug it. When the tests and debugging are finished and the game is spotless, the final data can be – with cooperation with the GameStylus game studio – easily added to the game engines for Android, iOS and Windows 10 and placed to the stores. And a few hours or days later, depending on the store, they are available to players from all around the world.
Does this all work? More than 2,5 thousand game developers registered to GameStylus so far creating nearly 2 thousand games. This is the bright side. The dark side is that vast majority of the games is unfinished yet and only a handful of them look really promising. But as stated above, the GameStylus game studio creates its own games too – and these has been published and some of them are successfull.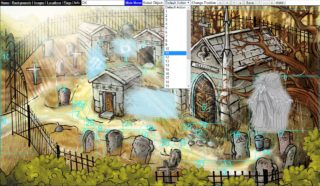 As mentioned above, the GameStylus game editor is easy to use which is a huge advantage not only for people who are creating the storyline of a game, but for graphic designers also. GameStylus game studio typically hires a new external graphic designer for every game series which allows great variety of graphics. Because the game editor is easy to use, the graphic designers are able to upload their graphics directly there and to create animations in the editor without any previous training. Then another person can create the rest of the game, not bothering for the detailed settings of the graphics. This way the games can be created at a relatively low cost – so there is no huge risk losing huge amount of money.
At first the GameStylus game engine worked only on Android OS, but it is available on Windows 10 and iOS now also. So almost all games from the GameStylus game studio are available for these platforms now.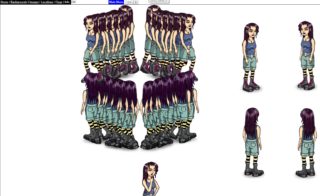 The most successful game of the GameStylus game studio so far is Alice: Reformatory for Witches, which was downloaded more than 1.4 million times and has 4.4 stars from 5 (numbers from Google Play). This game is free, the next two parts of the story are paid, but they are very cheap – gamers can buy them for less than 2 USD each. There are other game series too, for example Space Treasure Hunters, The Island of 16 Sisters, Mutants vs. the Chosen and the newest one – Galaxy Police. Some of the newest games have pre-rendered 3D graphics.
How to make game creating profitable? It is a tough question. Petr Mandik from the GameStylus game studio says, that as their games are low cost, their financial results are around zero, no profits, no losses. They are selling some of their games and they are experimenting with ads now too, but it seems hard to find the right balance. "Some people ask us to make all our games free, but some know, it must be hard to finance the games with such low prices, so they advise us to make them a bit more expensive to find a sustainable financial model," says Petr Mandik. "We are considering all possibilities…" he adds.
Comments
Industry Contributions