The Best and Brightest of Indie Games Were Announced at the 15th Indie Prize Awards
THE BEST AND THE BRIGHTEST OF INDIE GAMES WERE ANNOUNCED AT THE 15TH INDIE PRIZE AWARDS
in San Francisco during Casual Connect USA.
I will take you through the the best and the brightest games in game industry to make sure you are introduced to the new upcoming hits in game development! From 293 game applications, Indie Prize judges selected 100 the best indie games. These winning teams were provided with a scholarship to participate in the biggest showcase for indie developers along with other finalists. From there the judges narrowed the games down further to the top ten games, worthy of recognition!
SOUND A SHELL IN THE PIT
GAME TITLE: Fossil Echo
DEVELOPER: Awaceb
PLATFORM: PC
WEBSITE: http://www.fossilecho.com/
COUNTRY: France
Fossil Echo applied for the Indie Prize scholarship program when they still were in betta, the official game release was on July 1st, just before their showcase in San Francisco.
In the application form we have a question that asks the applicant, which nomination should your game be considered in the Indie Prize Awards, and it is interesting that Phil Crifo (the developer) applied for the two nominations which his game was actually nominated for – Best Game Audio and Best Game Art.
Awaceb continues what seems to be a new tradition of French developers returning to Europe with a crystal trophy from Indie Prize as Benoît Freslon and Sylvian Seccia did from Singapore Indie Prize Awards in May. This time a developer from France returns home with the BEST GAME AUDIO award.
Fossil Echo is a short and challenging, story driven platformer with hand drawn 2D graphics. Set in a fantastical world, it tells a wordless tale of adventure and mystery. Inspired by the Oddworld series, Ico & Shadow of the Colossus, as well as Studio Ghibli films developers of Fossil Echo tells us a story about a young boy and his journey to climb a giant tower in the middle of the sea, how he got there, and, more importantly, Why? are questions that will be answered via playable flashbacks during his ascent.  And for those willing to meet the challenge, eight temples offer some insight on the game's lore and back-story.
DRAG. SPLIT. SHIFT THE WORLD
GAME TITLE: Splitter Critters
DEVELOPER: RAC7
PLATFORM: Mobile/Table, PC
WEBSITE: www.rac7.com
COUNTRY: Canada
This two person team from Vancouver, BC, took home two of the most coveted awards, BEST GAME DESIGN and MOST INNOVATIVE GAME.
Splitter Critters has been Greenlit by a Community who is looking forward to the release date.
Splitter Critters is a unique puzzle game where you must slice the world into pieces and slide them around to alter the shape of the level and get your critters home. You can split the world by drawing a line with the mouse, and then shift either side of the world along that line to rearrange the level and get your critters into their spaceship. It may sound easy, but even the simplest levels can be brain-bending.
GET LOST IN LABYRINTH
GAME TITLE: Labyrinth
DEVELOPER: Free Range Games
PLATFORM: PC
WEBSITE: http://www.freerangegames.com
COUNTRY: United States
Immerse yourself into the Labyrinth to enjoy the exciting RPG and tactical turn-based action with a picturesque 3D world from the winner of the BEST GAME ART award.
Embark on a new Collectible Card Game (CCG) adventure: Assemble powerful decks of Heroes to invade rival dungeons and engage in epic player vs. player 3D battles–then, use the loot from your conquests to customize your own dungeon and put together a powerful deck of bosses, minions, and traps to defend your riches at all costs.
"We wanted to make D&D meets Magic the Gathering and wanted the art style to be "epic". The original idea came from one of our lead artists, Bradley Fulton. We are not quite done with the polish, so hopefully it will look better and better over time," said Wayne Karo, Director of Products at Free Range Games.
Labyrinth's Kickstarter campaign was successfully finished on July 15th with more than 1,365 backers who pledged $156,781 USD to help bring this project to life. The backers' generosity exceeded the developers goal of $150,000 USD.
THE UKRAINIAN SONG THAT CAN'T BE UNHEARD
GAME TITLE: The Forest Song
DEVELOPER: Colabee Studios
PLATFORM: Console, PC
VIDEO: http://colabeestudios.com/forest-song-teaser/
WEBSITE: www.colabeestudios.com
COUNTRY: USA
The game that was nominated by our Indie Prize Nomination partner won hearts of both judges and Casual Connect attendees with his unique story based on a Ukrainian folktale.
We had two pleasant meetings with Forest song at Indie Mix in Los Angeles, and then at the Seattle Intel Buzz Workshop that nominated the game for Indie Prize showcase. Dmitriy Veryovka, the developer who is based in US but has roots in Ukraine has experience in creating games that reflect the story and spirit of different nationalities. Their first story Never Alone is a collaboration between world class game makers and Alaskan storytellers and elders. Together they created a game which delves deeply into the traditional lore of the Iñupiat people to present an experience like no other. After visiting his grandma in Odessa, Ukraine Dmitriy was inspired by the spirit of Ukraine to return to the US and create a new masterpiece.
The winner of the BEST GAME NARRATIVE – The Forest Song – is a video game adaptation of Lisova Pisnya, a classic Ukrainian drama in which players assume the role of a peasant who has an extraordinary encounter with an elusive and powerful Forest Spirit. Their connection opens the player to a spirit world and sparks a dramatic clash between the supernatural inhabitants of the forest and the world of humans. The Forest Song features a living systemic game world in which its human and supernatural inhabitants follow their own goals and agenda. A unique time-loop mechanic (akin to the movie Groundhog Day) challenges players to observe and anticipate events. A wide array of interconnected puzzles enable players to then manipulate the game world.
MIND THE TRAPS
GAME TITLE: Mind the Traps
DEVELOPER: Dissonance Entertainment
PLATFORM: PC
WEBSITE: https://dissonent.com/
COUNTRY: United States
Escape deadly dungeons, solve puzzles using each other, face each other in minigames and survive each other as there can only be one winner!
The winner of BEST MULTIPLAYER GAME – Mind the Traps – is a multiplayer dungeon crawler party game that pits you and your friends to use each other to solve puzzles, survive, and compete. The traps-infested dungeon is filled with the cheesiest riches, but only the most devious mouse can win, so use your friends as resources, and use them well.
Mind the Traps was inspired by older local multiplayer games like Mario Party and Legend of Zelda: Four Swords because of how its simple design and cycling variety of gameplay captures a whirlwind of emotions and interactions that only comes with playing games face-to-face with each other. With these major inspirations in mind, developers wanted to simulate these personalized experiences by alternating between dungeon crawls and mini-games, where players get a mix of co-operation as well as competition.
FUN COMPUTER PROGRAMMING FOR KIDS
GAME TITLE: The Foos
DEVELOPER: codeSpark
PLATFORM: Mobile/Table, Web
WEBSITE: thefoos.com
COUNTRY: United States
The Foos turns programming into play for kids ages 5 and up. Computer science concepts are introduced in challenging puzzles and reinforced as kids program and share their own video games. Since launching, the magic of word-free interface has allowed over 2 million kids in 172 countries to play. codeSpark won BEST KIDS & FAMILY GAME for The Foos.
TAKE ON EXCITING ADVENTURE AND RETAKE THE KINGDOM
GAME TITLE: Blades of Revenge
DEVELOPER: Infinity Levels Studio 
VIDEO: https://vimeo.com/168287157
PLATFORM: Mobile/Table
WEBSITE: http://www.infinitylevels.com
COUNTRY: Thailand
Thailand based Infinity Levels Studio won the BEST MOBILE GAME nomination at Indie Prize Awards in San Francisco.
Blades of Revenge is a unique tactical system of Puzzle RPG, a turn based strategy RPG with unique gameplay.
Fight alongside your gathering of heroes in a grand quest to take back the kingdom invaded by the strongest warlords in this exciting mix of medieval action and innovative puzzle. You can try your hands on the new innovative gameplay that mixes challenging puzzles with "elemental power" skill activation and action-packed battles into one perfect blend of game genres. Collect heroes to join your quest, recruit more allies, and fight the ultimate warlord.
VR ROCKS
Following the latest game industry trends, Indie Prize announced the creation of a new nomination category: Best VR Game. We received a record amount of VR game submissions for this conference. Fourteen VR games were selected to be showcased at Indie Prize USA with with the winner of the BEST VR GAME award going to Tactera.
GAME TITLE: Tactera
DEVELOPER: E McNeill
PLATFORM: VR
WEBSITE: http://www.tacteragame.com/
COUNTRY: United States
Tactera is a Real-Time Strategy game played on a "virtual tabletop". Inside a futuristic war room, a 3D hologram shows two armies on the verge of battle. You are the tactical mastermind who must command your troops to victory. Build swarms of gunships, tanks, bombers, and other units, and use your hi-tech view of the battlefield to strategically outmaneuver the enemy!
AUDIENCE CHOICE
The only nomination that was determined by attendees voting went to Evilibrium 2: Soul Hunters.

GAME TITLE: Evilibrium 2: Soul Hunters
DEVELOPER: Serge Himmelreich
PLATFORM: Mobile/Table, Console, Web, PC
WEBSITE: http://orcwork.com
COUNTRY: Russia
Evilibrium: Soul Hunter is a collectible card game with a role-play twist for mobile devices. The game invites you to the alternate reality at the beginning of the 20th century full of mystics, adventure, horrific creatures, dark rituals and secret cults.
AND EVEN MORE
After looking through the list of Indie Prize games you will understand that all 100 games are worth mentioning as they are the finalists who were selected from 293 submissions from all over the world! Find the full list of games that were showcased at Casual Connect in San Francisco at indieprize.org. You can also apply for the next Indie Prize scholarships using Tel Aviv and Berlin submission forms. Make sure you do not miss the deadlines!
Congratulations to all the winners and nominees!
And hope to see you and your games soon at the next Indie Prize!
FULL LIST OF
WINNERS

AND NOMINEES

BEST GAME AUDIO
Winner: Fossil Echo by Awaceb (France)
Nominees: Sisters by Otherworld Interactive (USA)
Roto Color Runnersby Blue Volcano (Australia)
Smash Wars by FaunaFace, Inc (USA)

BEST GAME DESIGN
Winner: Splitter Critters by RAC7 (Canada)
Nominees: Mind the Traps by Dissonance Entertainment (USA)
Asura by Ogre Head Studio (India)
Pocket Plants by Shikudo (China)

BEST GAME ART
Winner: Labyrinth by Free Range Games (USA)
Nominees: The Forest Song by Colabee Studios (USA)
Fossil Echo by Awaceb (France)
Star Knight by Left Right (Korea)

BEST GAME NARRATIVE
Winner: The Forest Song by Colabee Studios (USA)
Nominees: Perfect, Me? By Gear Overclocked (India)
Fossil Echo by Awaceb (France)
Dead Secret by Robot Invader (USA)

BEST MULTIPLAYER GAME
Winner: Mind the Traps by Dissonance Entertainment (USA)
Nominees: Time of Dragons by 4 I Lab (Belarus)
Veterans Online by Nuked Cockroach (Tunisia)
3 Nights in Chicago by Team 3 Nights (USA)

BEST KIDS AND FAMILY GAMES
The Foos by codeSpark (USA)
OCTOBO by Yuting Su (USA)
Incredible Water (iWater) by Yarki Studio (Ukraine)
The Biumbis by 3OGS (Argentina)

BEST MOBILE GAME
Blades of Revenge by Infinity Levels Studio (Thailand)
Splitter Critters by RAC7 (Canada)
COGNITION by LunaFive (USA)
Broma by Game Cooks (Lebanon)

BEST VR GAME
Tactera by E McNeill (USA)
STRAY SHEEP by Tomonari Michigami (USA)
Where am I? by Nemesys Games (Hungary)
Sisters by Otherworld Interactive (USA)

MOST INNOVATIVE GAME
Winner: Splitter Critters BY RAC7 (Canada)
Nominees: OCTOBO by Yuting Su (USA)
Refactor by NextGen Pants (USA)
Time of Dragons by 4 I Lab (Belarus)

BEST GAME IN SHOW: AUDIENCE CHOICE
Winner: Evilibrium 2: Soul Hunters by Serge Himmelreich (Russia)
Comments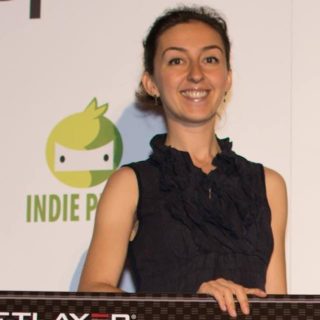 Yuliya Moshkaryova
Yuliya Moshkaryova is the Indie Prize Director and Senior Project Manager and Team Leader at Ukrainian indie studio Wildec LLC. Yuliya travels around the world to meet indie developers from every corner of the globe and to invite the best games to join the Indie Prize scholarship. Follow @MoshkaryovaYuli to stay updated about Indie Prize news and gamedev events.