Get Even: Immersive Experience with No Special Hardware
A hero named Black, an ice-cold mercenary and hired gun, wakes up to discover he has lost memory. Under the guidance of his anonymous captor, 'Red', Black embarks on a form of treatment, facilitated by a unique technology – a headset that allows the user to relive their memories and experience them again in the present. This is how the creators describe the Get Even game, that will be out on June 23rd. As the sound in the game is tied to gameplay, and makes a great part of it, in charge of the soundtrack was Olivier Deriviere, known for music for Assassin's Creed IV: Freedom Cry, and Remember Me. The Farm51 team of Get Even's devs went even further to create an immersive experience, and used the Auro-3D plugin of the Audiokinetic WWise engine. This audio format delivers a full three-dimensional sound spread capable of reproducing natural acoustic space. Their director of Creative Entertainment Division of game Iwan De Kuijper explained more on the technology, while the producer for Get Even Lionel Lovisa shared more details on the game's production, and Olivier Deriviere told more about his vision of Get Even soundtrack.
---

The devs wanted to make a game that would speak to mature audience – "something that will move you, and where you must do something else than save the world", says Lionel Lovisa. "Something that makes you feel many different emotions." So their main challenge was to figure out how to move people in different ways.  "All the mechanics in this game were designed towards trying to generate a particular emotion. The paradox is that generally a game has to be fun. But here we wanted to make people cry. Testing and analyzing people's feelings while they're playing was our way out here", Lionel explains.
"Get Even is a very special experience. Besides the plot twists and emotional roller coaster there is one aspect that we wanted to bring on the table: give players sensations", says composer Olivier Deriviere. "With audio you can create so much of them. Each sequence of the game was designed, audio-wise, to create a different impact on the player. Therefore we used all the material possible to make them unique, but I don't want to spoil anything here, just play it!"
For any earphones, but memory-hungry
The Farm 51 team is based in Gliwice, Poland with 90 employees total working on different projects. The Get Even team is about 30-50 people focused solely on this title. Over time it got bigger with the addition of music, sound, casting, production and writing talent, and then scaled back to a minimum working on the core game. "The main thing here is, I think, that we had talented people at key roles and you'll probably feel it when you see the level of detail that this small team could put in this project", Lionel comments.
Something else can make gamers cry: that awkward moment when their setups don't meet the minimum requirements for the game they're looking forward to. Here's where Iwan comes with some good news: no additional hardware or software is required to play Get Even with Auro-3D. "Really all users need in order to experience the immersive sound when they play Get Even is a pair of headphones. These don't need to be high-end or anything fancy, just a normal set of earbuds is enough. The player can select Auro-3D when starting up the game, so as long as they have headphones they are good to go!"
"Get Even is not a GPU-hungry game, it's a memory-hungry game", its producer shares. "It needs 8 GB of RAM because of the highly detailed 4K textures that the game is using. This also explains the weight of the game on the hard drive. Because of that, even if you play with the low settings, you will lose lighting quality but the game should run on a 4-year-old machine and still look very good."
Appeal to emotions instead of killing all things
There have been numerous inspos for Get Even, and the dev team says users would probably feel that each stage has its own inspiration. "Trying to get different emotions in a game needs different directions and settings. Get Even is set in a first-person genre, but it's not a straightforward 'FPS'. It's so much more. It's an FPS made by people that have made FPS and wanted to use this experience doing something more than a game where you just have to kill people", the producer explains. According to him, sources and influences have been taken from everything from The Matrix, The Butterfly Effect, revenge movies and emotional journeys. "It's a difficult one to explain for sure, but it all makes sense in time". Lionel hints.
It's hard to ignore the haunting surroundings of the hero in the game. And most of them are places that exist in real world. The Farm 51 created visuals using 3D scanning technology that captured environments and settings for the game (photogrammetry). Most of the places that you can find in Get Even are places that actually exist in the real world. "Of course we adjusted the layout a bit to fit our design needs, but you would be able to recognize the places if you visit them", Lionel hints. "Using this technology allows us to create very detailed graphics, even with our small scale team. But it came with a drawback. As the textures are assets taken from reality, we sometimes have the uncanny valley effect. We need to work a lot on color adjustment and lighting in order to make the visuals feel right."
The game was made using Unreal Engine 3. Which, Lionel points out, could seem like an odd choice now. But when development started, UE4 was still in beta stage and because of the scope of the team, they decided to work with something they had experience with . "We could accelerate the prototyping phase because of this, but to be honest, this created some issues near the end. Getting close to what we can do now with UE4 in terms of graphics required a lot of effort and a big overhaul of the rendering pipeline of the engine", the producer recalls.
Generating Music In Real Time
While Get Even is not a VR game, the action happens in a VR world, composer Olivier Deriviere hints. With the goal to immerse the players as much as possible into that realistic world, audio was key to success. "Auro-3D is a technology that can simulate an ultra-realistic audio rendering of your surroundings. When you wear headphones (any of them) and activate Auro-3D, because it is only through headphones you can experience it, you will hear all the sounds surrounding you in a very natural way. And regardless of what platform you use – PC, PS4 or Xbox ONE gamer you will have the option of playing with Auro-3D!" – he explains.
Olivier has been working as a composer for more than 15 years, and says each of the games he has worked on is a unique challenge. "Not only because I try to artistically enhance the game's vision but also because of how I apply music to the player's experience." This is where technology in games is so exciting, the composer explains: it opens new experiences. In Get Even they wanted to create a visceral game, something that nobody had ever felt. "As I mentioned, it is a matter of sensations and to achieve this, I created a system that can generate music in real time depending on the player's actions. I spent almost a year on this technology, which is completely crazy but in the end the feedback about the audio is quite positive!"
When asked about the main difficulty he faced working on Get Even, Olivier recalls first talking to creative director Wojtek Pazdur. "He was talking so fast about so many different situations that I couldn't understand much of what he was saying. It really made no sense at all and I really felt sorry for myself because he looked so assured that I may have missed one thing… Or two… But after some quality time spent with him I finally got it." Olivier says it might be hard to believe, but it's "quite impossible to explain precisely what this game is." And what you can do about it is "to understand, embrace and fight for the original vision, or you will get lost and the game would lose its purpose." Even for an experienced and known composer there is a challenge of fighting for every bit of decision when working on uncommon concepts like that of Get Even. "I can't praise Wojtek enough and all the team at The Farm51 and Bandai Namco to have supported the vision… even when it made no sense…at first!"
Narrative, gameplay and sound hooks
But do gamers really want to be kept on their toes all the time they play? Lionel says they try to get the right mix between narrative, gameplay and sound hooks. "In Get Even the player will be constantly questioning what is going on, we put you in situations where you'll be hungry for any piece of information. Careful exploration of the environment will answer your questions but will also create new ones until all is revealed. But we cannot do this for the whole 10 hours as the game would be flat", the producer agrees.  "We put some spice using particular elements of gameplay. However, what we really wanted to do in Get Even is to move people emotionally. And that's where the incredible audio of the game plays it's part. If you play the game you will find yourself hiding and rushing for no real reason", he adds. "Excitement, intrigue, tension and emotions is what GET EVEN is aiming to deliver."
When asked about the replayability of the game, it's all there and up to the gamer, according to the producer. "This is a story driven game. It means that the evolution of the storyline throughout the game will change based on your decisions, with different endings. There are choices and consequences. So it depends on how YOU want to play the game."
You can start hiding and rushing for no reason on June 23rd, when the game will be launched for Xbox One, PS4 and PC. In the game, of course. 🙂
Comments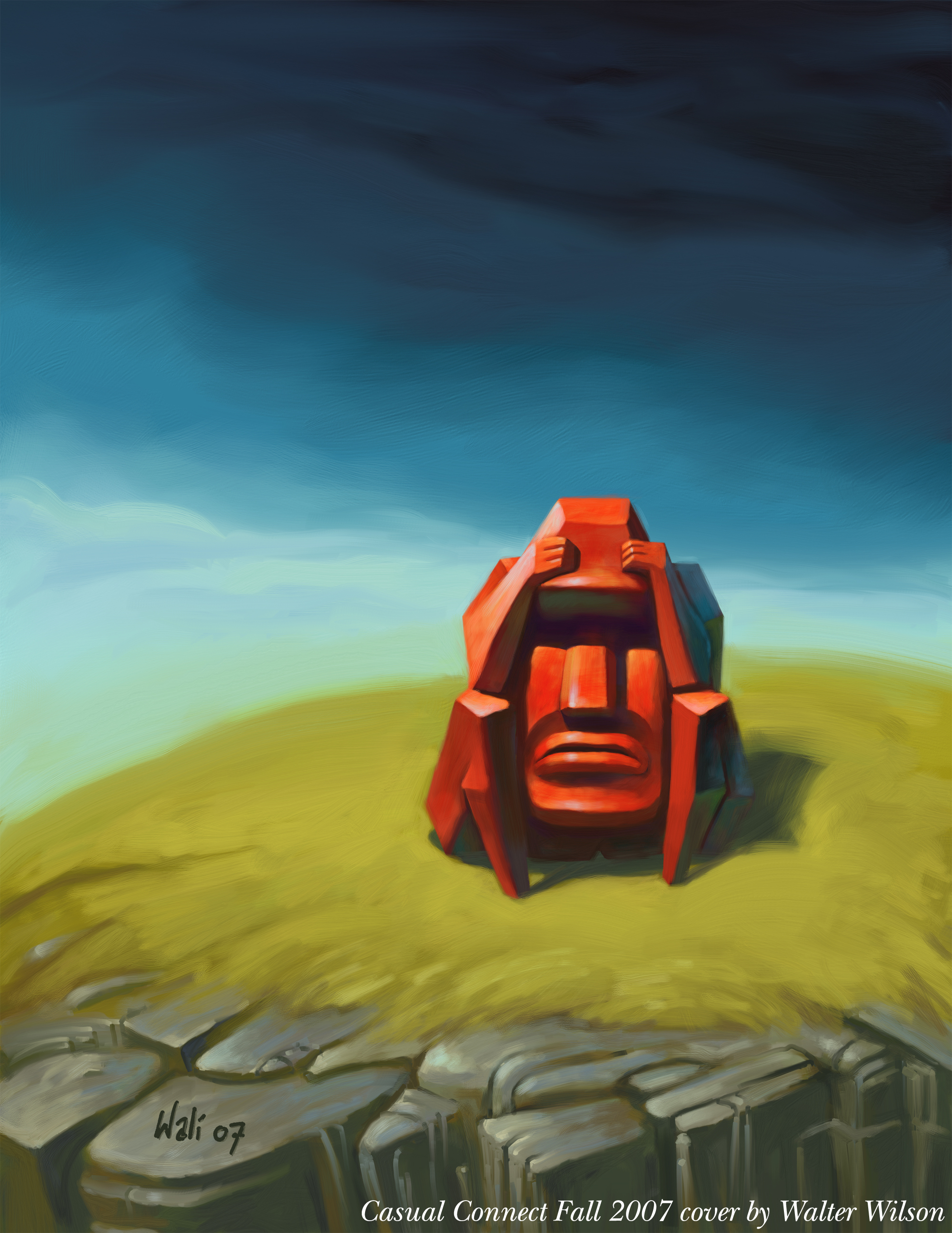 Orchid
Orchid is a content manager at Casual Connect and the developer editor for Gamesauce. Orchid loves kittens and all things super cute.