Dane Games and the Quirky, Old School Squire Squarefeet
The founders of Dane Games, Kasper Fischer Topp and Nanna Fischer Topp, describe their company as a small hobby-based company at present. They both have full-time jobs, as well as a family, so time and resources are limited. But they also have ideas, so they hope eventually to be able to work exclusively at their own studio.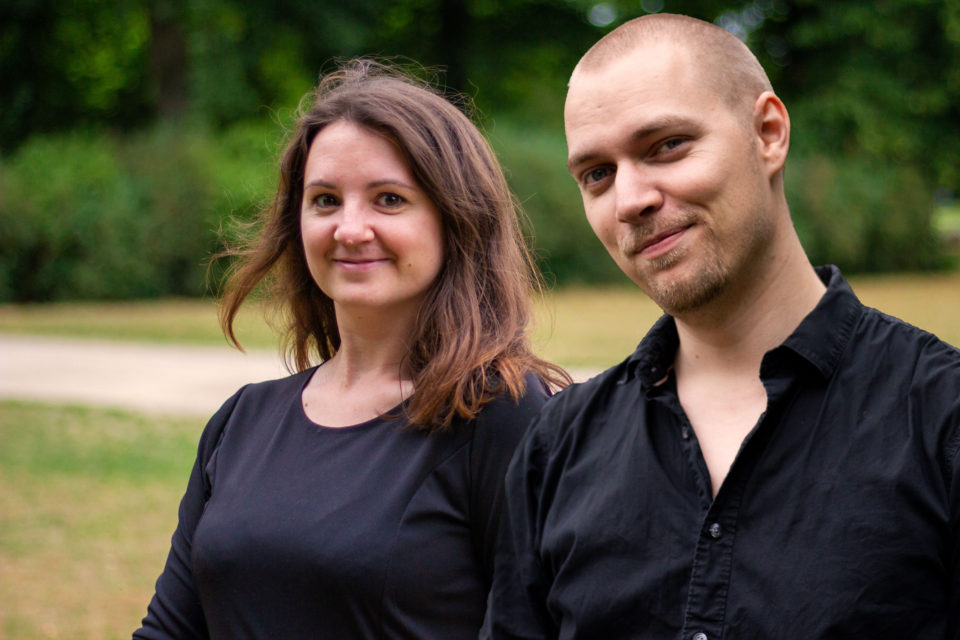 The Pathway To Creating Squire Squarefeet
Kasper and Nanna first heard about Indie Prize in 2017, when they were at Gamescope in Aalborg, Denmark and saw a team win the People's Choice Award. In 2018, they won the prize themselves, for a short demo of their game Squire Squarefeet and got the chance to compete at Indie Prize during Casual Connect Asia 2018 in Shenzhen. Their hope for Indie Prize is to be able to make connections and establish a network. They would love to meet others who are as passionate as they are about developing quirky, adult humor games. And it would be wonderful if they could also find a way to get funding for completing the Squire Squarefeet project.
The Squire Squarefeet project actually had its beginnings in their first semester at Aalborg University, with eight people with no experience in developing games who were trying to get to know each other while, at the same time, developing a game in less than three months. The game they produced was very basic, but the humor was good and fun. Eight years later they still thought this was a great idea and began wondering what could happen with a professional team. What kind of game could they create?
The pathway to creating a game is rarely easy, and Squire Squarefeet is no exception. Dane Games admit that they started out on the wrong foot. They managed to gather an amazing team willing to work for free for three months. But this brought a lot of pressure. After two months, nothing felt right. They describe, "The story was wrong, the boss fight was boring and, to be honest, some of the dialogue still needs work. But we stopped the production and, after having a meeting, we all knew exactly what needed to change and what to do about it, and everything just fell into order."
Test Early And Often
Dane Games begins testing their projects as soon as they have the idea. They read the ideas, draw them and prototype them. Then, as soon as the team is happy, they bring in users to test the prototype and see if the desired effect actually happens, or if the gameplay is hard enough or even too hard. They maintain a step-by-step process of testing to get users' opinions while developing to avoid losing track of the preferences of the people who will finally be the game's players.
While testing Squire Squarefeet for the first time, they had one of the most interesting reactions to the game. They had no idea what to expect from younger users, since the game was aimed at adult players. To stay true to the nostalgic atmosphere of the game, very little help is provided, in contrast to games geared toward younger players today. A twelve-year-old boy was playing the game with his mother and younger sister. They took turns, with the girl exploring, the mother trying to help and the boy playing the hard parts of the game. When the boy succeeded in getting over the river in old school Frogger style, his reaction of relief and victory was incredible for the developers to witness.
Other users also show intense concentration when playing the old school aspects of the game with Frogger and the sumo-ninja boss fight. The relief they experience when conquering is amazing to see.
Old School Style
If Dane Games had unlimited time and resources, Squire Squarefeet would become a saga of adventures with funny new worlds, great boss fights and fantastic fairy tails. But the developers would stay true to the old school style with frame-by-frame animations that immerse users in the world of Squire Squarefeet.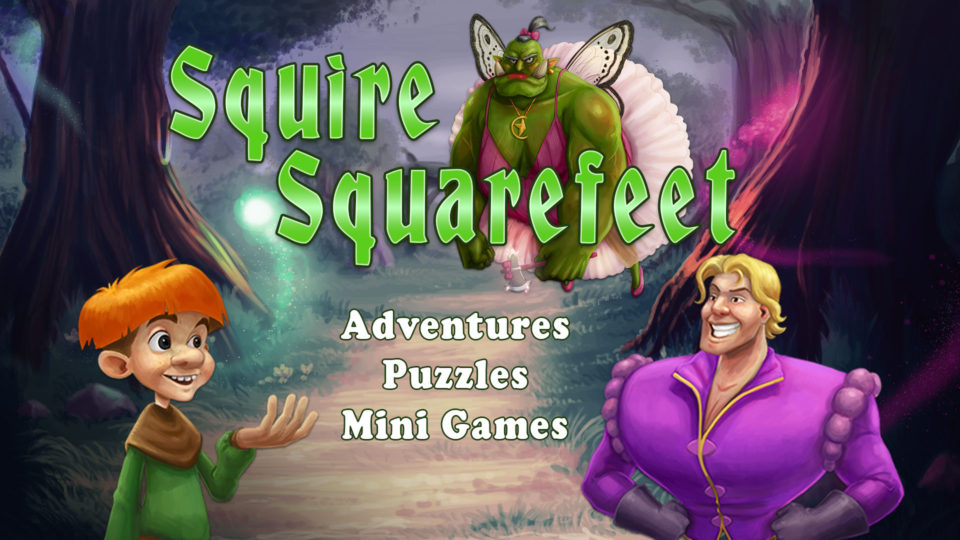 Dane Games have chosen to focus on games that are played with a controller. This is because they want users to get a nostalgic feeling with their games, and a controller in the hands gives more of that feeling than touching a screen. They claim, "It gives the user a tactile feedback from the game which screen and a keyboard will never be able to give a user." They also create casual flow games for smart phones, but they prefer the controller.
Building A Unique Studio
Kasper and Nanna chose to build their studio because they believe they offer something unique. Not many studios focus on 2D games; even mobile games are more and more frequently using 3D animation. At Dane Games, they love old school, especially when they can combine modern humor with old fashioned ways of doing things. This is why they chose frame-by-frame animation for Squire Squarefeet; it gives a different feel to the game.
Dane Games started out as a web development company. This was followed by doing some esports events, then teaching high school classes in computer development, a new subject for that particular school. They moved from there to working with other companies, creating games for them. It has been quite an evolution, and along the way they have built a wonderful network. Dane Games gives them the freedom to do whatever they choose, and they take this free, happy feeling into every project they work on. They say, "We love doing different things all the time, and the feeling of completing a project to begin a new one, is just so satisfying that we hope we never have to stop doing what we are doing."
Kasper and Nanna hope to bring challenges and more adult humor to the gaming community. They claim that gaming has become too easy; the same games are developed over and over with only slight differences. But Dane Games like to look at things from a different perspective and nudge up the difficulty a little. This way the users will feel challenged while having fun.
Dane Games believe a happy team is a productive team. They start each day with a meeting to get to know how far on the project the members are, and if they have any problems or doubts or need help in any way. Communication is critical, so team members who can't be physically present are constantly on Skype to send work and bounce ideas off the team. They all try to stay on the same level, but if people disagree, Kasper and Nanna make the final decisions.
They have chosen to have a physical location with most of the team, believing it is better to look people in the eyes and that it is easier to help people when you are beside them. However, virtual members of the team also do great work. Dane Games does not have a physical business address, but when they start a new project they find a location to work from.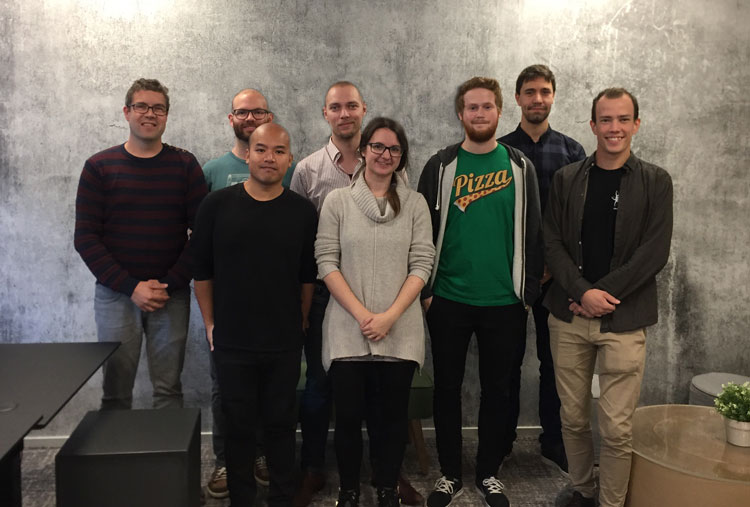 Dane Games is a company with multiple areas of concentration: teaching game design and development, creating esports events, and developing games. So monetization is something that is difficult to figure out, but they know for certain that they do not like forcing ads on people. At one point they had an idea for allowing people to choose to view ads, with the money going to charity and the viewers becoming eligible for prizes. Unfortunately, this plan violated certain rules. However, Dane Games still feel the basic idea is intriguing and would interest players who would like to be able to give to others while getting something in the game.
A Work Process Driven By Ideas

The inspiration for Dane Games' projects comes from everywhere, including their hobbies, their children, even their cats, friends, people on the street and their streaming community on Twitch, where they get a lot of feedback from viewers. For Squire Squarefeet, the inspiration was a mix of crazy ideas from the team and good humor.
Kasper and Nanna lead the projects together. Nanna is the creative mind and sets the art style. Kasper takes the technical lead, making sure the game mechanics are fun and the code is structured. Because they are married, it is easy to handle disagreements between them.
Their work process on a project starts with Nanna talking about her ideas, the rest of the team adding their ideas, and then Kasper takes over to get the game design in place with the team. Both Nanna and Kasper make the decisions about what should be implemented in the game. After the idea is presented and improved, the prototype is made and shown to other people. Their feedback is used to create new ideas in order to base the game on ideas from users.
A Magical Art Style and Environment
The art style Nanna created for Squire Squarefeet stems from her enjoyment of World of Warcraft and Pokémon, her love of fairy tales and magic, and, of course, her vivid imagination. She created sketches and described what the characters and the world should feel like, then bounced ideas about it back and forth with the team and Kasper until she felt they had the perfect style. "People can actually see that I have been inspired by World of Warcraft with the little magical whisps in the Magical Forest in Squire Squarefeet, thanks to experienced artists and amazing lightmapping."
The environment of Squire Squarefeet is created in 2D drawings, but it also had to reflect light from the fire and the magical lights. Creating the necessary lightmaps was incredibly time consuming, but worth the effort. Nanna also loves that all the animation was done frame-by-frame, with nothing in 3D because it gives such a magical, nostalgic look that just isn't seen in games anymore.
Kaspar and Nanna give just a hint about what players should be sure they don't miss in the game. "We do love easter eggs, and some explorers can get extra story times out of the game already in the demo. This is where the user can unlock and meet the Fairy Orcmother, Odo. Need I say more?"
They describe their hopes for Squire Squarefeet this way: "We loved creating this demo, and we do truly hope that some day we present the game to the right person who can see that this is a game worth funding. First step is to get Princess Perfect and the Evil Mister Wizz introduced in a chapter one of the game so the demo can be created as a story with the real beginning and a good introduction to the full idea of the game."
To Indie Developers
Kasper and Nanna have several suggestions for other indie developers. They say. "Never give up. Participate where you can show your game even if it isn't done. Always remember to playtest your game – the users are the judges, and we were judged to be awesome at Game Scope, and that is how we got invited to Indie Prize."
They also emphasize that you should never quit your job without having enough funding to finish your project. Many of their friends and colleagues have had to give up on their dreams when their funding ran out. Even though is is hard to have a job and a family while creating games, you have to be realistic about your dreams. If you can't get the funding, you just have to take longer to create the game.
Comments
Catherine Quinton
Catherine Quinton is a staff writer for www.gamesauce.org. Catherine loves her hobby farm, long walks in the country and reading great novels.