Magmic: An Innovative and Resilient Company
Fifteen years ago John Criswick and Joshua Ostrowalker founded the game company Magmic. They both had experience in a mobile startup and they had worked on what became one of the most installed mobile operating platforms at Sun Microsystems. Then they realized there was a tremendous opportunity in the consumer market.
They believed that early adopters would be dominant in this initial phase of the mobile app market and that the content most easily monetized by early adopters would be entertainment. So they chose to take advantage of this opportunity by founding Magmic as a mobile game developer and publisher.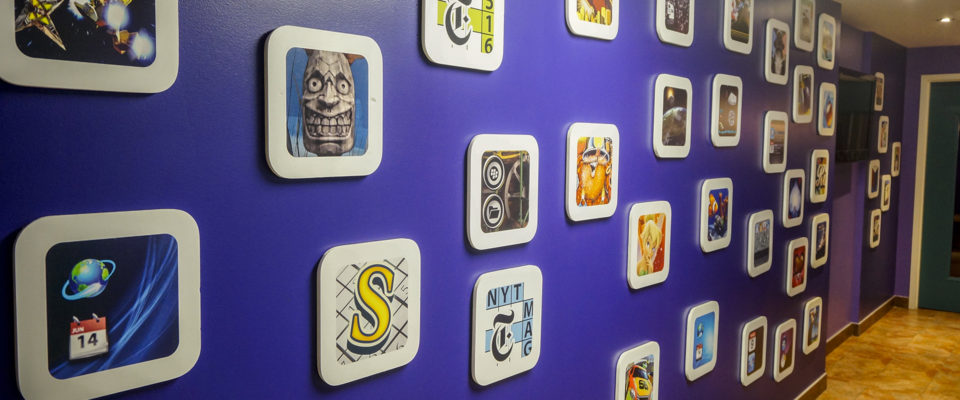 Succeed With Self-Reliance and Tenacity
Their objective, as their mission statement says, is to make Magmic the world's premiere casual card and board mobile game publisher. They do this by making their own proprietary technology and brands, using these to connect family and friends in fun and entertaining ways.
Magmic's long term success is impressive. John and Joshua attribute this to their ability to adapt. Also, they have built technology that can solve difficult problems and to scale. They say, "Our self-reliance, tenacity and quick reactions have allowed us to stay ahead of the many changes the mobile industry has encountered, as well as weather the financial storms that have affected so many other businesses."
Choosing to focus on mobile card and board games was also a fortunate decision. This segment of the game industry has a broad and loyal customer base. In fact, some of their customers have been playing the same games for almost ten years!
Never Lose Enthusiasm
Being a part of the mobile game industry has been so rewarding that John and Joshua never lose their enthusiasm. The rapid rate of growth and change in the industry is a major part of that. Every five years they see the industry reinventing itself with a monumental shift that brings new platforms, business models and opportunities. They insist, " The Magmic of 2018 is operating in a completely different world from the Magmic of 2002."
Magmic is located in the Byward market in downtown Ottawa, in the middle of the hustle and bustle of Canada's capital. The past year was especially busy with the excitement of Canada's 150th birthday. The atmosphere at Magmic is casual; employees appreciate and respect this, taking pride in their work.
They celebrated their fifteenth anniversary with a huge party last July at John's cottage. It sounds like quite an event, with the employees participating in axe throwing, bee-keeping, yoga and water activities. They consider the company's culture a healthy balance of hard work and knowing when to let loose and have fun.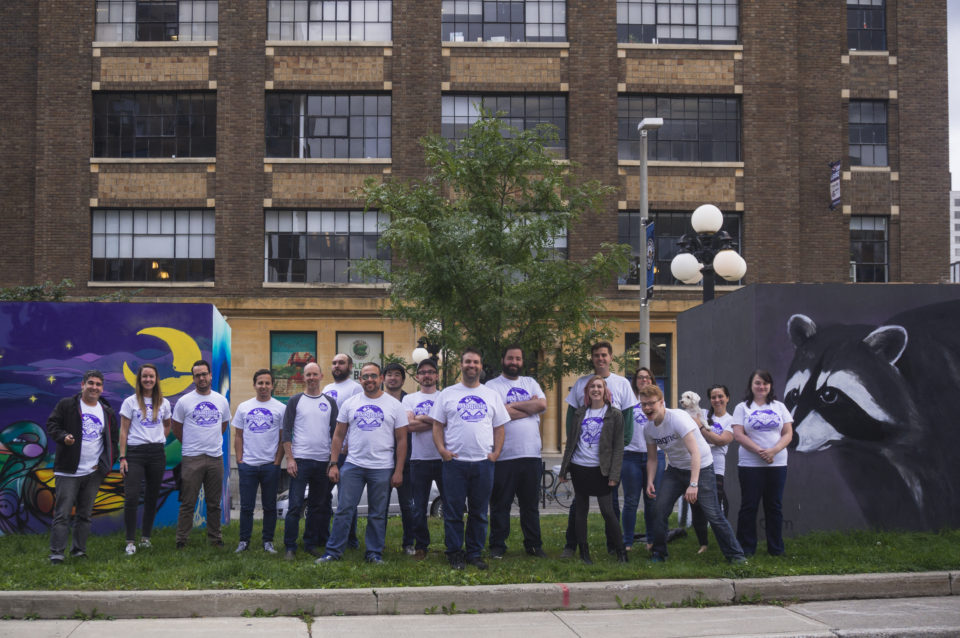 Creating an Industry
One of the things that makes Magmic stand out in the industry is their preference for doing everything themselves. Also they are resilient, focusing on solving problems with innovation. They also work closely with post-secondary schools in the area, giving many people their first jobs. They believe they are creating an industry rather than participating in it.
As a small company with relatively young and eager employees, they are able to respond quickly and with agility to change. They claim the secret to longevity is finding a fountain of youth, and they have tapped into it.
They point out that the card game segment of the game industry may not seem exciting, but actually it is very interesting, simply because it has such a short attention span. Even so, there are products that will always be in demand and customers who play for years and years. Magmic has stayed focused on card games and their customers clearly appreciate that.
Shifting and Evolving
Fifteen years ago phones had limited capabilities and interfaces as well as undeveloped marketing and retail possibilities. But as mobile phones evolved, Magmic saw more and more opportunities arise. As the phones and the industry developed, it has been necessary to keep constantly on top of both. The kinds of content they can make, the consumers they have, and the ways their games are distributed and monetized have all changed significantly.
In the early days of the company, the concept of freemium did not exist. Mobile games were purchased, downloaded, installed and then played. Magmic did not have the sort of relationship with customers they now have. Instead, wireless providers owned the customers and communicated with them directly.
Over the past fifteen years Magmic's business objectives changed. Although they did not start out thinking of themselves as publishers, eventually they had to as they began publishing their own content. With this perspective shift, rather than thinking about their products, they were thinking about how they could be relating to their customers to build the business.
The Value of Partnerships

Magmic has developed partnerships with leading companies that include Mattel, Hasbro, Rubik's Cube, Popcap, Blackberry, Disney, The New York Times and many others. They have found brand partnerships both fun and effective. It has been an excellent way to build a large range of products that are easily recognizable.
Partnerships have allowed Magmic to extend the reach of brands with partners that previously did not have access to lasting reach and power. They have, over the years, helped a lot of partners gain access to a market they had not had access to, while also enhancing their own portfolio of games.
Their partnership with New York Times Crosswords was especially exciting. They created new markets for brands and made it so valuable using subscriptions that New York Times Crosswords eventually needed to take it back.
Surviving Challenges
Magmic has seen their share of challenges. There have been a number of recessions and the general financial industry takes its toll. And as the mobile industry evolved, the new opportunities also brought risk and changes in the way of doing business.
The determination to do everything themselves was a major factor in successfully dealing with challenges. They worked with distribution channels and saw failure in that industry. The gaming companies that relied on porting houses to make the transfer didn't know how to do the work themselves and were in serious difficulties.
When Blackberry lost its appeal to consumers, Magmic had to make big changes since they had always had a strong partnership with Blackberry. Fortunately they have a strong leadership team and equally strong commitment to keeping the company going no matter what happens. Joshua insists, "There will always be hard times; you just have to see beyond them." And John is incredibly tenacious.
Extending Technology
York Street is Magmic's extension to their technology platform and was motivated by a desire to bring their technology forward to the client. Publishing has always been focused behind the scene. Now, with a new set of technology tools they use to rapidly produce high production value families of card games,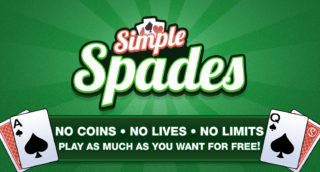 Magmic has begun the release of multiple trick-based games.
Their intention is to create much more of their own IP focusing on evergreen card games. They see the market for high quality family card games people already know and love, with hundreds of variants. Magmic believes there is a broad portfolio to build these games in all their styles while eliminating a lot of the production costs and overhead through technology.
Magmic is proofing this technology by focusing on trick-based card games and has already released Simple Hearts and Simple Spades. Their goal is to produce a game within a few weeks instead of the regular three to six months production time. And they are continuing to develop York Street to build other families of card games such as Rummy, a matching card game.
The incredible team at Magmic are all contributing to their vision and what they want to do. They are now planning to use York Street as the foundation for all their games moving forward, including their partnered games such as Skip Bo and Phase 10.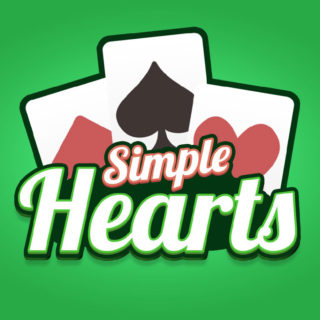 So far, the feedback from players about the games released using York Street has been great. They consistently describe them as classic, relaxing and having smooth gameplay. For example, "It's lots of fun and addictive. So far, the best of the card games I have been playing," from Simple Hearts Android review. Also, "I have played many card games and I really enjoy this game," from Simple Hearts iOS review.
At Magmic, they do not anticipate any decline in the casual games industry but what will evolve is the way games are discovered. And there will be opportunity in monetization with subscription based games. Games as a service is nothing new. With events, tournaments and new themes in the games, within the mix there will be opportunity for subscription.
To other game companies who want to be successful for the long term, Magmic admits that it is really tough and many companies are not able to last. They suggest, "Our advice would be to stay very focused, know what your strengths are and work to them. Be tenacious!" The game industry is a crowded space and not a cheap space, To succeed, "You need that thing that makes you sticky and that's really hard to find in the industry of fun."
Comments
Catherine Quinton
Catherine Quinton is a staff writer for www.gamesauce.org. Catherine loves her hobby farm, long walks in the country and reading great novels.