Atoms: From College Project, to Hobby and Beyond
The following Postmortem is by a winner of Gamacon 2018 which is a nomination partner of Indie Prize. As a winner, Juan Pablo Méndez Altuzar is provided with 2 free conference passes and free spot to showcase his game at Indie Prize. Gamacon is a convention for independent game developers. It is a conference which celebrates the artistry and fans of indie game development. Juan has decided to participate at Casual Connect USA 2019 in August at Indie Prize.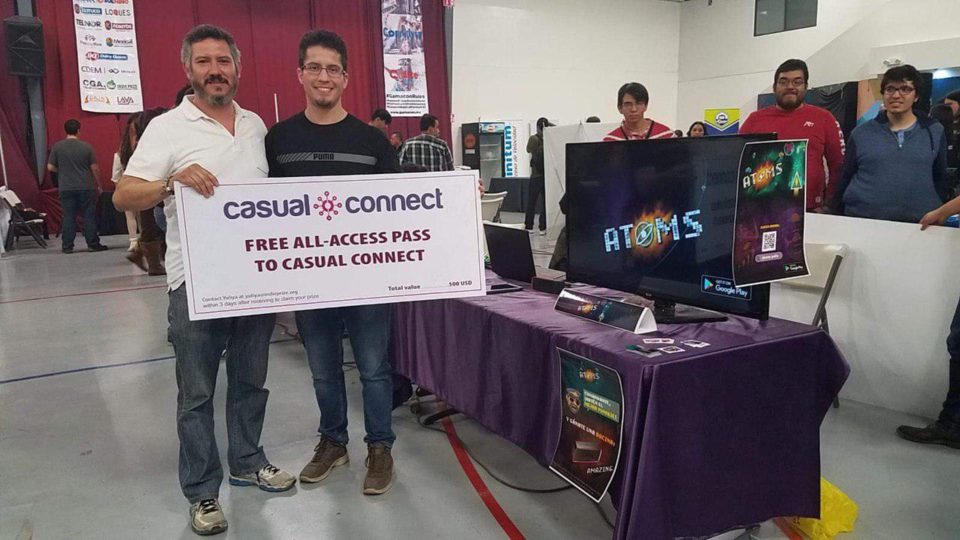 At the event, Juan met a person that became his friend there, and this new friend seemed more excited about him winning than he felt. He relates that was because it all felt like a dream, "I was all like: really? Holy cow, I didn't think I'd win." When asked how he feels about coming to Casual Connect and competing at Indie Prize, he said "It does still feel kinda unreal, but it makes me really excited. I've seen a ton of videos of Indie Prize and oh, boy – I wanna go! I feel really pumped! It also pumps me to polish the hell outta my game to share it at Casual Connect.  
---
My name is Juan and a few years ago I set myself the goal of releasing a simple game I could complete on my own.

The original idea for the game started as my college graduation project. I wanted to create an educational game that was as attractive as any commercial game. One that could simultaneously appeal to gamers and to students seeking to learn whatever the game wanted to teach.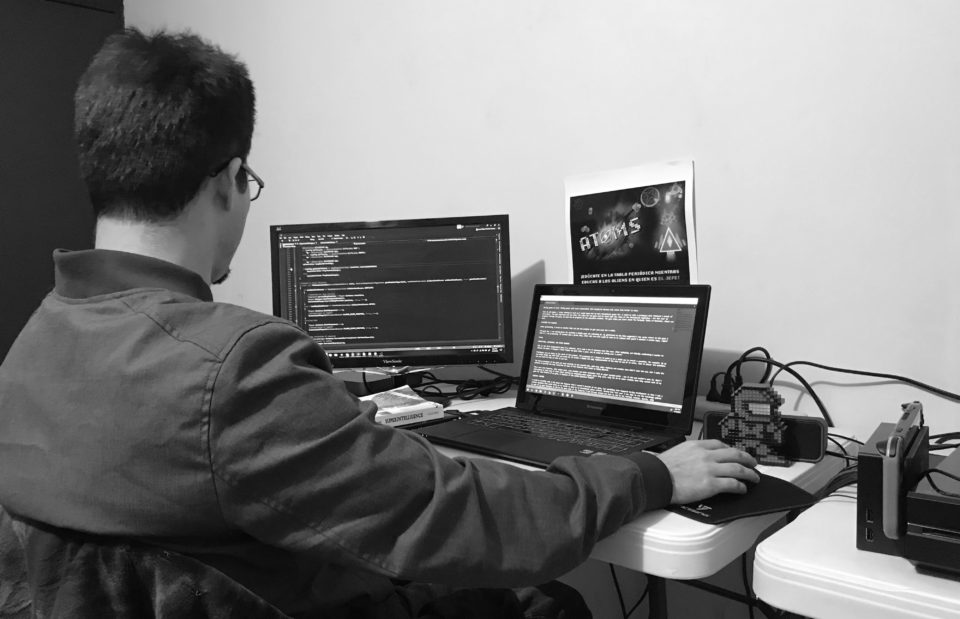 Atoms

Making games is hard. Making games with extra constraints like trying to educate only makes them harder to make.
When it all began, I tried reading as much as I could about how to make educational games fun. I ended up with a prototype that followed a bunch of core ideas. The most important was: The rules for the game must be fused with the rules of the educational objective. This was done so that for the user to progress through the game, he must also has to progress in the
educative content.
Atoms was born, a mobile shoot-em-up that helps you learn about the Periodic Table of Elements.

Starting the Mission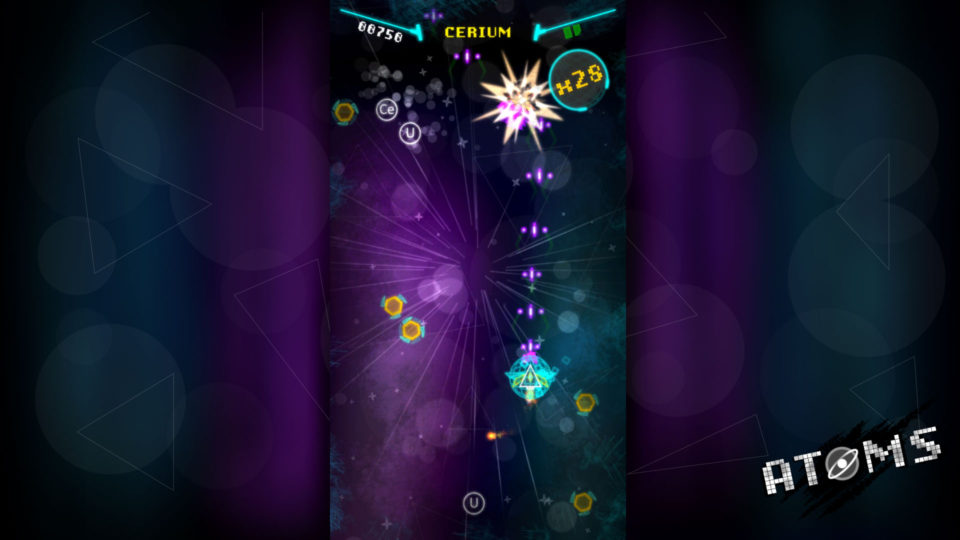 After graduating, I moved to another city and let the project get some dust for a while. One of those good days, I was making plans for creating a mobile game and releasing it. My girlfriend at the time suggested I may wanna return to the game I made as I was graduating. It sounded like a great idea, after all: how much would it take me to release that game? Three months? Six months tops, right?

Wrong.

Prototypes, Asteroids, and Other Enemies
This is the first independent game I've released, and I made a ton of mistakes down the road. After initially estimating 6 months to release the game (and failing), I thought I could finish the game after a year. Atoms ended up taking over 2 years to be released!
Prototypes were my enemy at the start of the project. The prototype of a feature is meant to be a quick way to answer a question, for example: Is my new enemy design any fun? What you wanna do, is create a simple and ugly implementation of the idea to see if it works. Just to answer the question. And you wanna do this as fast as you can.
The first prototype of the game was sent directly to the recycle bin, with many other features and enemies that didn't make the cut. But I made the mistake of pouring too many resources to some of the features that ended up being ditched.
There were some features, like sniper guns, some enemies and other mechanics that in paper sounded great – but in the end couldn't make it. What's interesting is that some of those ideas sparked by analysing other games where they work, only for me to later realize that they cannot work in my game because of the nature of the experience I was trying to design, or because of the mobile platform itself!
Lessons Learned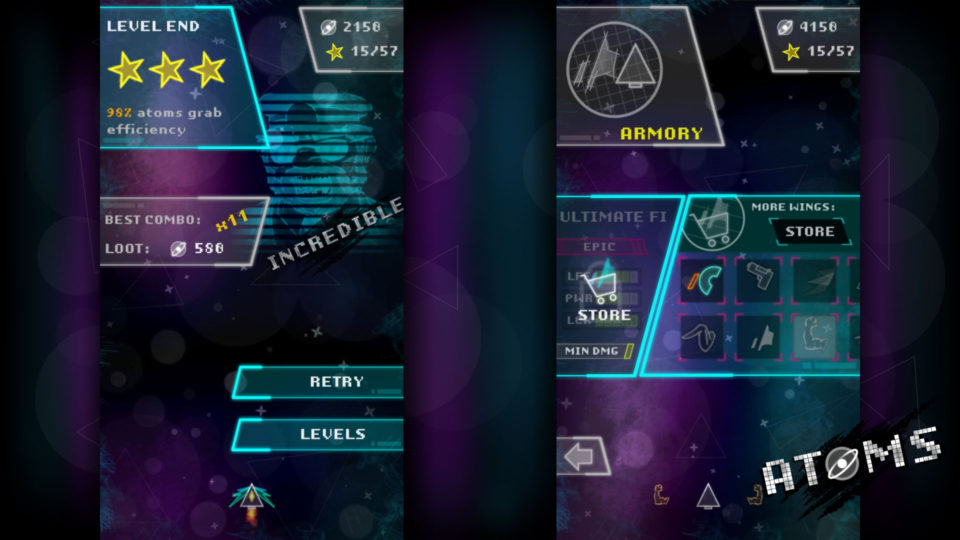 At some point during development I set a release date that would allow me to submit my game to a contest for educational games (that was later cancelled). During the last sprint for the game (lasting about a year) I was able to use the knowledge gained by some of my past mistakes to add to the game some of the features I had already deemed too much to add for the initial release. Quests, ship customization, upgrades, perks and other features were packed in the initial release after all.
The journey to release a game teaches you many things:

● Optimization: It's really easy to make a game run poorly. No matter the platform, if you're making an action game, you're gonna have to optimize a lot.
● Resilience against horrible bugs: There were many times where the game would have a really weird bug, or would run too poorly. Some of these instances really made me question my ability to release the game. Building up resilience and acquiring a "not sure how, but can do!" attitude towards these bugs helped immensely.
● Something simple is easier to polish: A minimalistic approach allows you to focus on polishing a few things.
● The player's imagination can fill in the blanks: If you wanna add a feature that you won't be able to fully realize – it's better to leave it to the player's imagination.
The Day After
The first version of Atoms was released for Android on August 2018. After the release I received a lot of feedback and I plan to keep adding content to the game.
I want to thank all the people that helped me along the way. Friends and family helped me test my game, and some helped me polish some of the initial ideas. There were some hard design problems that were solved while having pizza with friends. Others helped me see big problems I had no idea the game had. Omar, Alex, Lenin, Amaury, Roberto, Mother, thanks a lot!

The plan for Atoms in 2019 includes:
● iOS debut in February
● Global leaderboards
● Hardcore levels
● New learning objectives with fresh gameplay
● Secret stuff you'll have to play to see!
Comments
Industry Contributions