Memory Diver: Memory Card Game Meets Slot Machine
We envisioned Divey and his friends starring in different games. - John Amos
Click To Tweet
What do you do when you've already released 2 games with the same character and similar mechanics? Drop that character into an altogether different environment, of course! Experiment with him and try to broaden his brand! Refactor some existing art, add some new, and test an unrelated market! "And that's just what we did", says Zygobot's co-founder and developer John Amos as he shares the story of the newest addition to the Divey Jones series, Memory Diver.
---
Hitting the Deck!
It's a bit hard to apologize for something you are very proud of. But reconciling what you wanted something to be versus what it actually is can be tough sometimes.
By the time our first Divey Jones game had hit the app store, we were already well into various stages of development on our next concepts. One of our problems was (and continues to be) an embarrassment of wealth when it comes to good ideas. Or at least we think so. Our game backlog is overwhelming in terms of options and things that we think would be interesting to explore. New IP, fun characters, emerging tech, intriguing mechanics, colors, treatments, styles, designs… it gets tough to direct ourselves where we want to sink our sparse dev time.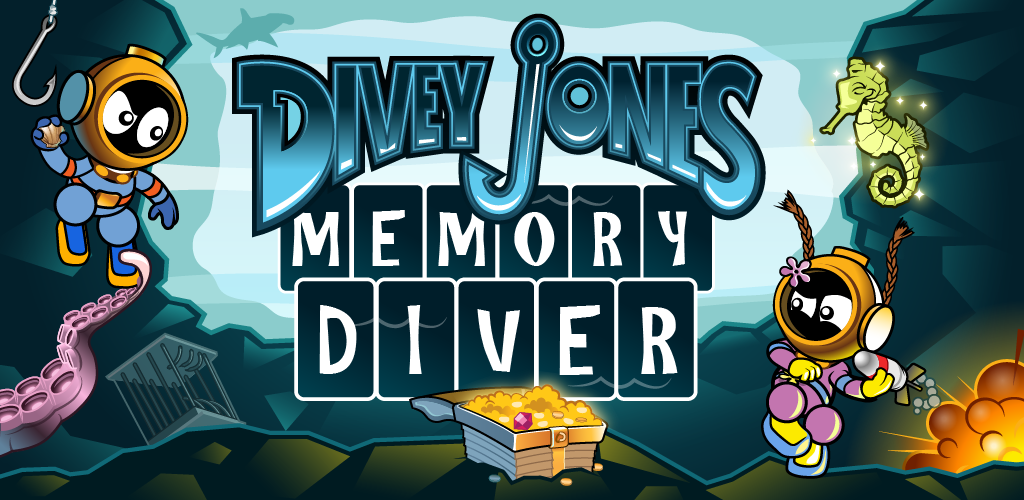 New Game, Same Divey
So during this still-young phase of our modest "studio", we decided to (wisely) progress slowly and build on what we know. Not that Divey is anywhere close to the star-power of a character like Mario, but, like Nintendo's plumber who is featured in a variety of titles, such as Mario Party and Mario Kart, we envisioned Divey and his friends starring in all sorts of different games and environments.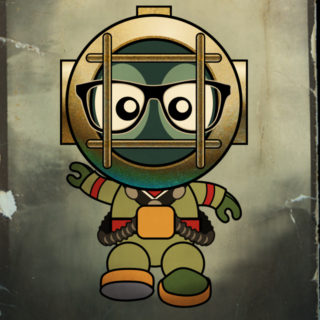 Pick a Card, any Card
Roy had been playing some memory card games with his kids and realized that the genre was pretty sad. There were plenty of memory card games out in the market, of course, but they were plain and basic. Uninteresting. Boring. Roy began to play with ways to pep up the tired and simple old mechanic. Soon we were creating prototypes with real cards and napkin sketches of Divey. And it was in this prototyping phase that we unveiled many of the dead ends and edge cases hidden in the various modes that we had envisioned.
Full Steam Ahead
But the overall idea took off. In fact, brainstorming sessions got out of control! We had so many great ideas that not much could be done to rein ourselves in. I could already see this game in my head and wanted to get something tangible out as quickly as possible.
I could already see this game in my head and wanted to get something tangible out as quickly as possible.
I took existing assets that we had from our first game (and other games we had in development) and scrambled them into what I considered a "visual design doc". I kept describing what I imagined the game to be as "memory-cards-meets-slot-machine" action. Spamming the player with effects and surprises that would create an insanely unpredictable experience.

Navigating the Fog
Coming up with the name was tough. We are suckers for puns and were obviously looking for a mix of something that alluded to both "oceanic" and "memory". It is a fine line to tread when you are trying to come up with something that is intuitively searchable for kids (and adults) but is also somewhat clever, too. The title "Mussel Memory" was bandied about during our discussions and I loved it! It made me chuckle (as mildly witty puns should) but was ultimately vetoed for "Memory Diver", which wasn't as glamorous but felt more natural in terms of keyword searches.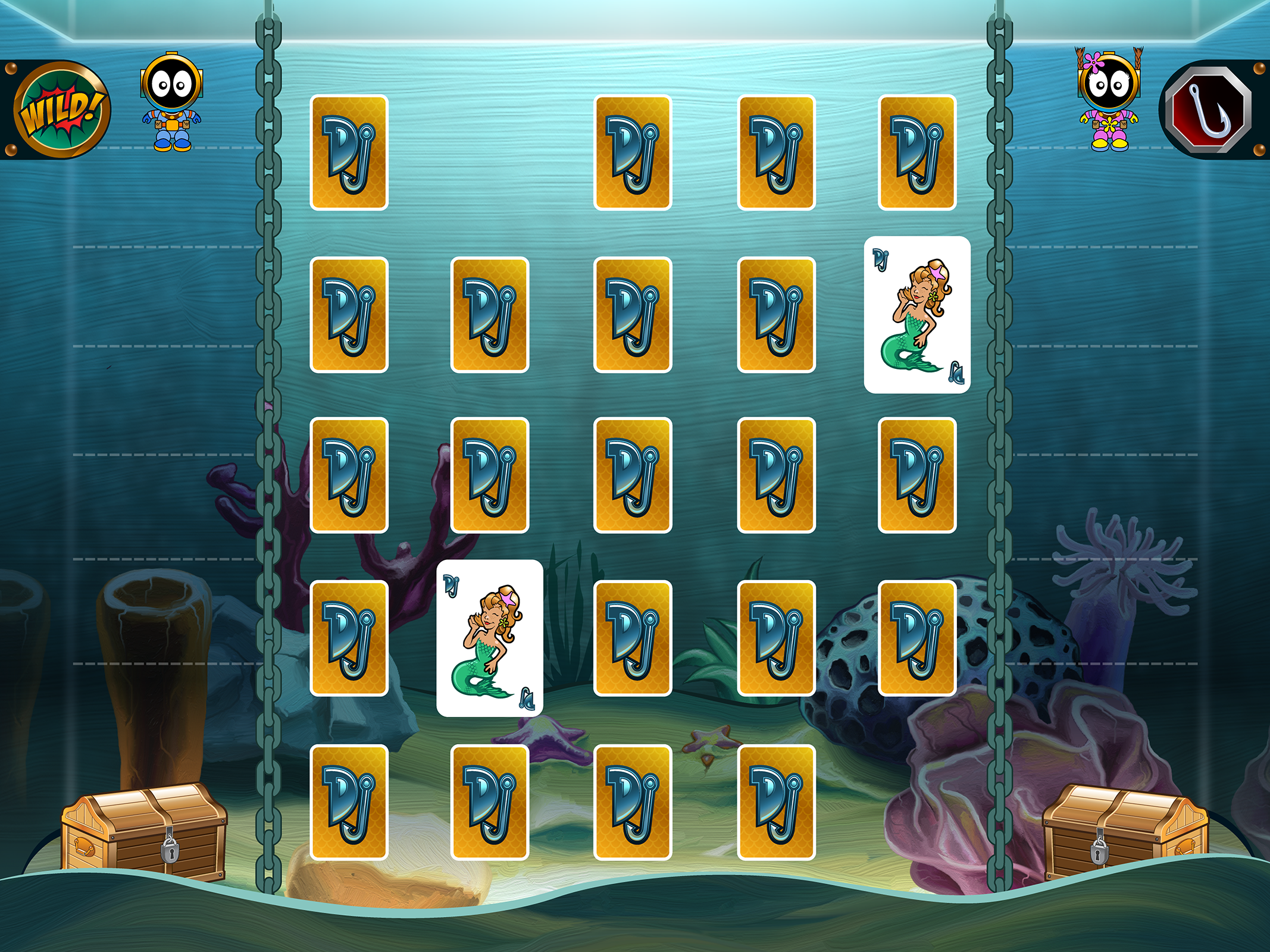 Shuffling and Redeals
At the time of development Roy and I were both working as course directors in the Game Design Masters Department at Full Sail University. We had established a thesis track in which students could come and work not on hypothetical game exercises but on real games that would actually reach the market. Some of these students contributed not only a great deal of the man-hours but also many of the best feature ideas that would make their way into the game. We were fortunate to have these fresh minds to provide new perspectives and energetic ideas to development…but the scope of the game was going to require an effort beyond the brief attendance of most of our student interns, and so our roster was always shifting, causing inconsistencies and discontinuities.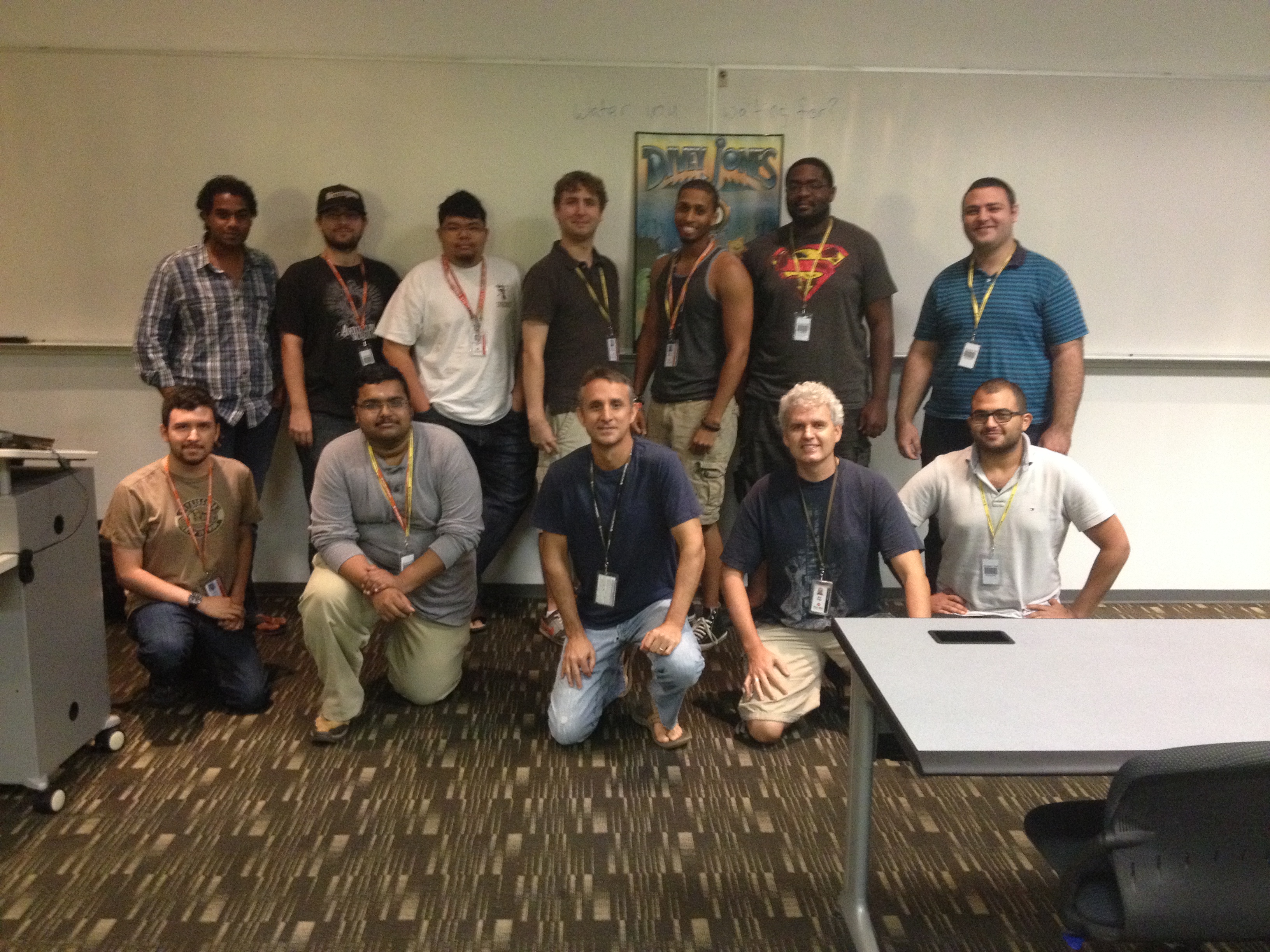 Rough Waters
So ultimately, we needed so scale the game back. The casualties of development were, sadly, features that we thought/think would really inject and solidify the majority of the fun in the game: networked play, single-player progression mode, achievements, collectables, consumables, ambient animations, unlockable skins and backgrounds, and a million little toggle-able game modes and switches that would enable the player to create a brand new experience with every game. Timed levels. Environmental events. Additional characters. Bells and whistles and bells WITH whistles. Frantic and relentless action. Again: memory-cards-meets-slot-machine.
The casualties of development were, sadly, features that we thought/think would really inject and solidify the majority of the fun.
Fool's Gold
The shelving of some of these items even had a ripple effect on our monetization strategy. As much as we were eager to experiment with new tools and tech, we were equally as curious about the different existing ways to make money via the mobile revenue stream. We had a thought that we could release a few different games each with their own individual monetization approach built in, and then watch what resonates.
Release a few different games each with their own monetization approach built in, and see what resonates?
Our first game was offered at a flat fee of 99c. Our second game could be downloaded for free — with some minor incentives to the player to watch video ads. Our third game was to have microtransactions. However, the "store" where the player would make these purchases had to fall by the wayside as scope was pared down for a reasonably-timed release. And instead, the game was released for a premium price of $2.99 (later dropped to 99c).

Damn the Torpedoes
But despite the omission of these perks and extras, we are still proud of the initial offering that got our idea out there. The release enabled us to continue to evangelize for Divey Jones and, more importantly, for Zygobot, and, as a nominee for the 2016 USA Casual Connect Indie Prize, kept us connected to the indie game development industry of which we have grown fond! It is a supportive and enthusiastic community, and we really admire and appreciate the contacts and friends we have made within it!
The game hit the App Store and Google Play on November 3, 2015. Lacking a marketing blitz, it has performed only modestly. "This has not dissuaded us, however. Because we know that a better and deeper "Memory Diver" 2.0 is on the horizon!"
Comments
Industry Contributions