Jeff Broadbent: Championing Epic Game Music
Jeff Broadbent is a composer who has worked on multiple game soundtracks, including Planetside 2, Monster Hunter Online and the very recent Champions of Anteria. Growing up, he was encouraged to study music by his parents, and loving the music of games like Final Fantasy, Street Fighter II, Myst, and Panzer Dragoon pushed him towards composition in the interactive entertainment sphere.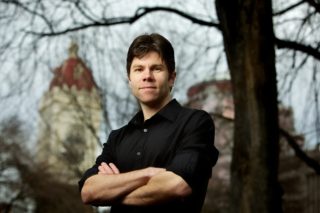 "I've had a love of music my whole life, starting piano lessons at an early age, soon thereafter learning to play alto saxophone and later studying composition at BYU and UCLA," Jeff detailed. "I became specifically interested in composing when I was in high school, taking jazz piano and improvisation lessons. The theory of jazz music and creativity of improvising are what really sparked my interest in composing, as improvising and composing are closely related.
"While studying at UCLA I took a video game composing class that cemented my desire to compose for video games. While in university I composed several solo, chamber orchestra and full orchestra pieces as well as some choral pieces. After graduating, I began composing for a variety of video games as well as film, television, and trailers," he detailed. "Transitioning to video games was not difficult because I've always loved game music. Perhaps the biggest challenge was learning to compose for the various interactive layers of video game music, and developing the production skills to make great-sounding mixes."
Learning the Craft
Jeff learned to play a variety of instruments while young, studied jazz improvisation, musical theory and started doing composing while still a teenager. This was further honed in college and developed later into an appreciation for musical sound design.
"Some of my favorite music to compose is modern, sound-design inspired scores – for example, the score I composed for Ubisoft's I Am Alive was very textural and sound-design inspired," Jeff detailed. "I also compose a lot of trailer music which has a very modern sound and has been used in various movie trailers (X-Men, Jack Ryan: Shadow Recruit, The Lazarus Effect as well as video game trailers like Call of Duty: Black Ops III Awakening)."
To anyone looking to be a composer themselves, Jeff suggests studying traditional musical composition, along with modern music technology. While specific college courses on music for film and games are handy, he noted that the fundamentals of music are the most important parts.
To anyone looking to be a composer themselves, Jeff suggests studying traditional musical composition, along with modern music technology.
"Learning to use the technology and gradually building up your own studio equipment/software is very important. As a freelance composer the equipment and skills to produce great sounding music is also essential. Depending on the game there may or may not be a live music budget, so the quality of the samples/software and mixing is critical," he noted. "Finally, I would suggest learning about running a freelance business. Topics such as marketing, pricing of work and networking are vital. I've found this is such an important area that is often not taught enough at universities."
From TV, Movies and Trailers to Games
While Jeff has primarily been a composer for video games, though he's done his share of music for TV, movies and promotional materials. He says the difference between composing for linear, non-interactive media and video games is that music for interactive experiences should be adaptive.
"A good example of this is as follows: if the player is in a peaceful area exploring, the music needs to be more ambient, smooth and background-oriented," Jeff said. "Then if the player encounters an enemy, the music will gradually and seamlessly transition into action-oriented music that supports the combat. This is done through music layers – these music layers will be composed with the same tempo, structure, and similar instruments so that they can smoothly transition between each other. This helps the player be less aware of the music transitions because they happen very smoothly and without drawing attention to themselves."
Trailer music is unique in that the music needs to make a very immediate and direct impact on the audience in a short amount of time. Trailer music also generally follows the form of ramping-up dramatically towards the end, to give an exciting climax to the trailer.
"In a film and television show, the music is scored directly to the scene. As such, composing for film or television will often involve more dramatic ups and downs in the music to closely match the scene whereas in video games, the composer is usually composing music layers (ambient exploration music, combat music, tension music etc.) that will transition between one another," he noted, adding, "Trailer music is unique in that the music needs to make a very immediate and direct impact on the audience in a short amount of time. Trailer music also generally follows the form of ramping-up dramatically towards the end, to give an exciting climax to the trailer."
How Music for Online Titles are Different
Most, though not all, of Jeff's work has been for online games. He said that the main difference between composing a score for an online multiplayer focused game compared to a single-player game is simply the differences in gameplay.
"One of the online game genres I've composed for is MOBA (multiplayer online battle arena) games," he detailed. "An example of a MOBA game I scored was Dawngate (EA/Waystone Games). In Dawngate, we composed different music layers that would play depending on if the player was winning, losing, or neutral in the match. There were also a variety of stingers (short music segments) that would play to indicate victory or loss of the match."
"Another example is the online first-person shooter game PlanetSide 2 (Sony Online/Daybreak). In this game, the player can select to play as three different factions, so for each faction, I composed a different musical score that was unique to that faction," he continued. "Single-player games generally have more of a story/narrative component to them, and gameplay elements such as cut scenes to further the story as well as boss fights. These are gameplay elements that are not as common in online games."
Music for Champions
One of Jeff's most recent projects was Champions of Anteria, which was distinct in that each hero had different instruments assigned to it. This makes the soundtrack somewhat unique (though Jeff did confirm that the way the music layers in Super Mario World when you ride Yoshi did NOT inspire his Champions of Anteria soundtrack).
"For Champions of Anteria, this musical approach of different instruments for each champion did take a fair amount of work! But, I was glad we did it, because it really helps customize the game experience, particularly the replay value as you add different champions to your group," he said. "I had to be careful while composing to layer the instruments carefully so that they would not clash with one another, but could work well in isolation or in various combinations."
Another challenge that Jeff has had to face is composing music with Chinese themes for titles like Heroes of Kingdoms, Moonlight Blade and All Star. "Games with Chinese themes will often involve a mixture of traditional Chinese instruments (such as dizi, guzheng, various percussion instruments) and traditional orchestra and choral elements," Jeff said. "A careful balance needs to be made between the ethnic instruments and the orchestra, so as to give a hint of Chinese flavor, but also to keep the music having a strong and epic feel (via the orchestra)."
"From a composition perspective, when composing for a game with ethnic themes, I will use various Eastern scales and harmonies to give a further authentic feel to the music, but often still retaining this balance between ethnic flavor and modern video game scoring," he noted.
Drawing on Established Musical Bases
Along with working on game projects across a variety of genres, Jeff has also worked on multiple pre-established franchises, like Transformers, Ninja Turtles, Assassin's Creed, Monster Hunter and Lego. In these situations, he likes to listen to the scores from the franchise to "understand the musical language" of the different properties..
"When I composed for the game Transformers: Dark of the Moon, I listened to Steve Jablonsky's work for the previous Transformers films, paying attention to the modern blend of orchestra, percussion, and synthesizers," he detailed. "With Ninja Turtles, I listened to a lot of the music from the television show. With Monster Hunter Online, I actually am a fan of the game series and previously had been playing a good amount of Monster Hunter 3, so I was already familiar with and a big fan of the music of this series."
When I composed for the game Transformers: Dark of the Moon, I listened to Steve Jablonsky's work for the previous Transformers films, paying attention to the modern blend of orchestra, percussion, and synthesizers. – Jeff Broadbent
"After understanding the musical background of the series, I like to take these observations but still approach the music from my own perspective and inspiration," he continued. "This helps the scores remain true to the franchise but still have originality and creativity."
Drafting a Musical "Blueprint"
Jeff's creative process starts with finding out as much about a project as he can, from looking at concept art to watching gameplay and reading about the story. He finds visual art particularly inspiring and hopes to represent various forms and colors through the music.
"After taking in these materials, I'll draft a 'blueprint' of sorts for the score where I write down what instruments I'll use, types of harmonies and melodies I might create, and other general music notes. This gives me a solid indication of the character of the score, and how I can make it best fit with the game," Jeff said. "Another thing I like to do is compose the main theme of the video game first. This really helps me define the music score with strong thematic material, and it can serve as the backbone of the rest of the game's music."
Along with the visual art of a game, Jeff is also inspired by other parts of the sound design, in addition to music he's listened to over the years. he also likes to experiment on his piano and come up with new ideas and melodies.
"One of the most interesting things I found inspiration from was a book called The Road, written by Cormac McCarthy. I was reading this book while I composed the score to I Am Alive," he detailed. "I found the narrative very emotional and harrowing as it presented the bleakness of a dark and ravaged world after an extinction event. Despite the oppressive nature of story, there was an element of hope and mysticism to it all. These emotions I found inspiring while I composed the music for I Am Alive."
Selecting the Instrumental Palette
To Jeff, it's all about knowing what the creative vision for a game is and working with the audio director. After that, he establishes the musical approach as part of the pre-composition planning stage.
"From a composing standpoint, selecting an instrumental/sound palette that is fitting to the game is very helpful," he notes. "Ideally, the instruments used should be very unique and fitting to the game. Of course, crafting melodies and themes that can be developed throughout the score of the game goes a long way in creating a score that is memorable and fitting for the project."
"Before composing begins, having an idea of the sonic color of the score (instruments used, such as strings, brass, soloists, electronics, etc.) is very helpful. Examples from other music sources can be helpful in brainstorming initial concept ideas for a score. Sharing concept art and gameplay video can help the composer and developers have a united vision for the approach for the game's music," Jeff said. "Discussing the desired emotions the score should evoke in the player is also key. For example, a game that conveys emotions of adventure and heroism will have a very different score than a game that has darker themes."
Music Everyday
It can be a challenge to find a musical voice for every project. Tailoring music to each game forces Jeff to go all out all the time, which helps them push past creative blocks.
"I am writing music almost every day, and when it is such a regular part of my daily life, it becomes second nature in a way. As time goes on and I continue to score more projects, I have learned many composing and production techniques that I can draw from," Jeff detailed. "One thing I find that helps with creativity is to be in the right frame of mind. Creativity cannot be forced – I need to have an open mind and often 'go with the flow' as I'm composing. I've found that concepts found in Eastern philosophy, such as Taoism, to be of great help to this."
One thing I find that helps with creativity is to be in the right frame of mind. Creativity cannot be forced. – Jeff Broadbent
"Overall my life is pretty peaceful, but of course I can have difficult experiences like everyone does now and again," he added. "One thing that helps is that I am always committed to giving my 100 percent best effort every day, to fulfill my potential. In contrast to this, I have a very accepting attitude towards life, and try to be grateful for whatever life offers me. This dual approach of giving it my all, but being accepting and content with whatever comes I have found to be very helpful."
What makes the trials and tribulations worth it is hearing from the developers that they like the music. What's more fans will also contact Jeff and let them know how much they enjoy it, sometimes doing remixes of their own.
"One of the proudest moments was scoring my first bigger video game, Transformers: Dark of the Moon," Jeff noted. "This happened not too long after I graduated from college, while I was working on breaking into the industry. I remember being in the movie theater and watching a trailer for the upcoming film and at the same time I was just starting work on the project, so that was a cool moment."
Hopes in VR
While Jeff loves working in the video gaming industry, he wishes there was a bit more risk taking. It's because of the large amount of money in making modern games, which pushes game makers towards a more conservative approach.
"When I think back at the games that really made an impact (for example, Shadow of the Colossus on the PlayStation 2), having a unique creative vision that was not derivative was a key to these games' success," he notes. "It takes courage to follow a creative vision, but it can pay off."
When it comes to future trends, Jeff is hugely interested in VR. "I think one of the biggest trends, as far as technology is concerned, is virtual reality. As more virtual reality games are made, it will be interesting to see how the music and audio evolves for this platform. For example, one audio director I was speaking with explained to me how the sound design for virtual reality games must be done very carefully, so as to not seem out of place and thus bring the gamer out of the immersion of the virtual world," he stated. "I'm currently composing music for an upcoming virtual reality game so I'm excited to be part of this new wave of technology and games."
Sonic Exploration
While Jeff has a passion for martial arts like Kyokushin karate and Brazilian ju-jitsu, his first love is and remains music. "I really think that the best results and most enjoyment for both the creator and the audience come when we pursue our passions," Jeff said. "One of the most exciting things for me is when I start a new campaign as I get to start anew and discover a creative approach that fits the project."
As for a potential dream project, Jeff theorized, "I would love to score a game that has a very unique art style that is very creative visually, because this opens the door for a lot of sonic exploration. A genre I would like to compose more in are modern games with darker themes; for example, I'm a huge fan of both the Resident Evil games as well as the Silent Hill games, and I love to write music that is experimental and can push the boundaries."
Comments
David Radd
David Radd is a staff writer for GameSauce.biz. David loves playing video games about as much as he enjoys writing about them, martial arts and composing his own novels.