Vungle Releases Mobile Advertising Benchmark Report for 2017
Vungle, the leading performance marketing platform for in-app video ads, recently released an in-depth mobile advertising benchmark report for 2017, providing insights for how advertisers and marketers can engage with their most valuable mobile consumers and increase their mobile return on investment (ROI).
Here are a few of the key takeaways from the report.
1. Digital advertising is set to surpass TV advertising
In the United States, digital advertising spend is set to surpass TV advertising spend this year. However, mobile marketing budgets aren't set to catch up to this trend until 2020. This is in spite of the fact that mobile is the most captive digital channel for consumers.
According to Vungle's report, over 48 percent of people choose to consume their media on mobile devices such as smartphones, tablets and laptops. Meanwhile, just under 36 percent of people still consume media primarily through television. Additionally, Vungle's report notes that daily viewing on TVs, desktop computers, and laptops has dropped since 2011, while mobile usage has quadrupled in the same time period.
2. Consumers are multitaskers in their consumption habits
Another finding by Vungle is that 53 percent of consumers watch video on their smartphones "often" or "sometimes" even while watching TV. Additionally, Vungle found that 18-34 year-olds are twice as likely to give their undivided attention to video when watching on mobile devices as opposed to television.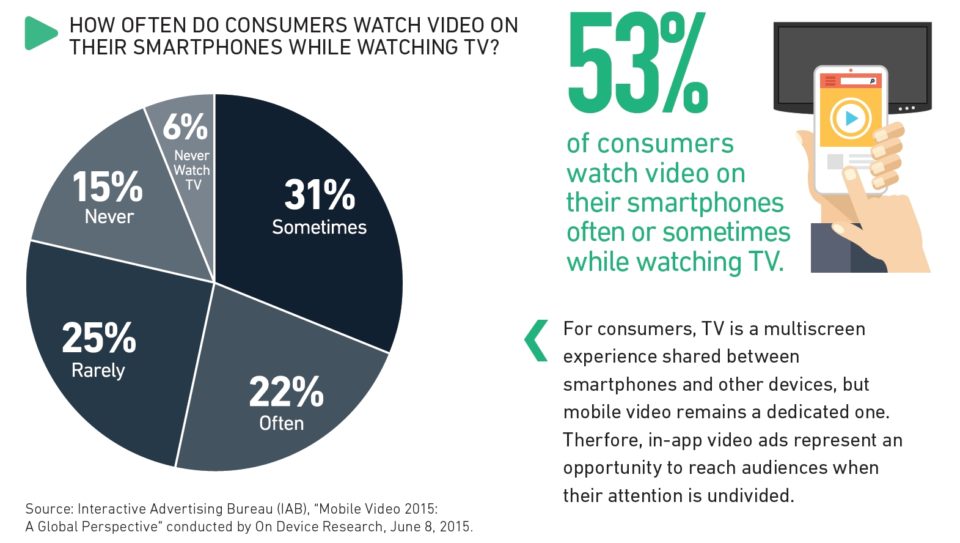 During their time on mobile, consumers spend roughly 34 percent of their time on social apps and another 27 percent on entertainment. 13 percent is used for gaming, another 13 percent for actual phone usage (such as phone calls and texting), and a final 13 percent for other activities.
3. Consumers respond differently to ads depending on time and place
Consumers had different consumption habits depending on where they lived and what day it was. Overall, Vungle found that in-app video ads shown on the weekend tended to have higher CTRs – though they cautioned that advertisers should run ads on a consistent basis throughout the week for awhile in order to see how their specific target groups behaved.
When it comes to ad impressions, the United States, China, UK, Germany and Australia were in the Top 5. However, Vungle notes that while U.S. is the leader in terms of most advertising, China represents one of the largest opportunities for advertisers. Taiwan and Malaysia also boast high install rates between 11 and 16 percent. Vungle also notes that, of the top 25 countries with the highest mobile ad spending, 12 are emerging markets – and highly receptive to in-app video ads.
4. Different games perform differently with in-app video ads
While overall install rates for mobile gaming in-app video ads averaged 23 percent, there were some big differences on which genres performed best. Sports games boasted a 50 percent install rate. Many other categories – such as simulation, racing, family, action, puzzle and arcade games – had install rates in the mid-twenties. When it came to click-through rates (CTR) however, casual games and RPG games were king, with 3.5 to 4.3 percent CTR.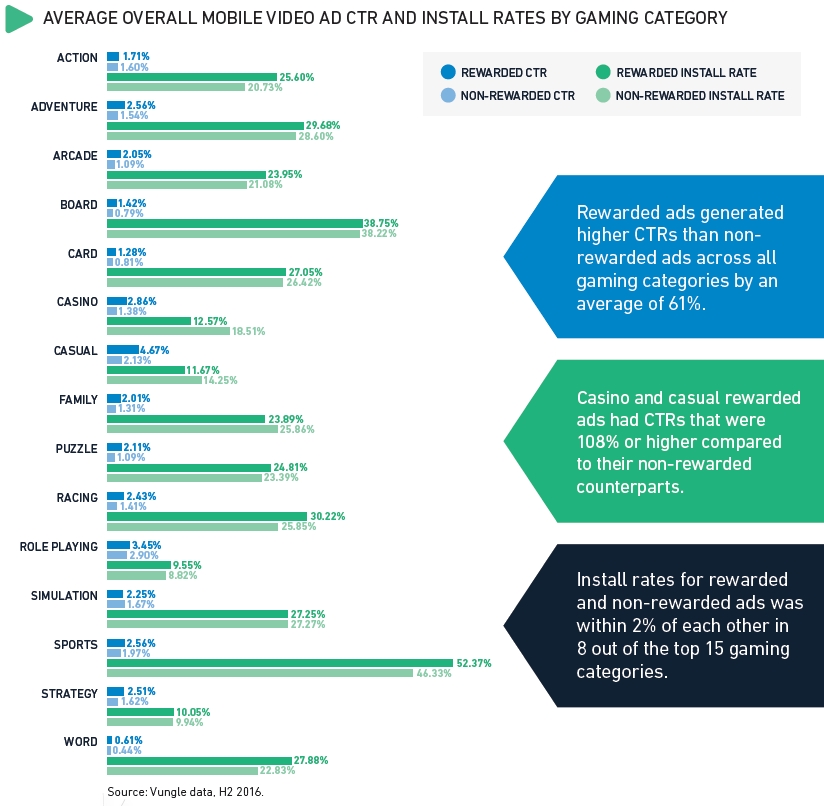 In addition, Vungle found that rewarded video ads tended to outperform non-rewarded video ads. Rewarded ads generated higher CTRs than non-rewarded ads across all gaming categories by an average of 61 percent. Casino and casual games, in particular, had CTRs that were 108% or higher. When it came to installs rates, 8 out of 15 categories had rewarded vs. non-rewarded rates that were within 2 percent of each other. In most other categories – but particularly racing, sports, arcade, word and action games – rewarded video ads performed much better.
However, the report notes that the most effective mobile advertising campaigns utilize both rewarded and non-reward ad placements and suggests that advertisers diversify their in-app marketing strategy rather than putting their entire ad budget toward one type of placement.
5. Creative optimization makes a difference
Vungle's report found that optimizing ad creatives for mobile results in significant performance improvements. Vungle Creative Labs (VCL) mobile video ads were the highest overall performing creatives in 11 out of the top 15 gaming categories – with some VCL ads producing as much as 73 percent higher CTRs compared to non-VCL ads. VCL ads were particularly effective in RPG, family, and casual games.
According to the report, VCL takes a data-driven approach to mobile video ad design. Every creative is optimized around the mobile platform and the ways consumers see and interact with them. The report notes that VCL's creatives are continually refined to improve performance based on mobile ad design best practices, consumer psychology and data science.
Tackling Missed Opportunities
All in all, Vungle says that mobile video advertising was projected to make up only 10 percent of total mobile ad spend for 2016 – showcasing a gigantic missed opportunity for advertisers. According to the report, "slow growth in mobile video advertising represents an under-explored opportunities to reach consumers in the apps they use most."
Vungle CEO Zain Jaffer echoes that sentiment, saying "Companies of all sizes, from established brands and Fortune 500 businesses to independent mobile studios, have begun to adopt in-app video ads as an integral part of their customer acquisition strategies. And that's why Vungle is bullish on performance marketing. It's proven, it's defensible and mobile marketers spend more when there's clear, quantifiable ROI and lifetime value (LTV) – this has and will continue to fuel Vungle's growth."
You can download the full benchmark report HERE.
Comments