Presenting the Indie Prize Finalists from Europe Part 2
Indie Prize at Casual Connect Europe 2018 has attracted many entries from all over Europe, including Italy, France, Austria, Netherlands, Norway, Belgium, Spain, Ireland, Germany, Greece, Denmark, Sweden, as well as the United Kingdom. And the innovation in these games is remarkable. Competitive games have a variety of new twists that require speed, precision and skill to succeed. Adventure and narrative games pit the player against novel situations and obstacles. Settings range from the historically accurate (or inaccurate) to fantasy or dungeons or even the player's mind. And a variety of puzzle games challenge players' thinking in different ways. Whatever kind of gaming you prefer, there are games here you will enjoy. These fantastic games total 38 from Europe. The finalists have been broken up into two parts. To see the other 19, see this article.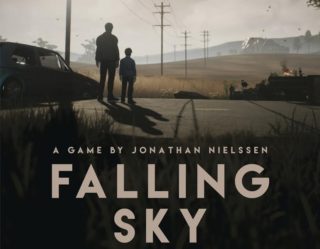 Game Title: Falling Sky
Developer: Falling Sky
Platform: Desktop Win
Country: United Kingdom/Norway
Falling Sky is a cinematic 3D mystery game. It was developed at the National Film and Television School and the project leader and sole developer was Jonathan Nielssen. The game uses Unreal Engine and motion capture technology to create immersive, narrative-driven drama. It has a Twin Peaks influence and elements of open world adventure.

The characters of the game are brothers Daniel and Tommy, who are attempting to solve the mystery of their mother's disappearance. Guided by a series of cryptic messages, the boys set off on a quest to find the truth.
Falling Sky was nominated for Best Student Game at the Game Awards. It has also been receiving attention in the press.
Game Title: Lost Words
Developer: Sketchbook Games
Platform: Desktop Win
Country: United Kingdom
Lost Words is an atmospheric puzzle game that is set between the pages of a diary and a fantasy land. The narrative of the game is tied into the gameplay in an unusual way, having the player running on and solving puzzles by interacting with words.
Lost Words won Best Indie Game, Best Casual Game and and Most Original Game at Game Connection 2017 in France. It was also nominated for Best Idea at AzPlay 2017 in Spain and won UK Game of the Show from UKE at Gamescom 2017 in Germany. It also received the Special Selection Indie Award at Reboot Develop 2017 in Croatia.
Game Title: Super Chicken Catchers
Developer: Game Design : Maxime BODIN, Rafael LOPES Game Art : Benoit RICHARD, Sylvain LACERES, Etienne POV, Marion CHABROL SUPT Game Programming : Alexis COEURDEROY, Yanis HAMEL, Ilyes OUHABI LESURTEL
Platform: Desktop Win
Country: France
Super Chicken Catchers is a 2v2 game set in a multi-player arena. Each team of two players is made up of the mount, who chases the chickens, and the rider, who must catch the chickens with his yo-yo.
Game Title: Naraa: The Living Book
Developer: Game Design : Nicolas DUVAL, David BIRGE-COTTE Game Art : Perrine LOZINGUEZ, Charlotte COUDERC, Julie MIZREH, Violaine BERTHOUMIEU Game Programming : Rémi CARREIRA, Benjamin HADDAD, Matthieu JAGU
Platform: Other mobile platform
Country: France
Naraa: the Living Book uses augmented reality to explore the landscapes of Mongolia with a real children's book. In this story Naraa wants to become a shaman but she needs help from the player. The realms of the spirits have been invaded by the villainous Iblis. To win the trust of the spirits, Naraa must have help from the player to free them from the Iblis; only then can the player wake up the Great Bear.

Game Title: Planet's Revenge
Developer: Planet's Revenge team
Platform: Android
Country: France
In the Planet's Revenge, the Nias have escaped from their planet and are invading the universe. Only the player can stop this parasitic invasion. To do it you must clean each planet by creating tsunamis, volcanic eruptions, tornadoes and unleashing other destructive powers.

Game Title: QUBE 2
Developer: Toxic Games
Platform: Desktop Win
Country: United Kingdom
Q.U.B.E. 2 is the sequel to the first-person puzzle game Q.U.B.E. As Amelia Cross, a stranded archaeologist, the player mysteriously awakens in the ruins of an ancient alien landscape. Your goal is to find your way home, but to do it you must manipulate and travel through this forgotten world. Your only help comes from another, although distant, survivor, Commander Emma Sutcliffe.
Q.U.B.E. 2 has won the following awards: Outstanding Gameplay – Reboot Develop 2016, Game of the Year – Reboot Develop 2016, Global VR Challenge 2016, Kotaku – Best of British 2018.
Game Title: Mission 1545
Developer: City Quests Media
Platform: Desktop Win, Desktop Mac, Web
Country: United Kingdom
Mission 1545 is a rescue mission adventure set in Tudor London of the 16th Century. Spies are everywhere and players must stay out of sight, avoiding enemy light comes. They must win the eight themed gate towers in a night-long race along the city wall in order to reach the Tower of London. Then they must find and release the prisoner held there.
Mission 1545 is the first game for City Quests Media. The team is dedicated to making games set in English history, using an outstanding cast and a comic book art style, soundtrack, acting and script.
Game Title: Gaze
Developer: Franck Morgand, Clément Mezelle, Grégoire Chamberland, Lothario Areski Peon de Schuyter
Platform: Android
Country: France
Gaze is a game that combines speed, observation and sculpture. Players must find the anamorphic shapes printed on the sculpture using the camera of their smartphone. Once they find the anamorphosis, they take a picture to validate it and receive a score. And the player with the highest score wins.
Gaze was an official selection at Indiecade Europe 2017. It has been reviewed on a number of websites that include Shake That Button, Factornews, Game Side Story, and The Broadcast Show.

Game Title: Over the Alps
Developer: Stave Studios
Platform: iOS, Desktop Win
Country: United Kingdom
Over the Alps takes players on a race through the Switzerland of 1939 in a text adventure/point-and-click adventure. They explore scenes inspired by vintage travel posters and read postcard written in invisible ink. They must navigate the intrigue of wartime Europe, trying to stay undercover while being chased by a Nazi spycatcher. They must escape the spycatcher, rescue the Watchmaker and unlock the secrets of the past.
Over the Alps has been accepted into the Leftfield Collection and has appeared in Gamesmaster.

Game Title: Ruya
Developer: Miracle Tea
Platform: Miracle Tea
Country: United Kingdom
Players of this game find tranquility as they match the characters of Ruya's world. They visit surreal landscapes while decorating themselves in flowers and introspect. Ruya offers a calming experience with interactions and color combinations designed to make players feel at ease. And the dreamlike soundtrack pulls you into the state of peaceful flow.
Ruya has been featured in the Top 10 Charts in the App stores worldwide and was rated 9.1 on App Advice. It won Game of the Show at Game Anglia 2017 and was an Official Selection at Casual Connect Asia 2017. And it was a winner at Trazfuser 2016.
Game Title: Disco Flip
Developer: ALL CAPS
Platform: Android
Country: Denmark
Disco Flip has players navigating obstacles and enemies through a unique twist of music and action in an endless runner game. This game is filled with different characters and the players must traverse a dangerous path while everything, even the trees, moves to the beat of the music.
Disco Flip won the People's Choice Award at GameScope 2017.

Game Title: Swim Out
Developer: Lozange Lab
Platform: iOS, Android, Console, Desktop Win, Desktop Mac
Country: France
Swim Out is a strategic turn-based puzzle game. It takes place in the refreshing, relaxing atmosphere of a sunny day by the pool, the river or the sea. But you must plan each of your strokes wisely so that you never cross another swimmer's path in order to enjoy the view from a cozy chaise longue.
Swim Out was a finalist for Best Mobile Game at Ping Awards 2017 and was a finalist for Best Puzzle Game at TIGA Games Industry Awards 2017. It has been receiving very positive reviews and comments, for example, "Swim Out is a gorgeous, stylish pool puzzler" from Rock, Paper, Shotgun. It has been featured in the AppStore, Google Play, itch.io and GameJolt.
Game Title: Kawaii
Developer: kickAlive
Platform: Android
Country: France
Kawaii is a game that lets players, with their friends, breed hundreds of creatures such as cats, dogs, dragons. And you build their world.
Kawaii was soft launched in France. It acquired 100 users and gained 100,000 in return.

Game Title: Too Many Cooks
Developer: FINIFUGU && friends
Platform: iOS, Android
Country: United Kingdom
Too Many Cooks is a local cooperative game for 3 – 6 players. The players join together, each using their own phone, no central screen is needed. In the kitchen where the game is set, each player has different job objects – one might have a crate to gather ingredients, one might have a board for chopping, a rice cooker, perhaps the sink for cleanup. But players can also pass around objects or jobs they would rather not have. Each player can help others finish their jobs.
Too Many Cooks won the Very Big Indie Pitch 2018 in London and was nominated at the SXSW's Gamers Voice Awards.

Game Title: Still Here
Developer: David Smit
Platform: iOS, Android
Country: Germany
Still Here is 2D flight game set in the near future and focused on a central question: Why did mankind leave the earth? The game takes the player, as the character Pip, on a journey through a dystopian world full of secrets and unique locations. As Pip journeys, he befriends and helps artificial life. Their plight sets the course for the adventure among the remains of the long gone human civilization. But there are rewards to unlock that will help Pip on his journey.
Still Here was featured in Early Access for over eight months. It gained more than 200,000 players and a 4.5 rating from Tip Tap in China and similar players and ratings throughout the world.
Game Title: Smash Tanks
Developer: Dumpling (Design Ltd)
Platform: iOS, Android
Country: United Kingdom
Smash Tanks is an augmented reality game with destructive its defining feature. Players take turns to launch their tanks into enemy territory to take out the enemy, grab supply crates or topple the towers. The game continues until only one team is left.
Augmented reality turns Smash Tanks into an ultra-exciting experience. Anywhere can become a battle arena, the living room, kitchen or even outdoors. Soon players are moving around and getting close to line up the trick shots.
SmashTanks was selected by The Guardian as one of the best games of EGX 2017. It was demoed as part of Apples AR Showcase and it was the #1 selling AR and board game app during the Christmas season.
Game Title: Silent Streets: Mockingbird
Developer: Funbakers
Platform: iOS, Android
Country: Ireland
Silent Streets: Mockingbird is a detective adventure game that features augmented reality. The immersive story is set in the Victorian Era and has crime scene investigation with ARKit technology. The game includes beautiful artwork and impressive sound and voice over. It has been localized in French, German, Italian and Spanish.
Silent Streets: Mockingbird has received positive coverage from Touch Arcade and Pocket Gamer as well as other media.
Game Title: Castle Cats: Epic Story Quests
Developer: PocApp Studios
Platform: iOS, Android, Other mobile platform
Country: Sweden
Castle Cats: Epic Story Quests is a humorous RPG narrative game blended with cat collecting and hero management. When you play this game, you become the leader of a guild of cat heroes saving the Kingdom of Catania by defeating the evil Pugomancer. You can recruit from over one hundred cat heroes including knights, mages or flying dragon cats, and send them on quests to earn prestige and loot for your guild. You train your cat heroes and send them on dozens of different quests and to fight enemies such as wolves and zombie chihuahuas.
Castle Cats has a rating of 4.8 on both iOS and Play Store and almost 2 million downloads. It was featured on NewsWatch TV and has raised $17000 for animal charities.
To view all of the Indie Prize finalists for Casual Connect Europe, visit indieprize.org.
Comments
Catherine Quinton
Catherine Quinton is a staff writer for www.gamesauce.org. Catherine loves her hobby farm, long walks in the country and reading great novels.