Indie Prize and Casual Connect Heading to Kyiv
Indie Prize is a scholarship program for up-and-coming indie developers that unites developers all around the globe to discover the brightest and most talented indie games. The finalists are always announced one month before the upcoming showcase and announced at www.indeprize.org. Developers from more than 60 countries all over the world apply with more than 1,000 applications received during the year.
All the applications are sorted and sent to judges for review after the submission period is closed. More than 30 games industry professionals – from Yodo1 Games, tinyBUILD, Appodeal, IPC Ventures, PowerUp Digital, Sense.Vision, RJ Games, Zeptolab, Affiniti Ventures, GameFounders, Rovio Entertainment, 4EversGames, Stugan, Wargaming.net, AlphaBetaGamer, RBKGames/Forgamer and others – select games to the Indie Prize showcase in Kyiv.
"Interest to the international Indie Prize scholarship grows with every show and more and more events join our Game Nation community and nominate more awesome games to Indie Prize showcase," said Indie Prize Director Yuliya Moshkaryova. "We always explore new ways to support indie developers. In association with KID'IT we will run Indie Prize Kids League contest in Kyiv for the first time to honor the best indie developers from 5 to 12 years in Ukraine. Natalie Portier, Chief operating officer at Appodeal; Mike Hines, Developer Evangelist for Amazon Appstore; Alexey Izvalov, Developer relations, Enhance; Alexander Dzyubaб CEO at Sense.Vision; Fedorova Anya , RJ Games, Communications Director; Michael Zinchenko, Operational Producer, Wargaming.Net – have already confirmed to be judges to select the most promising game developers of Indie Prize Kids League."
Developers from 51 countries applied to Indie Prize Kyiv. Indie Prize accepts game submissions of all the platforms. For the showcase in Kyiv, 34% of submitted games are available on Desktop Windows, 28% are Android games, 23% are iOS games, 8% VR desktop/console and Desktop Mac, Web, console, VR mobile and other mobile platforms share the remaining 7% of submissions. Thirty-two percent of applicants have already applied to Indie Prize before and 68% applied for the first time. Forty-two percent of games are already published and the rest 58% of developers are at the conference to find a publisher or to find the most efficient way to release the game.
All the Indie Prize finalists receive an invitation to participate in the international Indie Prize showcase during Casual Connect conference along with free accommodation for two developers and two free all-access passes to the conference.
Casual Connect Returns to Kyiv
Casual Connect returns to Ukraine after having held Eastern European events in Belgrade, Serbia, in 2014 and Kyiv in 2013. During 2015 and 2016, Casual Connect traveled to Tel Aviv, Israel. Casual Connect Kyiv is about matching the creativity of the games industry with new media innovation and investment to find the next big thing. The capital of Ukraine will bring together developers from all over the globe again this October after three years away.
The conference will host three days of networking and parties, six insightful tracks, one expo area and 50 of the world's best indie games. Attendees will be able to learn from 1,200 minutes of educational talks from representatives of industry-leading companies – such as Apple, Google, Epic, Ubisoft, Facebook, Amazon, Toca Boca, Murka, Huuuge Games, Failbetter Games – with topics covering industry insights, growth, casino, market navigation, technology and more.
Casual Connect Kyiv 2017
24 – 26 October 2017
Location: Parkovy Congress and Exhibition Center, Parkova Rd, 16A, Kyiv, Ukraine
Founded: 2006
Professional Attendees: 1,000
Indie Prize Showcase Teams: 50
Speakers: 80
The First Finalists Nominated by Game Nation Community
Eighty-seven event partners from around the world applied to nominate the best game from their shows to the international Indie Prize Showcase. All the Indie Prize nomination partners are united under the Game Nations name. For upcoming showcase in Kyiv, 12 games were nominated by Games Nations partners. The list of games nominated for Indie Prize Kyiv are:
Czech Republic: Game Access '17 winner – Mashinky by Jan Zeleny
Denmark: Game Scope winner – Disco Flip by ALL CAPS>
Estonia: GameDev Day 2017 winner – Bearslayer by bool games
Latvia: LGDA 10-year anniversary winner – Snorkel Master Chef by DigiNana
Moldova: Ludum Dare 39 winner – Lost In the Sky by Lost In the Sky, LIS-Team
Poland: Indie Games Poland Foundation winner – My Memory of Us by Juggler Games
Poland: Game Industry Conference winner – SYMMETRY by Sleepless Clinic
Serbia: GameUp winner – Derail Valley by Altfuture
Tunisia: Carthage Game Show (Tunisian Game awards) winner – Grapple Gum by Liva
Turkey: BUG Lab winner Stygian: Reign of the Old Ones by Cultic Games
Turkey: GIST winner – The Last One by Phoenix Interactive
Ukraine: Get IT! 2017 winner – Molecats by Vidroid
Ukraine: GTP Indie Cup winner – Foxtail by Gingertips
All participants of the Indie Prize Showcase, as well as their games and trailers, will be listed on the official Indie Prize website after Sep 25th.
UPCOMING EVENTS & DEADLINES
Across four global events every year, the international Indie Prize scholarship program invites over 400 indie teams to showcase their games and to network with the world's most talented indie developers and game industry professionals. Apply for upcoming Indie Prize showcases below.
Casual Connect USA 2018 at Disneyland® Hotel | January 16-18, 2018 | Apply BEFORE November 15th, 2017
Casual Connect Europe 2018 | May 29-31, 2018 | Apply BEFORE March 31st, 2018
Register for Casual Connect Kyiv: http://kyiv.casualconnect.org/joinus.html
Secure a Premium Developer Showcase Table: http://kyiv.casualconnect.org/joinus.html
More details on travel and accommodations: http://kyiv.casualconnect.org/travel.html
Press and streamers verification form: http://goo.gl/forms/a6QLIM8nV5
Volunteers application form: http://bit.ly/CasualConnectVolunteers
To request an invitation letter for visa assistance or border crossing: http://goo.gl/forms/2ZlgxIBuiI
Downloadable sponsor form: http://www.casualconnect.org/sponsorships/2017_ccsponsor_kyiv.pdf
More information on Casual Connect Kyiv 2017 and Indie Prize Kyiv is available at their official websites. Highlight videos from previous years are available on Casual Connect's official YouTube Channel.
Comments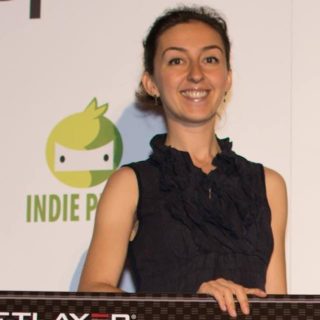 Yuliya Moshkaryova
Yuliya Moshkaryova is the Indie Prize Director and Senior Project Manager and Team Leader at Ukrainian indie studio Wildec LLC. Yuliya travels around the world to meet indie developers from every corner of the globe and to invite the best games to join the Indie Prize scholarship. Follow @MoshkaryovaYuli to stay updated about Indie Prize news and gamedev events.