Casual Connect Eastern Europe 2018 Indie Prize Entries From Western Europe
Entries for Indie Prize at Casual Connect Eastern Europe 2018 from Western Europe show amazing creativity. One game brings art to life with gyroscope technology, another has players surviving and building in a world of garbage. Using music and rhythm to create challenging levels, creating your own comic book through a point-and-click adventure game, playing a variety of puzzle games or participating in MMO battles or retro arcade games, you are certain to find games that are fascinating to play.
Game Title: Flotsam
Developer: Pajama Llama Games
Platform: Desktop Win, Desktop Mac
Location: Belgium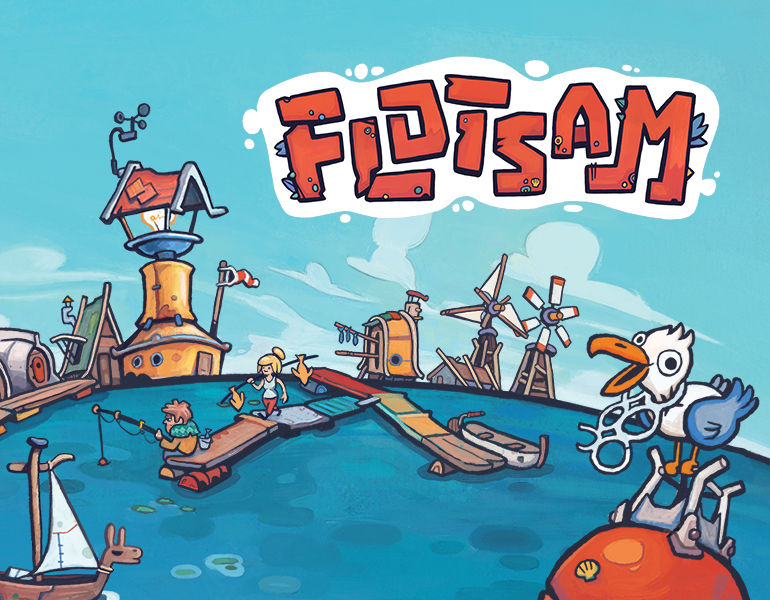 Everything is flooded, and islands of garbage float among the ruins of tall buildings and the polluted coral reefs. This is the world of Flotsam, and you must find a way to survive. You will manage a team of drifters and salvage what you need to build boats and buildings from scrap and flotsam. And you must rescue the seagulls and dolphins who will help you find fresh water and seafood. Flotsam won the prizes for Best Game and Best Game Design at White Nights Prague 2017 and was nominated to participate in Indie Prize.
Game Title: Vectronom
Developer: Ludopium
Platform: Desktop Win, Desktop Mac
Country: Germany
When you play Vectronom, you are immersed in music, geometry and flow in a hypnotic world that changes constantly with the beat of the music. You dance through challenging rhythmic levels against a background of vibrant colors.
Under the name "Isometric Epilepsy", Vectronom was nominated for Best Newcomer at the German Developer Awards 2016 and received second place for Best Newcomer at German Videogame Awards 2017, as well as Official Selection at A Maze Johannesburg 2018, Honorable Mention at Ludicious 2018 and Honorable Mention at A MAZE Berlin 2018.
Game Title: SHI•RO
Developer: Topicbird
Platform: iOS
Country: Germany
SHI•RO is a mobile game that uses gyroscope technology to bring art to life. It consists of over sixty puzzles on a dark background shimmering with silver and gold. Players move their iPads or iPhones, thinking out of the box while playing on a traditional Japanese lacquer box. They connect golden moons to separate sea and sky and create the first Japanese islands. To engage with the story of SHI•RO, they must find the golden elements within the game's hand drawn illustrations. They connect with an emerging world in a tale about an empress, lost love and blossoming friendship, based on the first Japanese writing, the Kojiki.
This game has been showcased at indie game festivals such as Ludicious in Zurich and Bitsummit in Kyoto. The first part of SHI•RO will be released September 9th. The second and third part were developed at the Swedish game accelerator program, Stugan 2018.
Game Title: Corecraft
Developer: Retro Principles
Platform: iOS, Android
Country: Malta
Corecraft is a physically simulated shooter; it features unique module-based spaceships, and a sophisticated customization system. The game includes intense boss fights, and challenging quests, but with simple one-touch controls.
Corecraft won second place at Big Indie Pitch Gamecon, Germany 2016 and was nominated for Best Mobile Game at Casual Connect USA 2017. It was featured on the Apple App Store in China and has received more than 100,000 downloads.

Game Title: Oddman
Developer: Set Snail
Platform: Android
Country: Denmark
Oddman is a fast-paced, endless play fighter game where players fight off intruders, pushing them into waters filled with piranha. The players push, smash and hit intruders and bosses on their way to the top of the hill until they fall themselves. You compete for the highest score and to gather the coins that allow you to unlock new characters. Oddman may sound simple, but it is a challenge to master.
Android Police gave Oddman 4.5 stars in their pre-release review.

Game Title: All You Can Eat
Developer: Gamechuck
Platform: Desktop Win
Country: Croatia
All You Can Eat is a hand drawn point-and-click adventure comic book. The main character of the game is a free-loading hero who has been living out of an all-you-can-eat diner. Suddenly, the diner is about to close, and our hero is facing the prospect of homelessness. This point and click adventure game is told through comic book images. After developing the story through the game, the player can print a comic book of the story.

Game Title: Million Lords
Developer: Million Victories
Platform: iOS, Android
Country: France
Million Lords is a real-time strategy MMO game on mobile. Do you prefer to play by making alliances or by slaying everyone in your way? Will you be a merciless or a benevolent emperor? You can choose as you strive to rule the world. Million Lords is a unique and riveting game that combines elements from PC strategy games with gameplay made for mobile.
Millions Lords was a winner at Global Media Connect, organized by Imaginove. It was supported by Novacite with a certification for innovative companies.
Game Title: Slyway
Developer: Guaranapps
Platform: Android
Country: France
Slyway is a puzzle game played in an atmosphere of adventure and exploration. The central character in the game is a teenager named Kurt trying to find the shortest way to his old teddy bear, Sly. Along the way, Kurt is attempting to collect three stars. But to reach Sly, Kurt must slide along walls and make a limited number of movements, sometimes with a timer. The difficulty of the game gradually increases as new game items are introduced, including a teleportation vortex, flying blocks, a magnet and others. Rewards and new challenges can also be unlocked: skins, a treasure chests, secret passages, optional levels and other worlds. This game is a fun experience that challenges the player's logical skills.
Game Title: Relicta
Developer: Mighty Polygon
Platform: Desktop Win
Country: Spain
Relicta, a physics-based puzzle game, has a sci-fi story based on the mother-daughter bond. In the game's life or death situation, you must combine gravity, magnetism and creative thinking to survive. When the power is gone and life-support is running out will you be able to save your daughter?
Game Title: IRO Hero
Developer: Artax Games
Platform: Desktop Win, Desktop Mac, Console Nintendo Switch
Country: Spain
IRO Hero is a retro arcade game. This vertical shooter has beautiful pixel art graphics. The full color polarity system provides a twist to the puzzles, and nine action-packed levels are filled with interactive elements and bosses. If you like retro shooters, this challenging game will keep you playing again and again.
Game Title: Source of Madness
Developer: Carry Castle
Platform: Desktop Win
Country: Sweden
Source of Madness is a platform shooter game with rogue-like elements. You encounter unique dynamic monsters powered by machine learning on each play through. And you craft new spells with powerful modifiers in this physics-based world.
Source of Madness won first place at gamecamp kotka.

Game Title: OkunoKa
Developer: Caracal Games
Platform: Desktop Win, Console PlayStation 4, Console Nintendo Switch, Console Xbox One
Country: Italy
OkunoKa is a 2D platform game that features top-level art design, instant play sections based on immediacy and an enjoyable casual approach. But it also provides an ever-increasing challenge for all kinds of players.
OkunoKa won tahe Tomonobu Itagaki Award for game design and the Denis Dyak award for art design.
Game Title: Cube Escape: Paradox
Developer: Rusty Lake
Platform: iOS, Android, Desktop Win, Desktop Mac
Country: The Netherlands
Cube Escape: Paradox is part of the Rusty Lake series and will be released with Paradox – A Rusty Lake Film. The two will be connected in a number of ways. Many visual hints in the movie can be used in the game.
The main character of the game is infamous detective Dale Vandermeer. He finds himself in a strange room with no recollection of the past and discovers he is part of a bizarre game orchestrated by an old enemy. He must solve increasingly difficult puzzles to escape and recover his memories.
Although the game is part of a series, it is not necessary to play the other games before playing Cube Escape; this is a stand alone game.
To view all of the Indie Prize Serbia finalists for Casual Connect Eastern Europe visit indieprize.org.
Comments
Catherine Quinton
Catherine Quinton is a staff writer for www.gamesauce.org. Catherine loves her hobby farm, long walks in the country and reading great novels.