Meet the Indie Prize Serbia Entries from Eastern Europe
The entries for Casual Connect's Indie Prize coming from Eastern Europe will challenge players in many different ways. A game may explore fighting with weapons that include ladles, chimney brushes and hair dryers, while another requires players to cooperate in teams to reach their objective. A more serious game explores the stages of grief as a different game explores a network of universes and another leads players to rely on their sense of hearing to explore. Players will need to use quick reflexes, logical thinking, puzzle solving skills and more in these games.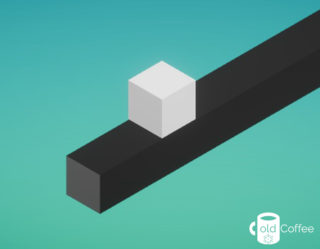 Game Title: Cube
Developer: ColdCoffee
Platform: Android
Country: Turkey
In this game, you are trying to reach the key with Cube while avoiding the tricks and overcoming the traps. To do so, you must keep your head, remain calm and don't rush. But eventually this won't be enough; the path ahead will only be revealed when Cube rotates on its axis.

At the Tehran Game Jam (an Indie Prize Partner event), co-organized by Turkey and Iran, Cube won the second place award.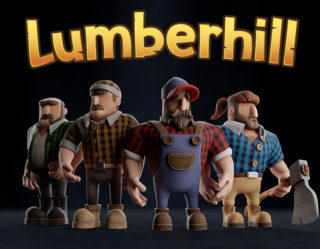 GameTitle: Lumberhill
Developer: 2BIGO Studio
Platform: Desktop Win
Country: Poland
Lumberhill can be played by up to four players, but they must cooperate in this action game. Working as a team of lumberjacks, players cut down trees and fight side by side to get the job done. This game can be played online as well as locally.
Lumberhill won the Peoples Choice Award at Game Access Brno 2018 which is an Indie Prize Partner event.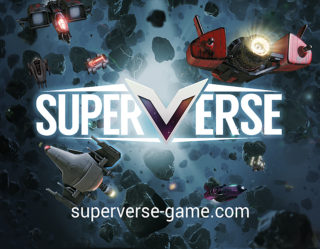 Game Title: SUPERVERSE
Developer: Superverse Industries
Platform: Desktop Win
Country: Serbia
SUPERVERSE, a 3D arcade game, has the player exploring a network of unique universes connected by wormhole super-highways while searching for a way to return to the past in order to prevent the destruction of his home world.
In the distant future of SUPERVERSE, the player is a spaceship controlled by artificial intelligence. No humans exist; they were all destroyed in the conflict of AI controlled robots. The player/spaceship is fighting through space/time while traveling through the universes to find the point when the last human populated planet existed.
The player must employ lightning fast reflexes and survival instincts to fight through the enemy bots, avoid colliding with debris and explore the depths of cave labyrinths. Constantly upgrading the firepower of the weapons arsenal will help.
SUPERVERSE was nominated for Most Creative Game at Reboot Develop 2015 in Dubrovnik. It was also five times awarded "Image of the Day" by the GameDev.net community.
Game Title: Awakening of Heroes
Developer: COFA Games
Platform: iOS, Android, Desktop Win
Country: Serbia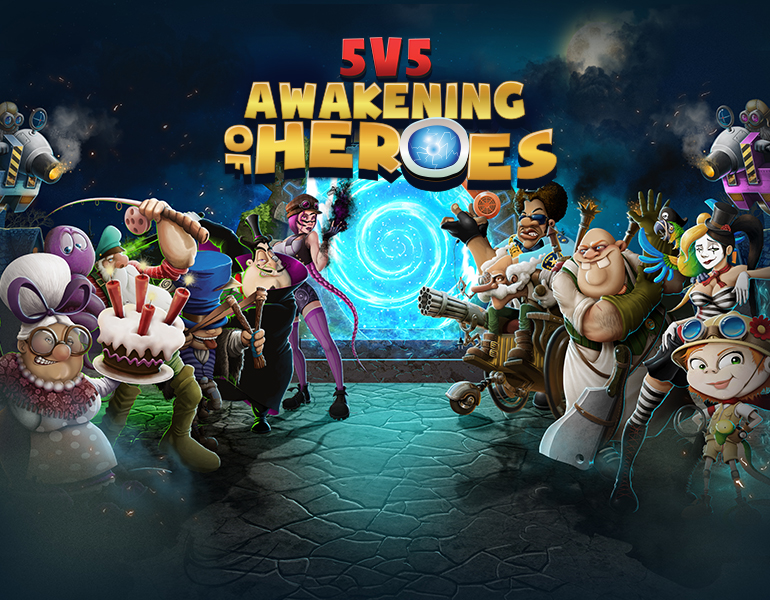 What would you choose to forge a path through minions, overcome other players and destroy their towers? In awakening of heroes, you can choose as your weapons ladles, chimney brushes or hair dryers. In ten minute matches, you explore character skill sets and best combos, equip with items of your choosing, and fight to win. What could be more fun?
Awakening of Heroes received Best Upcoming Game on GDC Pitch in San Francisco and was selected by EU Innovation Fund as one of the 12 Most Innovative Enterprises in Serbia. It also received Best Indie Game Developer prize at CES Awards 2016.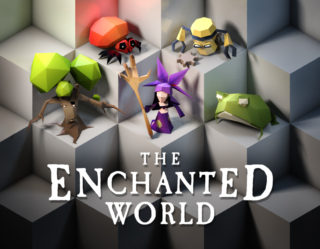 Game Title: The Enchanted World
Developer: AI Interactive
Platform: iOS, Android
Country: Bosnia and Herzegovina
The Enchanted World is a puzzle adventure game. The heroine of the game is attempting to put back together a world torn apart by grief. She tries to bring order and peace to the people in this world who have lost their way. Every character has been impacted in different ways by the collapse of their world. They represent the different stages of grief: denial, anger, bargaining, depression and acceptance. But with their help, the heroine overcomes the obstacles in her path and helps them find their place in the world.
The Enchanted World was part of Stugan Game Accelerator 2017. It received awards for Best Graphics at Reboot Infogamer 2016, Best Game Design at Casual Connect Kyiv 2017, Best Upcoming Game at IMGA International 2017 and Best Game at Gameup Belgrade 2017.
Game Title: Zoundark
Developer: Thunder Strike game studio
Platform: Android, Desktop Win, Desktop Mac
Country: Serbia
Zoundark is a fully immersive audio game with the main character a blind scientist named Paul. As you play this game you help him discover a world full of adventure and challenges. You will use your hearing to guide you as you visit different environments, such as a jungle, a river, a forest and many others. Along the way you experience fun but also dangers that you must avoid.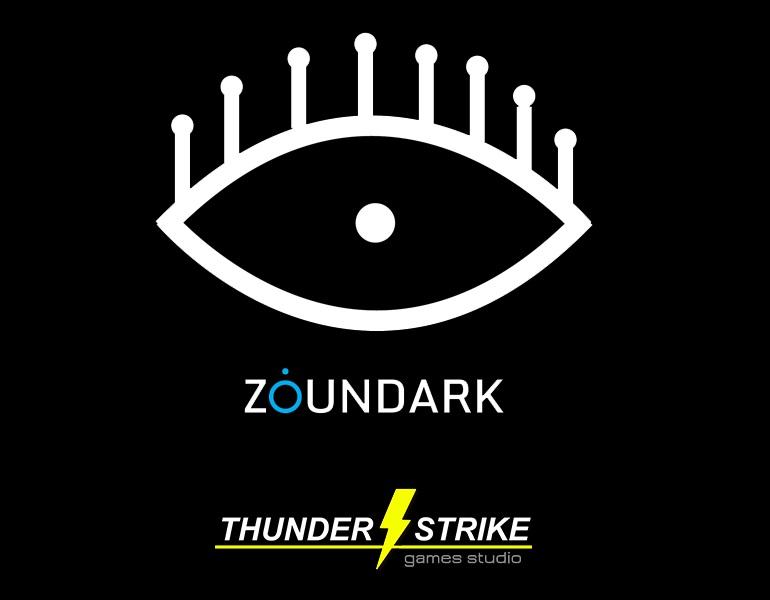 Zoundark was selected by the British Council as one of three entrants from Serbia to participate in the regional Arcadia development showcase. In June, 2018, it was chosen as one of the top three prospective crowdfunding projects in Serbia by the Serbian crowdfunding community. It is also currently in the Social Impact final as one of the first socially responsive games. It has received considerable media impact and has been featured in TV N1, RTS, Srpska naucna televizija, Vreme, Bit tv, Original magazine and Vice.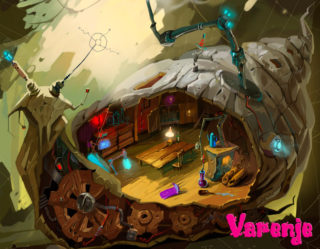 Game Title: Varenje
Developer: Play Cute
Platform: iOS, Android, Desktop Win, Desktop Mac
Country: Ukraine
Varenje demonstrates game as an art form. It is a colorful adventure with puzzles and mini-games made by artists for players who enjoy games as art.
Varenje won Best Game at WeGame Awards 2017.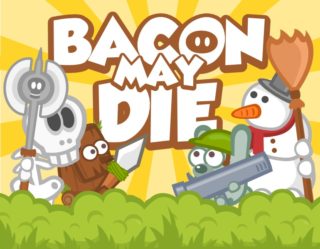 Game Title: Bacon May Die
Developer: SnoutUp
Platform: iOS, Android, Desktop Win, Web
Country: Lithuania
Bacon May Die is a side-scrolling brawler. It has very responsive controls that allow mixed melee and ranged fighting without any buttons. Players fight tons of enemies, defeat bosses and steal enemy vehicles in this game with over one hundred items to unlock.
Bacon May Die received a 4.7 rating and has had over 600,000 downloads.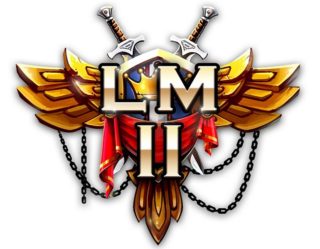 Game Title: Lordmancer II
Developer: Active Games
Platform: iOS, Android
Country: Russia
Lordmancer II is a mobile MMORPG. It has synchronous tactical player vs player battles and an open game world. It also has an open market that allows players to trade with cryptocurrency.
In 2017, Lordmancer II had a successful ICO and was mentioned on Kotaku.com.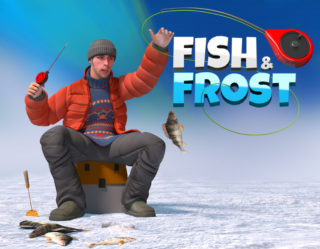 Game Title: Fish & Frost
Developer: Mixaill
Platform: Android
Country: Russia
In this winter fishing simulator, Fish & Frost the player goes to ponds in search of a large fish. The game has three modes: missions, tournaments and battles. Players can also buy various gear, clothing and equipment. As you progress in the game, you will be able to buy winter equipment such as snowmobiles, snowstorms and self-made all-terrain vehicles. You can fish alone or team up with friends.
Fish & Frost was nominated by an Indie Prize Partner event called Archivers Hub.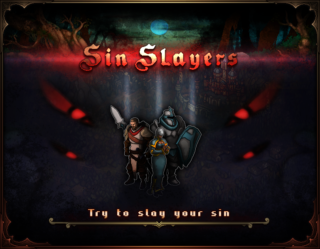 Game Title: Sin Slayers
Developer: goonswarm
Platform: Desktop Win, Desktop Mac
Country: Russia
Sin Slayers is a turn-based roguelite game based on the fight of sinners with their sins. The game incorporates elements of a dungeon crawler with pixel art graphics. Players build a team of three from a roster of twelve heroes, each with a unique specialization and differing battle abilities. Then they are sent off to fight seven deadly sins in the form of monsters. Players visit different realms, each ruled by one of the deadly sins and inhabited by different creatures.
After the GTP Indie Cup 2018, Sin Slayers was mentioned as one of the top thirteen games by the biggest Russian game portal, dtf.ru.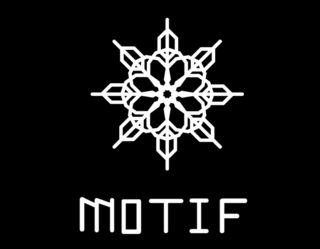 Game Title: Motif
Developer: YetaGame
Platform: iOS
Country: Turkey
Motif is a minimalist puzzle game based on artistic elements. The player must create the desired motif using the pieces you are given and the number of divisions of the play area. These game pieces have symmetry equal to the divisions in the play area, so the player must carefully choose where to put the pieces.
At Kristal Pixel Turkey 2017, Motif received the Special Jury Award and a nomination for Best Visual. At BIG Brazil 2017, it received the award for Best Student Game and a nomination for Best Innovation.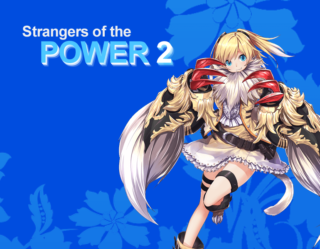 Game Title: Strangers of the Power 2
Developer: Tuomo's Games
Platform: Desktop Win
Country: Finland
Strangers of the Power 2 is a dungeon crawler role-playing game. When you play, you choose four characters and enjoy full voice acting and the custom rival system that offers over 1500 possible combinations for the rival compositions. The game is meant for multiple playthroughs and has multiple endings.
This game is a sequel to Strangers of the Power and aims to improve the formula of the original in every way.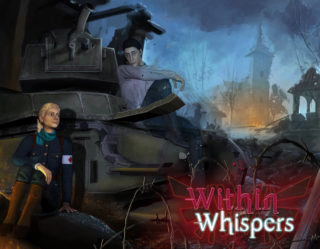 Game Title: Within Whispers: The Fall
Developer: Thorium Studios
Platform: Desktop Win
Country: Serbia
Within Whispers: The Fall, a point-and-click 3D adventure game, is narrative based with a combination of interactive novellas. As player, your character is the young woman, Aska, who is dealing with the disappearance of her brother during the Great War. Aska has the unusual gift of being able to see and communicate with the ghosts of dead soldiers. As she searches the battlefields, there is one ghost she hopes she will not meet.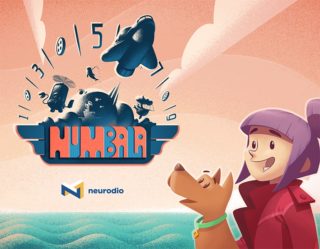 Game Title: Numbala
Developer: Neurodio
Platform: iOS, Android
Country: Poland
Numbala is a space arcade shooter game that blends fun with education. While playing this game, children are also learning math without realizing it. Numbala was designed in cooperation with neuroscientists and has been tested on over one hundred children.
Numbala has been a featured educational game in Apple Appstore in United Kingdom, Canada, Poland and Russia. It received awards for Best Game Art at Casual Connect Europe 2018 and Editors Choice at Digital Dragons 2018. Numbala will be published in China with Idreamsky.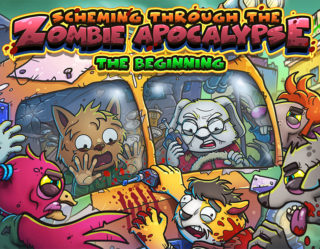 Game Title: Scheming Through The Zombie Apocalypse: The Beginning
Developer: Entertainment Forge
Platform: Desktop Win, Desktop Mac
Country: Serbia
Scheming Through The Zombie Apocalypse: The Beginning is part one of a story-driven game series that features retired salesman, the rabbit Hank, and his canine friend, Larry. Hank and Larry use their knowledge of influence and persuasion to make their way through the zombie apocalypse and avoid risking their own skin.
Scheming Through the Zombie Apocalypse is all about negotiation and bargaining, tactics used in many real-life situations. The choices in the game matter, as the player guides scavengers through dangerous locations and decisions have results ranging from getting better loot to getting the scavenger killed.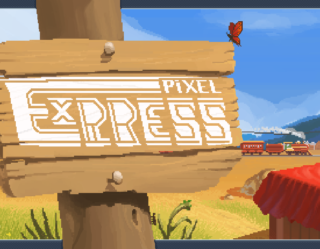 Game Title: Pixel Express
Developer: Angry Kid
Platform: Android, Desktop Win
Country: Ukraine
Do you like trains? If you do, you will like Pixel Express, the arcade game that lets you control trains. Your goal is to deliver cargo, but you must use trains with the correct colors. You don't drive the trains, you control the railroad. Each completed mission earns money for you to use building your dream city.
The prototype for Pixel Express was My Happy Train, which was created during Global Game Jam and won these awards: Best Unity Game, Best Solo Game and Winner-7.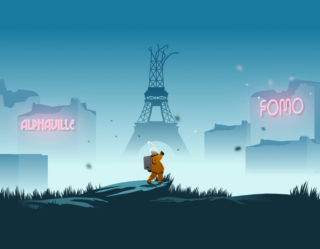 Game Title: Golf Club: Wasteland
Developer: Demagog Studio
Platform: iOS
Country: Serbia
Golf Club: Wasteland is a narrative game that takes place after a great ecological disaster on earth. The ultra rich move to Tesla City on Mars, but for entertainment they take flights back to earth and play golf among the ruins. But one pilot is unable to fit into the new society, so he uses his Golf Club Wasteland connections for one last trip to Earth.
Golf Club: Wasteland has been the recipient of favorable reviews that include these:
"10 games we love in June," – App Store
"Mixed with and eerie atmosphere and some of the best tunes we've heard in iOS gaming, this makes for a beautiful experience of loneliness," – Apple
"Beautiful and elegiac are not normally adjectives you'd use to describe a golf simulation, but that's what this is, and a highly unusual and peaceful experience," – 8/10, Metro
"Rare is the game that gets you thinking about modern society, while being angry that you missed the shot to get past a giant, irradiated giraffe," 9/10 – Touch Arcade
"Can this be the start of a new genre, please," – Yahoo Finance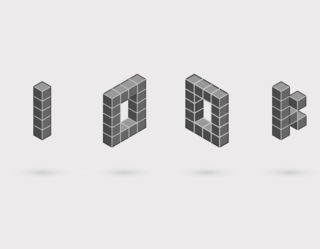 Game Title: -look-
Developer: flatgames
Platform: iOS
Country: Turkey
-look- is a minimum perspective puzzle created to train your brain. The game has no time limit, no move limit and no points to collect. All you need to do is find the reflection of the shapes on the walls from different perspectives in the games atmosphere of relaxing music.
-look- is featured in the Appstore.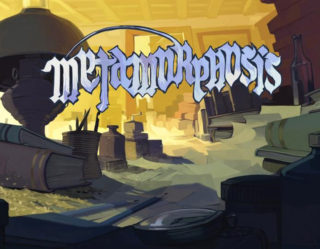 Game Title: Metamorphosis
Developer: Ovid Works
Platform: Desktop Win
Country: Poland
Metamorphosis takes you, the player, in the character of a tiny bug, on a journey through a strange universe, searching for your true form. This universe is filled with humor and absurdity, but you will still need your survival skills to escape the dangers as you explore surreal dreamscapes and find your path to redemption and saving the people you love.
Metamorphosis was a finalist at White Nights Prague, a finalist at Digital Dragons Showcase and was listed as one of Eurogamers Best Games from Rezzed.
Game Title: Sol Invictus
Developer: Munzesky Games Studio
Platform: Desktop Win
Country: Serbia
Sol Invictus, a 2D point-and-click adventure game, takes place in what could be the future of our solar system. This world of authoritarian government and corporate machinations has been at war for ten years with a rogue AI. The story follows a technician and crew member of a spaceship freighter that falls into government conspiracies and corporate intrigue that takes him across the solar system.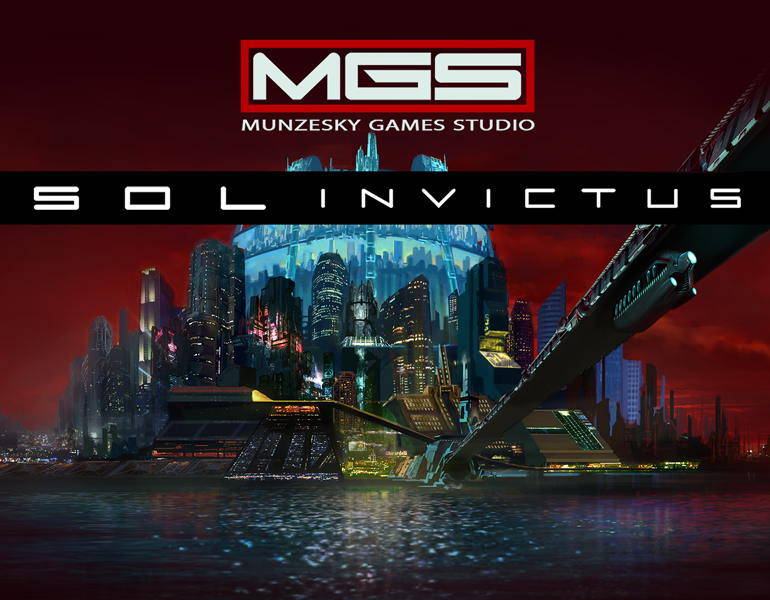 This game has dynamic gameplay, a large number of unique locations and characters, and features a soft retro look with a constant side view perspective.

Sol Invictus was one of the top three at InfoGamer 2017. It is listed as one of the games from Serbia to watch on vice.com.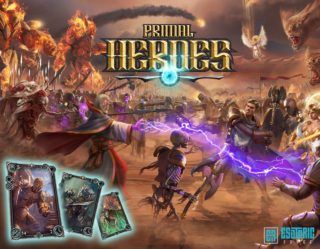 Game Title: Primal Heroes
Developer: Esoteric Forge
Platform: Desktop Win, Web
Country: Serbia
Primal Heroes is a multiplayer strategy card game. It takes place in a fantasy world of duels and team battles. Players can play alone or with friends in 1 vs 1, 2 vs 2, or 3 vs 3 team battles. The combat system has elements of CCG and Heroes of Might and Magic.

Game Title: Skylore Online
Developer: AIGRIND
Platform: iOS, Android
Country: Russia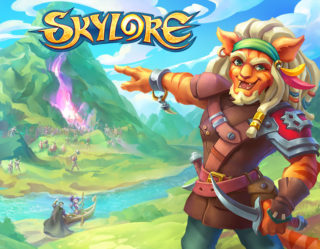 Skylore is a fantasy MMORPG with an open world and isometric graphics. When you play this game, you immerse yourself in an exciting universe, facing characters in epic clashes for ancient knowledge between two alliances, the Legion and the Sentinels, and battling for glory or death.
The game has a system of character development with Talents that give new abilities to the characters and allow players to choose their own style of play. Players can also join a guild and discover new places and thousands of players around the world. Enjoy large scale player vs player in open world in real time.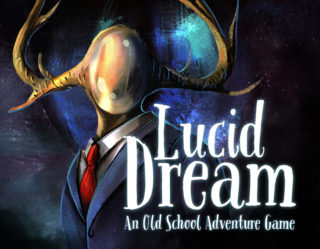 Game Title: Lucid Dream
Developer: Dali Games
Platform: Desktop Win, Desktop Mac
Country: Poland
Lucy, the character of Lucid Dream, is a girl confined to a wheelchair and living with her ailing mother in a depressing apartment. But when she enters a world of colorful dreams, she may be able to change her fate. This point-and-click adventure game allows you to explore a world where dreams and consciousness interact while solving challenging puzzles.
Lucid Dream was a Pixel Award Finalist 2018.
To view all of the Indie Prize finalists for Casual Connect Eastern Europe, visit indieprize.org.
Comments
Catherine Quinton
Catherine Quinton is a staff writer for www.gamesauce.org. Catherine loves her hobby farm, long walks in the country and reading great novels.