Indie Prize Asia 2018 Participants from Western Europe
The participants in Indie Prize at Casual Connect Asia always show amazing creativity and diversity, and this certainly true of these entries for Indie Prize Asia 2018 from Western Europe. From creative learning apps to complex puzzles to adventure games, and even some filled with horror, there is something here for every kind of gamer.
Game Title: Looters
Developer: Karizma Studio
Platform: Android
Country: Iran
Video: https://bit.ly/2REDTyf
Once upon a time there was a magical game studio named KARIZMA. They were known across the land for developing games, and one day a glorious castle emerged from the studio. The castle was filled with magic and gold so it attracted every looter in the world. Eventually the castle became known as Looters.
When you play as one of the Looters, you must avoid the traps and weapons that protect the castle. Be alert for unexpected dangers; you never know what lies ahead!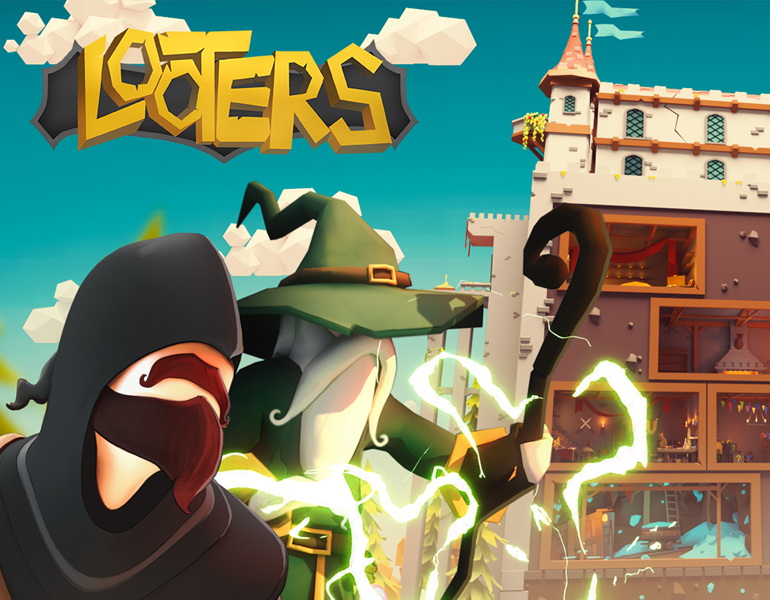 Game Title: Squirrel & Bear: Europe (Culture Travel)
Developer: The Good Evil GmbH
Platform: iOS, Android, Console Nintendo Switch
Country: Germany
Video: https://bit.ly/2QlBbxv
Squirrel & Bear: Europe is an adventure game that allows children to explore the diversity of language and culture in Europe. And it is a Badger rescue mission! Players explore Europe's cities, food, sights and animals, and along the way they find hidden gems. They can listen to the different languages, take pictures, and, of course, save Badger!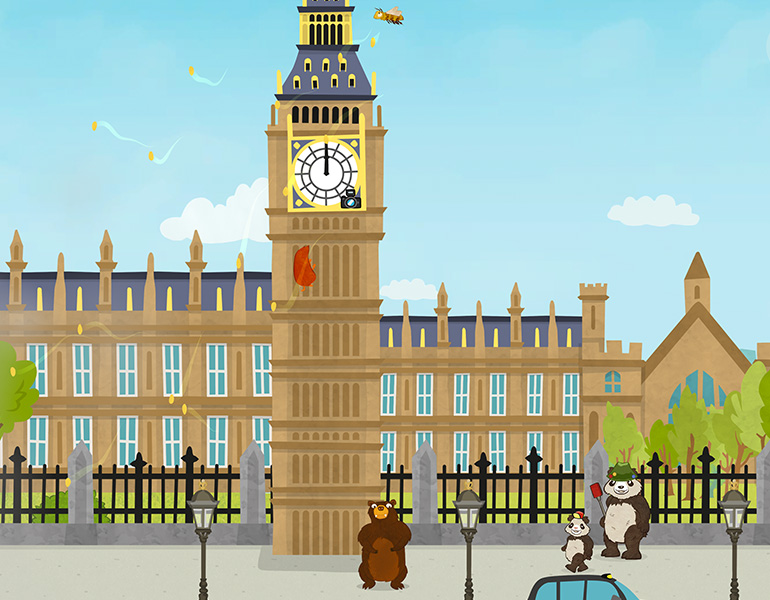 Squirrel & Bear: Europe is a new adventure from the characters in Squirrel & Bear: Original. The original game received many awards, including: Die Bienenretter: Comenius-EduMedia Seal 2018, App of the Month September 2016, German Academy of Kids and Youth Literature e. V., Nomination for German Video Game Award as Best Kids Game 2015, Dyslexia Quality Award 2015, German Developer Award 2014 – Best Kids Game, Tommi Kids Software Prize 2014 – Winner Preschool, GIGA-Mouse 2014 – Best Lernapplication Languages, and Pädi 2014 – the Medien Interaktivpreis.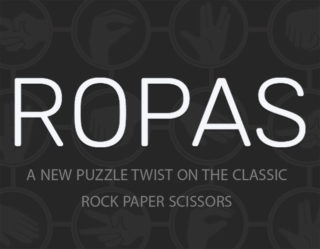 Game Title: ROPAS
Developer: Saif Ahmed
Platform: Android
Country:Tunisia
ROPAS is a complex puzzle based on Rock-Paper-Scissors. The goal at each level is to eliminate all but one of the pieces and leave the single winning piece. This winning piece is different at each level.
Each puzzle piece has its own unique features and interacts differently with other pieces; as well, it has a limited number of movements.
ROPAS is the first step toward realizing the developer's idea of an interesting puzzle game that is both unique and complex. They began with adding mechanics each time they played Rock-Paper-Scissors, until it evolved into ROPAS.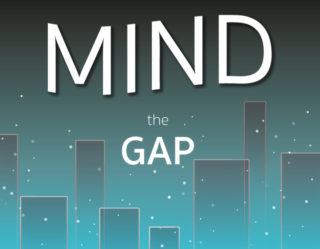 Game Title: Mind the Gap!
Developer: Ashiokai
Platform: iOS, Android
Country: United Kingdom
In Mind the Gap, a simple arcade game, the goal is survival but at a relaxed, satisfying pace. The player increases their score by collecting power ups and Gwap coins. They can also buy additional playable characters.

Game Title: Need a packet?
Developer: Marginal act
Platform: Desktop Win, Desktop Mac
Country: Ukraine
Need a packet?, a horror-simulator game, takes place against a background of a garbage crisis in the city. The grounds are rotting, recycling containers are overflowing, the water is poisoned and the citizens start disappearing in the forests. The game's character is Molly, a supermarket cashier, who is gradually losing her mind because of her boring, repetitive work. She begins believing the cash register is turning into a medieval tower and dragons and chimeras are flying around and trying to kill her.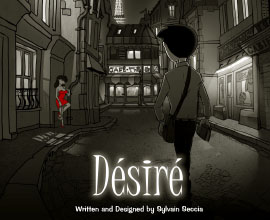 Game Title: Désiré
Developer: Sylvain Seccia
Platform: iOS, Android, Desktop Win, Desktop Mac
Country: France
Désiré is a point-and-click adventure in which the main character sees only in black and white. Désiré, the game's main character, meets different characters as the game progresses. Each of these characters elicits intense emotional response from him, changing the way he sees the world.
The game has four chapters, more than fifty scenes and over forty characters. At Indie Prize Tel Aviv 2016 it was awarded Best Mobile Game and Best Game Audio. At Indie Prize Asia 2016 is received Best Game Narrative and at Evry Games City it received Best Game Audio.
Game Title: Kabounce
Developer: Stitch Heads
Platform: Desktop Win, Console PlayStation 4
Country: The Netherlands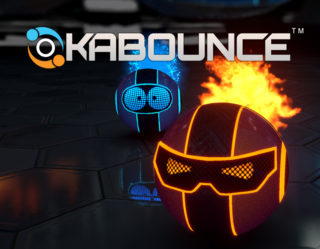 Kabounce is a fast-paced pinball game in a team versus team experience. You control the ball and must master your movements to dominate the field and annihilate the opponents, taking their points by force. You play parkour time attack challenges to test your skills against ghosts, friends or the leaderboards.
Kabounce was the winner at UE4Jam, 2015, received an Unreal Dev Grant in 2016, and was given a "very positive" rating on Steam. It was the winner at Codemotion Amsterdam 2018 and Grads in Games Winner.
Kabounce was nominated for the Indie Prize by Codemotion Amsterdam.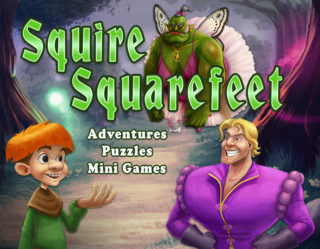 Game Title: Squire Squarefeet
Developer: Dane Games
Platform: Desktop Win
Country: Denmark
Squire Squarefeet is a nostalgic adventure that takes the player back to a time when games were easy to learn but hard to master. The characters in the game are the knight, Sir Hot-a-Lot and his squire, anti-hero Squire Squarefeet. Follow them on their journey to save the princess, and enjoy this game filled with fun for all ages.
At Game Scope 2018, Denmark, Squire Squarefeet won the People's Choice award. People of all ages, groups of friends, and parents with children, played together to figure out the puzzles. The game is filled with adult humor, hard puzzle solving and pattern-based mechanics. These bring out the fighter in players as they sit down to take Squire Squarefeet for a spin.
Squire Squarefeet was nominated for Indie Prize by Game Scope.

Game Title: Circle of Sumo
Developer: Yonder
Platform: Desktop Win, Desktop Mac, Console Nintendo Switch
Country: Italy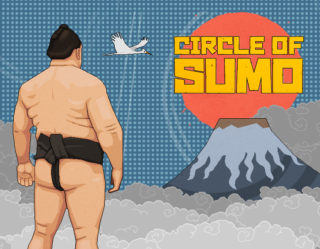 Circle of Sumo is a fast-paced, competitive game that can take place in dozens of different arenas. Players can play alone or in teams as they fight for supremacy in the ring using their power, precision, reflexes and cunning. Sumo is only the starting point, the game is a real mini-games box; it has a joyful and inclusive soul that still keeps its purely competitive aspects, such as controllers' precision and characters' statistics.
Circle of Sumo can be played anywhere your imagination can see a ring: a traditional dohyo, the top of a tower, traffic roundabouts, desert islands, carousels, golf courses, sunny cemeteries, dark attics, and all sorts of unlikely places. There are mini-games for everyone's taste: original creations, re-imaginings of different sports and tributes to traditional video games, such as Pong.
Circle of Sumo aims to be one of the most inclusive, cross-cutting games and to ensure pure fun while keeping the taste for challenge.

This game received the Game of the Fair award at Game Rome, 2017, where a ten-year-old child called it, "the funniest game of the last thirty years." At Game Jam Rome 2017 it received the Best Game Award.
Circle of Sumo was nominated for Indie Prize by Codemotion Rome 2018.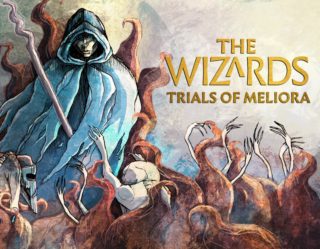 Game Title: The Wizards – Trials of Meliora
Developer: Carbon Studio
Platform: VR mobile
Country: Poland
The Wizards – Trials of Meliora lets you test your magic abilities and your mettle as you defend the realm of Meliora. It is based on the award-winning action/adventure The Wizards, but is a completely new adventure. It takes place in the same world, adapted to Oculus Go and Gear VR headsets. Enjoy the fun of immersive gesture-based spell casting in standalone VR and the breath taking environments from the original The Wizards.
Carbon Studio released The Wizards – Trials of Meliora on July 5, 2018, a mobile VR game that brings the fun of casting spells with hand gestures to Oculus Go, Samsung Gear VR and Mi VR headsets. This independent title takes full advantage of 3DOF motion controller's potential and introduces players to the rich world of The Wizards. The games casting mechanic puts magic directly into the player's hands, eliminating pop-up menus, button combinations and other traditional systems.
The Wizards – Trials of Meliora was nominated for Indie Prize by RESPAWN.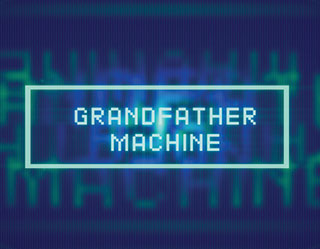 Game Title: The Grandfather Machine
Developer: Shane Hou
Platform: Desktop Win, Desktop Mac
Country: United Kingdom
The Grandfather Machine is a first person maze/ puzzle game featuring a live performance actor. It is set in a desert environment divided into two main spaces, the Real World and the Virtual World. The mechanics of play in the game change, depending on where you are in these worlds. These core game mechanics include wall walking, gravity manipulations and space paradoxes. The game narrative is an experience into the adventure of a surreal world of alternative thinking and bizarre logic.
When you awaken in the game you find yourself in a strange place. A scientist asks you to take several tests to answer some of life's biggest questions. You must finish a series of challenges in a virtual space; you could walk on every plane, such as ground, wall and ceiling, go through different dimensions and travel by gravity pads to your final destination. But what lies at the end of your journey?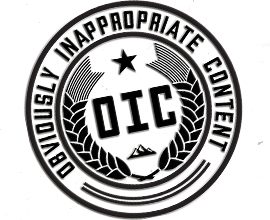 Game Title: OIC: Obviously Inappropriate Content
Developer: Last Life Left Game Studio
Platform: Desktop Win
Country: United Kingdom
OIC: Obviously Inappropriate Content is an adventure game set in a fictional Eastern-bloc country called Belkasvena. In this narrative-rich game, the player is a game tester who must censor a developing game under government regulation. The government, led by the SUPREME LEADER, continually implements new regulations to "ensure that all video games ensure a healthy and positive culture". The game tester, employed by the "Last Life Left Game Studio", has the job of testing a 2D action shooter game, "Ural Death Machine. If they discover any bug or anything that violates regulations, they must take a screen shot and report it.
The total testing period is six months in the story and each pass of testing a level in the game represents one week. At the beginning and end of each working day, the tester can check emails, interact with colleagues on social media and find out the news. This is how the player discovers the effects their work has on the company, the events in the outside world that will affect the pressures of their job, and the changing attitudes and censorship regulations of the government.

OIC explores the origin and development of video game censorship and how it might affect the video game industry and our society as a whole. Developer Shualying "Shane" Hou found inspiration for this game from Metal Slug, Papers, Please and Orwell.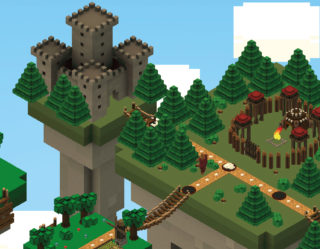 Game Title: Voxel Clicker
Developer: Quantumfrog Mobile GmbH
Platform: iOS, Android, Web, other consoles
Country: Germany
Video: https://bit.ly/2zAgNl5
Voxel Clicker is a role playing game with voxel graphics and clicker elements, set in a beautiful kingdom. Players fight with one hero and up to four companions. When you play this game you fight against fantasy creatures, collect treasures, develop skills, and craft new items.
Voxel Clicker was the winner of GTR 2016.
Game Title: Vocarbicar
Developer: Quantumfrog GmbH
Platform: iOS, Android
Country: Germany
Video: https://bit.ly/2Qpr36N
Vocarbicar is a learning app for children in grades 3-4 and 5-6 and was developed in cooperation with Westermann Group. Vocabicar helps children extend their English vocabulary. They control toy cars through theme worlds and collect letters, words and objects, depending on the game mode. As they play, they memorize words which have been collected and repeated before. The game mechanic and high scores keep the children motivated.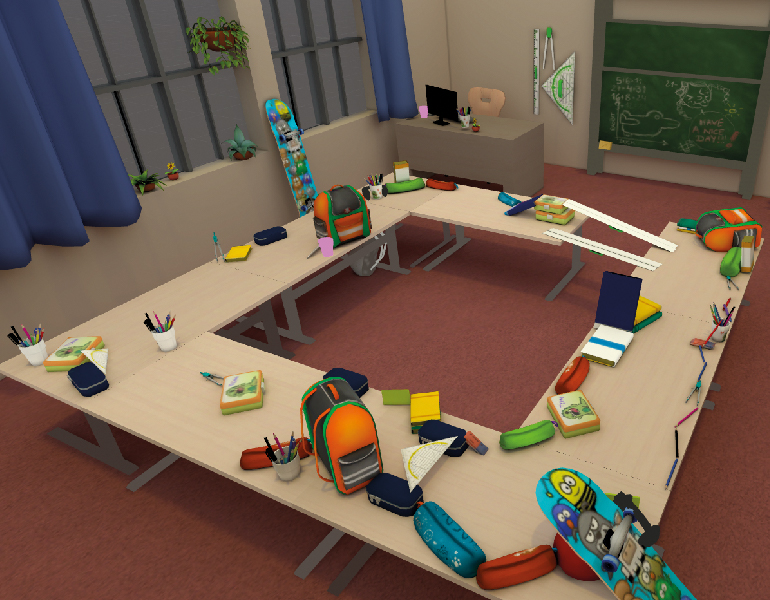 Features include individually adjustable difficulty levels, choice of vehicles, exciting challenges in various fields, high learning motivation through high score list, and awards for specific successes. Either German or English can be selected.
Vocabicar received the Best Serious Game at the German Video Game Awards 2018.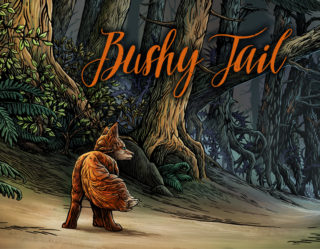 Game Title: Bushy Tail
Developer: Fuero Games Sp. z o.o.
Platform: Desktop Win
Country: Poland
In this adventure narrative game, we learn the story of Little Fox. Three children are processing their experiences of the sudden arrival of refugees and foreign cultures by turning to the fictional world and using Little Fox as the hero who grows through, adapts to and overcomes the challenges of change. This game constantly transforms, depending on which child is telling the story, giving the player a sense of influencing the plot.
Bushy Tail has received the following awards: PC Indie Pitch award by Steel Media at Game Industry Conference, Best Story/Storytelling at Paris Game Connection, Developer Showcase winner at Games Forum London, Best Game Animation and Best Narrative at Casual Connect USA, and Warsaw Excellence Prize at Pixel Awards 2018.
It has also received many nominations, including: Most Original Game, Most Promising IP, Best Quality Art, Best Casual Game, and Best Console PC/Hardcore all at Game Connection Europe 2017: as well as Indie Game Award Finalist at Taipei Games Show 2018.

To view all of the Indie Prize finalists for Casual Connect Asia 2018, visit indieprize.org.
Comments
Catherine Quinton
Catherine Quinton is a staff writer for www.gamesauce.org. Catherine loves her hobby farm, long walks in the country and reading great novels.